The 25 Best 1st Grade Crafts: Hands-on Creative First Grade Art Projects
Let's explore some of the best 1st grade crafts suitable for first graders, along with fun art projects and techniques to engage and teach them about color mixing.
Art projects are an excellent way to engage and inspire first graders.
These hands-on creative First Grade Art activities not only promote creativity but also help children develop their fine motor skills and enhance their cognitive abilities.
Keep reading for the 25 Best 1st Grade Crafts, Let's dive in!
You might also like:
What are 1st Grade Crafts?
1st Grade Crafts are age-appropriate art and craft activities designed specifically for first graders, focusing on enhancing their creativity, fine motor skills, and understanding of basic art concepts.
25 Important 1st Grade Crafts
Alright, future Picassos and mini Monets, gather 'round! We're diving into the colorful world of 1st grade crafts.
These 25 1st Grade Crafts masterpieces aren't just fun; they're practically a rite of passage in the art room.
So, grab your smocks, channel your inner artist, and let's get crafty!
Who knows, we might just discover the next big thing in the art world – and I'm not talking about glitter!
1. Color Wheel Flowers
First graders can create vibrant flowers by painting each petal a different color from the color wheel.
This 1st Grade Crafts project not only enhances their understanding of colors but also lets them practice their painting skills.
2. Alphabet Soup Collage
Using magazines or colored paper, students can cut out letters to create their own bowl of "alphabet soup."
This 1st Grade Crafts helps reinforce letter recognition in a fun, tactile way.
3. Watercolor Winter Landscapes
With cool shades of blue and white, students can paint serene winter scenes.
This project introduces them to the watercolor technique and the concept of landscapes.
4. Handprint Spiral Art
Dipping their hands in paint, kids can create spirals and patterns on paper.
This 1st Grade Crafts tactile activity is not only fun but also helps in developing their motor skills.
5. Owl Vignettes
Using mixed media, students can craft detailed owl illustrations.
Incorporating materials like colored pencils, felt-tip markers, and card stock, this project teaches layering and texture.
6. Scarecrow Paper Bag Puppets
A classic fall 1st Grade Crafts, students can design their own scarecrow using paper bags and various craft materials.
Once done, these puppets can be used for storytelling sessions.
7. Circle Art Patterns
By gluing different sized circles onto paper, kids can create intricate designs and patterns.
This project emphasizes geometric shapes and symmetry.
8. Kandinsky-inspired Oil Pastel Art
Drawing inspiration from Kandinsky's abstract art, students can use oil pastels to create their own masterpieces, blending and layering colors.
9. Starry Night Collage
Using black paper and white/yellow cut-outs, students can design their own starry night scenes, learning about space and constellations.
10. Balloon Dog Sculptures
Twisting paper bags or craft paper, students can form their own balloon dog sculptures, introducing them to 3D art concepts.
11. Rainbow Daisy Color Wheel
Combining the concepts of flowers and color wheels, students can create daisies with petals representing different colors in the spectrum.
12. Coffee Filter Koinobori
By coloring coffee filters and attaching them to sticks, students can craft their own koinobori or carp streamers, a traditional Japanese craft.
13. 3D Apple Tree Sculptures
Using materials like wire, beads, or pompoms, kids can design three-dimensional apple trees, enhancing their spatial understanding.
14. Autumn Leaf Alphabet
Collecting and arranging autumn leaves on paper, students can form letters or even spell out words, combining nature and literacy.
15. Paper Plate Sunflowers
Using paper plates as the base, students can design sunflowers using paint, tissue paper, or even real sunflower seeds.
16. Handprint Butterflies
By painting their hands and pressing them onto paper, students can create beautiful butterfly wings, learning about symmetry in the process.
17. Popsicle Stick Houses
Gluing popsicle sticks together, kids can construct their own miniature houses, enhancing their building and planning skills.
18. Paper Roll Animals
Using toilet paper rolls, students can craft various animals, painting and adding details like googly eyes or felt ears.
19. Nature Collages
Collecting items from nature, students can create collages, learning about textures and natural patterns.
20. Texture Rubbing Art
Placing paper over textured surfaces and rubbing with crayons, students can produce unique artworks, introducing them to the concept of texture.
21. Floating Boat Crafts
Using materials like cork, toothpicks, and paper, students can design their own miniature boats, learning about buoyancy.
22. Masking Tape Paintings
By placing masking tape on paper and painting over it, students can create intricate designs once the tape is removed.
23. Clay Bead Necklaces
Molding clay into beads and painting them, students can craft their own necklaces, enhancing their fine motor skills.
24. Tissue Paper Stained Glass
Placing colored tissue paper between two sheets of wax paper, students can create "stained glass" artworks to display on windows.
25. Nature-inspired Wind Chimes
Using items like sticks, leaves, and beads, students can craft wind chimes, introducing them to concepts of sound and nature.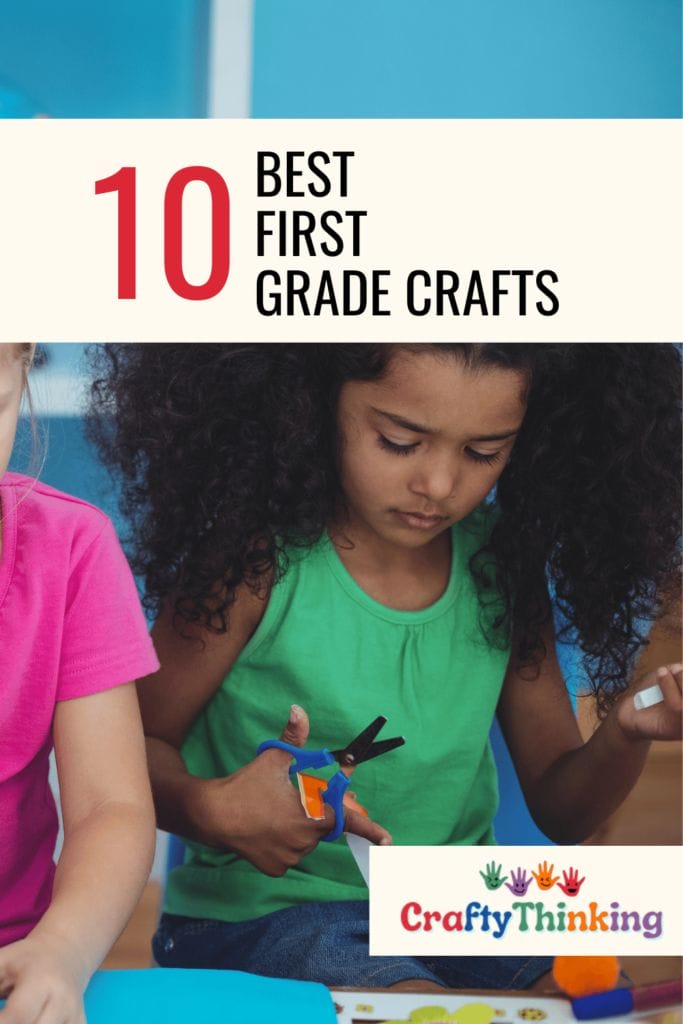 Best First Grade Crafts
Listen up, my budding Van Goghs and young Yoko Onos!
We're about to embark on a whirlwind tour of the top 10 First Grade Crafts that every first grader should know.
These aren't just any 1st Grade Crafts; they're the crème de la crème, the Mona Lisas of the craft world.
So, tie up those aprons and let's dive into a world where glue sticks reign supreme and paper plates become masterpieces!
Sale
Bestseller No. 1
Skillmatics Art & Craft Activity – Foil Fun Animals, No Mess Art for…
FOIL ART & CRAFT ACTIVITY: Let your child's imagination soar with this magical, mess-free foil art and craft activity. They…
INCLUDES: 100+ Colorful Foam Stickers, 100 Colorful Foil Sheets, 10 Picture Canvases, Googly Eyes and an Instruction Manual.
EASY TO USE: Select a picture canvas, apply sparkly foil sheets using the included stickers, and watch the picture come to…
AWARD-WINNING TOY: Skillmatics Foil Fun has received The Toy Insider's Top Summer Toy 2023 award and is also a finalist for…
Sale
Bestseller No. 2
12 Rock Painting Kit, 43 Pcs Arts and Crafts for Kids Ages 4-8+, Art…
SUPER VALUE PACK. This DIY craft rock coloring set includes 12 rocks, 6 standard paints, 6 metallic paints, 5 glow in the…
UNIQUE DESIGN & EASY TO USE. Our arts painting kit comes with different types of paints, stickers, brushes, and other craft…
ENDLESS FUN. This rock painting kit provides fun and entertainment for your kids! It's also a perfect personalized gift for…
PREMIUM QUALITY. This Make-Your-Own Personalized Arts and Crafts Set Toy is Child safe. Meet the US toy standard. Safety test…
Sale
Bestseller No. 3
Made By Me Create Your Own Window Art, Paint Your Own DIY Suncatchers,…
DESIGN 20 WINDOW ART CREATIONS: Make your windows pop with 20 whimsical window art creations! Color 12 suncatcher shapes and…
5 EASY-TO-USE PAINT PENS & TUBES: Trace illustrations from the included instructions or create custom creations with the…
SUCTION CUPS INCLUDED: Each suncatcher comes ready to hang with a suction cup! Affix it to the suncatcher with the included…
THE PERFECT GIFT: Give the gift of smiles with a hands-on craft that kids (and adults!) will love. Great for celebrating…
Bestseller No. 4
Winlyn 48 Sets 6 Styles Magic Color Scratch Bookmarks Craft Kits…
Complete Craft Kits: These craft kits includes 48 rainbow scratch-off art bookmarks, 48 scratching tools, 48 colorful satin…
Durable, Non-Toxic & Mess-Free: Made from 110lbs (300 GSM) heavy cardstock, these scratch art bookmarks have a scratch-off…
Compact & Portable Design: Each rainbow scratch paper bookmark measures about 5.9″ in length and 2″ in width, with a 4mm hole…
Fosters Creativity & Skill Development: Nurtures creativity, imagination, and self-expression, offering screen-free…
Bestseller No. 5
Alex Discover My Tissue Art Kids Art and Craft Activity
Apply crumbled tissue paper squares to peel and stick cards to create bright, fun designs
Make a fish, car, flower, star, bird and butterfly
iParenting Media Award winner
Includes 6 sticky back patterns, 4 google eyes, 800 rainbow colored tissue paper squares and instructions
Sale
Bestseller No. 6
Rock Painting Kit for Kids – Arts and Crafts for Girls & Boys Ages…
Unleash & Spark Your Creativity: With the deluxe rock painting kit. The most Extensive set available, with standard and…
Premium Value: Kit includes: 10 white smooth river rocks, 6 color paints, 6 metallic paints, 2 glitter glues (gold and…
A Fun And Educational Gift For All Ages: It fascinates children as soon as they pull it out of the box and is a perfect…
100% Satisfaction Guaranteed: Love it, or your money back! We're sure that the child will have a blast, but if you are not…
Sale
Bestseller No. 7
Gem Art, Kids Diamond Painting Kit for Kids – Big 5D Gems – Arts and…
UNLEASH & SPARK YOUR CREATIVITY: Delightful, colorful designs await you to jazz up with sparkling mini diamonds. Make…
EASY AND FUN FOR EVERY AGE: No glue needed. Use the included stylus, wax, and tracing paper to effortlessly create beautiful…
PREMIUM VALUE: Kit includes: 3000+ gems (in 8 colors), 5 large suncatchers, 5 keychains, 6 hologram stickers, a wax strip, a…
A FUN AND EDUCATIONAL GIFT FOR ALL AGES: It fascinates children as soon as they pull it out of the box and is a perfect STEM…
Bestseller No. 8
Sale
Bestseller No. 9
KRAFUN My First Sewing Kit for Beginner Kids Arts & Crafts, 6 Easy DIY…
🎁 Perfect As A Gift 🎁: Celebrate embroidery kits joy and fun with your friends and family. Comes with reusable and…
🦄 Make 6 Easy Projects 🦄 : Make a total of 6 beginner Sewing Art & Craft kit with Bag, Ornament, Pillow, Mini Card…
🐻 Great For 5+ Years Old Kids 🐻: Great gift for 5+ years old kids who is starting to learn sewing the first time!…
🐱 Safe Tools & Materials 🐱 Plastic needle tools are provided, ensure the safety of children during usage. All materials…
Bestseller No. 10
Lulu Jr. Illustory Book Making Kit, Multicolor
IlluStory – Create Your Own Book! is the newest version of the award-winning bookmaking kit for children
This new version of the beloved book making kit features a new writing guide, 'Just Imagine..A Guide to Writing and…
2017 Mom's Choice Award – Gold Award Recipient
Everything contained in the IlluStory kit allows a child to write and illustrate their own full-color, 20 page,…
What are some fun art projects for first graders?
First graders enjoy hands-on projects like creating paper plate masks, painting with watercolors, molding clay sculptures, and crafting nature collages.
Color Wheel
The color wheel is a classic art project that introduces children to the concept of color mixing.
Using construction paper and tempera paint, first graders can create their own color wheel by cutting out circles and painting each section with the primary and secondary colors.
This project not only helps them understand color theory but also encourages their creativity.
Winter Landscapes
Creating winter landscapes allows first graders to explore different art techniques while also capturing the beauty of the season.
They can use watercolors or pastels to paint snowy scenes, with trees, mountains, and houses.
This 1st Grade Crafts project encourages them to experiment with different brush strokes and color blending techniques, fostering their artistic skills.
Bowl of Alphabet Soup
Using strips of paper and a template, first graders can create a bowl of alphabet soup.
They can write lowercase letters on each strip, crumple them up, and glue them inside a paper bowl.
This 1st Grade Crafts craft is not only fun but also reinforces letter recognition and helps develop their fine motor skills.
How to engage first graders in art projects?
To engage first graders in art projects, present them with colorful materials, incorporate themes they love, provide step-by-step instructions, and ensure the activity aligns with their skill level.
Scribble a Spiral
Scribbling a spiral is a simple yet engaging art project for first graders.
They can start with a blank sheet of white paper and use chalk art pastels to create colorful spiral designs.
This 1st Grade Crafts activity allows children to experiment with different colors and patterns, encouraging their creativity and imagination.
Owl Vignettes
Owl vignettes provide an opportunity for first graders to learn about shapes and create adorable owl artworks. They can use construction paper to cut out various shapes like circles, triangles, and rectangles, and then assemble them to form an owl. This project helps them develop their spatial awareness and understanding of basic shapes.
Art Project
An open-ended 1st Grade Crafts art project is an excellent way to engage first graders and encourage their creativity.
Providing them with a variety of art supplies like markers, crayons, colored pencils, and paper, allows them to freely express their ideas and create unique artworks.
This project enhances their problem-solving skills and nurtures their artistic abilities.
What are some grade crafts suitable for first graders?
Suitable crafts for first graders include handprint art, popsicle stick creations, simple sewing projects, and paper mâché animals.
Paper Bag Scarecrow
A paper bag scarecrow is a fun craft activity that first graders will love.
They can decorate a paper bag with markers, construction paper cutouts, and other craft materials to create their very own scarecrow.
This project not only stimulates their imagination but also encourages their storytelling abilities.
Handprint Mixed Media
Handprint mixed media art is a great way for first graders to explore different art mediums and create a personalized artwork.
They can use paint, collage materials, and their handprints to create unique compositions.
This 1st Grade Crafts craft project allows them to express themselves and develop their fine motor skills.
Color Wheel Daisy
The color wheel daisy is another project that introduces first graders to color mixing.
They can create a daisy flower using white paper and draw circles for petals.
They can then fill each petal with a primary or secondary color, allowing them to mix paints and create new hues.
This 1st Grade Crafts project combines art and science, teaching them about color theory.
How to teach color mixing to 1st graders?
Teach color mixing to 1st graders by demonstrating how primary colors combine to form secondary colors, using hands-on activities like finger painting or blending with watercolors.
Oil Pastel Shapes to Create
Using oil pastels, first graders can create shapes and experiment with color mixing.
They can draw simple shapes like squares, triangles, and circles and then blend different colors together, creating new shades and tones.
This project helps them understand the basics of color mixing and develops their artistic skills.
Blend Colors with Coffee Filters
Teaching first graders to blend colors can be done with coffee filters.
They can use washable markers to create dots of different colors on a coffee filter and then spray it with water.
The colors will blend together, creating beautiful patterns.
This 1st Grade Crafts activity not only teaches color mixing but also explores the concept of absorption.
Autumn Leaves Color Wheel Bouquet
Create an autumn leaves color wheel bouquet with first graders to teach them about color mixing and the changing seasons.
They can collect leaves of different colors and arrange them in a color wheel pattern, observing how the colors transition and blend harmoniously.
This 1st Grade Crafts project combines nature and art, making it a memorable learning experience.
What are some printable art projects for first graders?
Printable art projects for first graders include coloring pages, dot-to-dot drawings, simple mosaics, and cut-out masks or puppets.
Abstract Alphabet
Printable art projects like abstract alphabets allow first graders to explore shapes and patterns.
They can print out templates with abstract shapes, and then use markers, crayons, or colored pencils to fill in the shapes with different colors.
This project enhances their fine motor skills and creativity.
Kandinsky Inspired Art
Introduce first graders to the works of Wassily Kandinsky, a famous abstract artist, with a Kandinsky inspired art project.
They can print out Kandinsky's artwork and use it as inspiration to create their own abstract masterpieces.
This project encourages them to experiment with colors, shapes, and lines, fostering their artistic expression.
Balloon Dog
A printable template of a balloon dog can be a fun art project for first graders.
They can print out the template and color it in with markers or colored pencils, adding their own creative touch.
This project not only develops their fine motor skills but also allows them to see how flat images can appear three-dimensional.
What is the first grade color wheel technique?
In the first grade art class, the color wheel technique is an art lesson where students learn about primary and secondary colors.
It's one of the best first grade crafts that allows students to make their own color wheel, helping them understand color relationships.
How can you create winter landscapes using watercolor?
Winter landscapes can be crafted using watercolors in an art activity where students paint a sky background using cool shades of blue and white.
Adding details like snow-covered trees and animals makes it a favorite kids craft.
How do you make a bowl of alphabet soup using pastel?
A bowl of alphabet soup is a fun art project where students use pastels to draw letters floating in a bowl.
It's a way to combine literacy and art, letting students work on their fine motor skills while learning.
How can you scribble a spiral with a handprint?
Students can use their hands and fingers dipped in paint to create a spiral pattern on paper.
This low-prep art activity is a tactile way for kids to make unique patterns and designs.
What are owl vignettes in mixed media?
Owl vignettes are art projects where students use a mix of materials like felt tip markers, colored pencils, and card stock to create detailed owl illustrations.
It's a way to teach kids about layering and combining different mediums.
What's a popular first grade art project featuring a scarecrow?

A popular first grade craft is creating a scarecrow using a mix of paper, fabric, and buttons.
Students can even add details to make their scarecrow unique, making it a bulletin board favorite in the fall.
What are the best first grade crafts involving circle art?
Circle art involves students using different sized circles, often cut from a box of scrap paper, to create a colorful design or pattern.
It's a simple project that students will love, teaching them about geometric shapes and patterns.
How do you use oil pastel to recreate a Kandinsky piece?
Students can use oil pastels to mimic Kandinsky's bold lines and vibrant color choices.
By studying his work, they can create their own abstract pieces, blending and layering colors for effect.
How can you use shapes to create a starry design?
Using black paper as a background, students can use white and yellow paper to create stars of different sizes and shapes. Adding a moon or planet gives a different take on a starry night theme.
How can you craft a paper bag into a balloon dog?
A paper bag can be twisted and shaped to resemble a balloon dog. Students can then paint or color it, adding details to make it come alive.
It's a craft idea that combines creativity with fine motor skills.
How do you make a color wheel daisy that blends colors?
Students can create a rainbow daisy by arranging petal shapes in the order of the color wheel. Using watercolors or pastels, they can blend the edges where the colors meet, creating a smooth transition between hues.
How are koinobori and coffee filters related in art projects?
Koinobori, or carp streamers, can be crafted using coffee filters.
Students color the filters with markers, then add details to make them resemble carp.
When wet, the colors blend, creating a beautiful effect.
What are 3D line sculptures and how can they resemble an apple tree?
3D line sculptures involve bending and shaping wire or pipe cleaners.
Students can create an apple tree by forming the wire into branches and adding red pompoms or beads as apples.
How do you design an abstract alphabet with autumn leaves?
Students can collect autumn leaves and arrange them on paper to form letters of the alphabet.
This project requires them to think creatively about shapes and is a fun way to combine nature and literacy.
How can you create a color wheel bouquet using oil pastel?
Students can draw and color flowers using oil pastels, arranging them in the order of the color wheel.
This project helps them understand warm and cool colors while creating a vibrant bouquet.
Frequently Asked Questions
Here are some frequently asked questions about 1st grade crafts. Get some quick answers to everything you need to know.
What can 1st graders draw?

1st graders can draw basic shapes, simple landscapes, animals, people, and objects from their daily life, using their growing observational skills.

What should first graders learn in art?

First graders should learn basic art concepts like primary and secondary colors, simple patterns, basic shapes, and introductory drawing and painting techniques.

What are first grade art skills?

First grade art skills include holding and using art tools correctly, understanding primary and secondary colors, creating basic patterns, and expressing themselves through various mediums.

What do you teach first graders in art?

In art, first graders are taught foundational skills like drawing, painting, sculpting, and understanding colors, as well as how to appreciate and interpret different forms of art.

What is basic arts for grade 1?

Basic arts for grade 1 encompass foundational art techniques, introduction to colors and shapes, and exploration of different art mediums like crayons, paint, and clay.

What Should 1st Graders Learn In Art?

1st graders should learn about colors, shapes, basic drawing and painting techniques, and be introduced to various art materials, fostering creativity and self-expression.
Wrapping Up 1st Grade Crafts
Dive into the world of "The 25 Best 1st Grade Crafts" where crafts for kids become more than just school projects.
As students learn and come together to create, these hands-on art activities seamlessly blend the classroom and at home experiences.
Whether it's a project using a black marker, adding a layer of glue, or having students write about their different monsters, each craft is tailored for first graders as well.
With easy-to-follow instructions and required materials, these educational materials are designed to spark creativity and imagination in every young artist.
If you like this article about 1st Grade Crafts and would like to know more, please comment below.