Sweeten Up Your Day with These Candy Crafts for Summer!
Are you looking for candy crafts for summer since school is out? Moms finally get some quality time to spend with their little ones.
It's time to break out the craft supplies and have some fun. These candy crafts are perfect for summertime. You can make a delicious treat that also doubles as a fun craft project.
What are the Best Candy Crafts for Summer?
There are a lot of fun candy crafts for kids that you can do for summer. One of my favorites is making a candy necklace.
You can use any type of candy that you want, but I like to use gummy bears or worms. Just string them on a piece of yarn or ribbon and you have a fun and colorful necklace!
Here are my top picks for Candy Crafts for Summer:
1. Candy Chemistry
Shop Now https://amzn.to/3gYOW3X
Make rock Candy
chocolates
gummy Bears
wintergreen candies and more
Learn about specific heat and temperature
crystallization, measurements
and conversions, volume, and weight
2. Handmade Candy Bar Pups
You can make an adorable pup by using candy bars, Hershey's Kisses, and chocolate chips. Your kids will love these canines as Candy Craft for summer. 
3. Flowerpot Oatmeal Cookies 
If you are looking for ready set eat Flower Oatmeal cookies, you can watch simple tutorials for making them. You can make these Oatmeal flowerpot cookies as a Candy craft for summer. It will be worth eating for your child. You can mold and turn candy into different shapes of flowers. 
4. Kit Kat House 
KitKat house is the best alternative arts and crafts to the classic gingerbread house. On the boring summer days when you have nothing to do, here is something best for you. You can build a house with Kit Kat Candy as a base and then decorate it with marshmallows, gumdrops, and other confections. The candy and chocolate lovers will surely love this Candy Craft for summer.
5. Candy Wafer Trucks
You can make delicious vehicles using Sugar cookies, Pretzels, and Rolo Candy. The sugar candy toys are usually loveable by the kids and their friends. It is one of the best Candy Crafts for summer made by kids. Moms can watch their kids playing with trucks before eating them.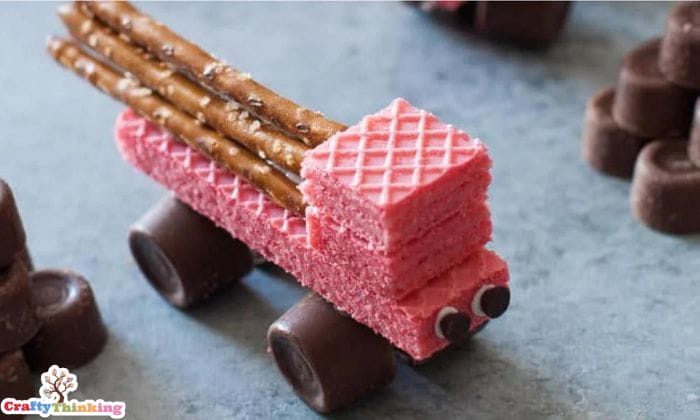 6. Candy Lights 
The kids having decorating skills will love to make Candy lights for their rooms. The babies that are born with crafting can create Pinterest-Perfect projects. The candy pieces can stick together if a knife heats them. These candy lights will look amazing on any birthday cake decoration or even placed alone on a plate.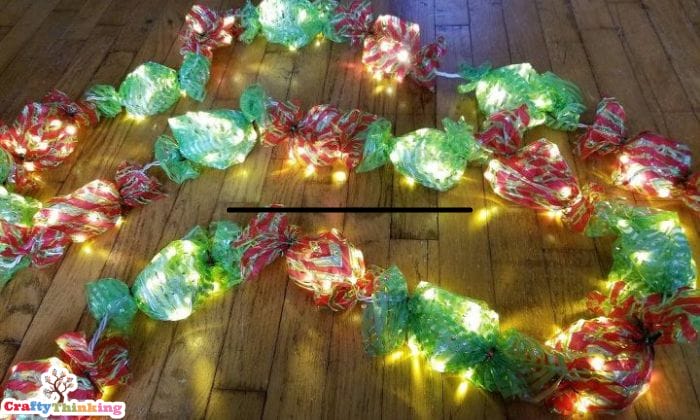 7. Peppermint Candy Bowls 
This summer, an amazing and trending fun activities craft that everyone will love is a bowl made of Peppermint candy. You can easily make these bowls by softening peppermint candies over.
After heating, you can mold candies into a bowl shape in less than 20 minutes. You can add more candies into the bowl and wrap it with cellophane and tie having a ribbon.
This adorable candy craft for summer is the best handmade gift you can give to your family and relatives as it is inexpensive and sweet. 
8. Mermaid Tail Candy Craft
You can make lustrous mermaid tail party favors by using white chocolate. This candy craft for summer is easy to make as you can add sprinkles on it or paint it with edible garnish. The mermaid tail will give a metallic finish that completes its underwater look. 
9. DIY Candy Jewelry
The little girls usually love to have their custom candy necklace for a great activity summer. For making these Candy Necklaces, You only need a long string and bulk candies with a hole in the center.
Candies like Life Savers, Gummi Rings, Twizzlers Bites, or lengthy Twizzlers could be used to make these stringy necklaces for summer crafts. 
You can cut the candy into shorter pieces, add to the strings and tie up the ends of the strings. Amazing Candy craft for summer enjoyment is ready to wear and to eat after playing. 
10. Baby Butterflies of Candy
Kids can make butterflies with delicious candies that are easy to make. You have to fill the sandwich bag with different candies. Then using a wooden Clothespin, you have to clip the bag from half side. That will be the body of the crafty butterfly. After that, you can draw its eyes with a marker and add pipe antennas. There is much more to do as an extra decorative thing, including glue starburst candy stick to the clothespin. 
11. Candy Rockets
Candy Crafts for summer includes candy rockets that are loved the most. Making rockets are as fun as eating them. All you require is Air Heads, Life Savers, and Pop rocks candies with some straws. The larger the size of the paper straw, the more accurate rocket you will make as it fit the best in candies. 
This Candy Craft for summer includes some cutting. There is a need to form a cone shape with Airheads candy by which the rocket top is prepared. 
12. Candy Bracelet 
You can make colorful candy bracelets to turn plastic or hair elastic into an amazing or wearable bracelet. You will only need a few ribbons and bulky candy. Some people have tried Dubble Bubble gum which worked best for candy bracelets as a candy craft for summer. 
With rest over candies and remaining candies in your kitchen, you can make it through many craft which lasts long for the whole summer. 
What are some great Cotton Candy Crafts?
Cotton candy is a great treat for kids and adults alike, and it can be used in a variety of different crafts.
Cotton candy craft flowers
Cotton candy craft wreaths
Cotton candy garlands
Cotton candy craft ribbon roses
Cotton candy party favors
Cotton candy centerpiece
17 Candy Crafts for Summer Questions?
Are you a fan of candy? Do you like to make crafts? If so, then you're in luck! I'll answer some common questions that people have about this topic.
What are the best types of candy to use for crafts? Is it easy to make candy crafts? Keep reading to find out the answers to these questions and more.
1. How to Make Candy Crafts?
How to Make Candy Crafts? Making candy crafts is a great way to show your creative side and impress your friends and family. Here are some tips on how to make the perfect candy craft:
Choose your candy. There are many different types of candy that you can use for crafts, so pick the ones that you like best.
Get some supplies. You will need some basic supplies like glue, scissors, and paper.
Decide on a design. Once you have chosen your candy, you need to decide on a design. Will you make a sculpture? A collage? Something else?
Get started! Now it's time to put your design into action. Be creative and have fun!
Display your work of art. Once you're finished, be sure to display your candy craft proudly for everyone to see.
2. How to Preserve Candy for Crafts?
How to Preserve Candy for Crafts? To preserve candy for crafts, you will need to take some precautions.
First, avoid using any candy that has already been opened or that is not in its original packaging.
Next, store the candy in a cool, dry place away from direct sunlight.
Finally, check the candy regularly for signs of spoilage and discard any that shows signs of deterioration.
With proper care, your candy should last for many months.
3. How to Seal Candy for Crafts?
How to Seal Candy for Crafts? To seal candy for crafts, start by wrapping the candy in wax paper. Next, place the wrapped candy in a zip-top bag. Finally, use a piece of tape to seal the bag closed.
4. How to Make Crafts with Candy Canes?
How to Make Crafts with Candy Canes? To make crafts with candy canes, you will need the following supplies: candy canes, glue, scissors, and paper.
First, use the glue to attach two candy canes together. Next, use the scissors to cut the paper into desired shapes. Finally, glue the paper shapes onto the candy canes.
5. Candy Craft How to Make?
Candy craft is a great way to make your own unique sweets. You can use candy craft to make lollipops, candy necklaces, or even candy sculptures. To get started, you will need some candy melts, food coloring, and molding tools.
First, melt the candy melts in a microwave-safe bowl. Then, add food coloring to the melted candy to create your desired colors. Next, use a molding tool to shape the candy into your desired shapes. Finally, let the candy cool and enjoy your sweet creations!
6. Crafts to Do with Candy Canes?
Candy canes are a delicious holiday treat, and they can also be used to make some fun and festive crafts! Here are a few ideas:
7. Make a candy cane wreath:
Simply glue or tape candy canes together in a circular shape, then add some ribbons or other decorations.
8. Use candy canes as tree ornaments:
Just tie a string around the top of each candy cane and hang them on your Christmas tree.
9. Make candy cane reindeer:
Glue two mini candy canes together for the antlers, then add a red pom-pom nose and googly eyes. So cute!
10. Wrap gifts with candy cane striped paper:
This is an easy way to add a festive touch to your gift wrapping. Just find some red and white striped paper (or wrap white paper in red ribbon), then tie a candy cane to the top for a nice finishing touch.
11. Decorate sugar cookies with candy canes:
This is a classic Christmas decoration that always looks great! Simply break the candy canes into pieces and use them to decorate your sugar cookies.
12. Candy cane holders:
Wrap ribbon or yarn around the top of a candy cane and tie in a bow. This is perfect for holding onto your hot cocoa this winter!
13. Candy Crafts to Do at Home?
One type of candy that is popular to craft at home are chocolate bars. Chocolate bars can be made into all sorts of shapes and sizes, and they can be decorated with all sorts of toppings.
Another type of candy that is popular to craft at home are lollipops. Lollipops can be made in all sorts of fun shapes and colors, and they can be decorated with all sorts of designs.
14. What Candy Can I Use to Make Cotton Candy?
There are many different types of candy that can be used to make cotton candy. The most commonly used type of candy is called "fondant" candy.
This type of candy is made from sugar, corn syrup, and water. It is then flavored with various extracts and colors. Other types of candy that can be used to make cotton candy include hard candies, gumdrops, and marshmallows.
15. What Candy Can You Customize?
You can customize your candy by choosing your favorite flavors, colors, and shapes. You can also add personal messages or images to your candy.
16. What Candy Can You Make at Home?
There are many different candies that you can make at home with just a few simple ingredients. One popular type of candy is chocolate.
Chocolate can be melted and molded into different shapes or used to make chocolate chips for cookies or cakes.
Another popular candy is candy corn, which can be made by combining sugar, corn syrup, and food coloring.
Candy canes are also a popular choice for making at home, and can be made by combining sugar, water, and peppermint extract.
Whatever your favorite type of candy is, there is likely a recipe that you can use to make it at home.
17. What Candy Can You Personalize?
You can personalize your candy by adding a message or design. This is a great way to make your candy unique and special.
You can also add a special coating or flavor to your candy. This will make it even more special and delicious.
What are the best candy jar ideas?
There are many great ideas for candy jars, and it really depends on your personal preferences as to what works best. Some people prefer to use mason jars, while others like to use decorative glass jars.
You can also find candy jars in different shapes and sizes, so you can choose one that fits your needs. If you are looking for a unique candy jar, you can try using a vintage jar or an antique jar.
Here is 6 cute Candy Jar Ideas!
Mason Jar Valentines
Springtime Mason Jar Floral Arrangements
Patriotic Mason Jar Centerpieces
Fall Harvest Mason Jar Centerpieces
Christmas Mason Jar Decorations
New Year's Eve Mason Jar Party Favors
How do you make Candy Crafts?
Are you looking for a fun and unique way to spend time with your kids? Why not try candy crafts for summer? Candy crafts are a great way to get creative and have some fun.
They are also a great way to use up any leftover candy from previous holidays. Here are a few tips on how to make candy crafts:
Get the supplies
Melt the chocolate
Dip the candy
Decorate your candy
Let it dry
Enjoy!
Tips for making Candy Crafts for Summer
1. Rods: 
Toothpicks, uncooked spaghetti, Licorice sticks, thin and hard sticks of candies, and thin mini pretzels are some materials used as rods to make Candy crafts for summers. 
These materials will create a balance in every craft to increase the strength of the craft. 
2. Connecters: 
Jellybeans, Marshmallows (mini and jumbo-sized), and gumdrops are some types of candies that could be used as connectors while making candy crafts for summers. 
These connector looks highly cute giving a craft edible grace. 
3. Extras: 
Gummy candies, Pull-and-peel Licorice, and sandwich cookies (of any size) can be used as extra fun on the Candy crafts for summer. These candies will add beauty to the craft and make the kid's mouth flowing whenever they see it. 
4. Yummy Geometry
One of the best uses of these items is to make funny and simple geometric shapes. Teach your kids how to insert a rod, i.e., spaghetti/toothpick, into soft connectors, i.e., marshmallows and gumdrops. 
Let your children find the ways and experiments on their own. They can create mesmerizing shapes by using the rods and connectors they like or prefer. Little ones can create squares or triangles, while children of 7-8 age can make complex shapes like hexagons, polygons, octagons. 
5. Crazy Alphabets:
 Let your children think about the alphabet and character they can easily make by using these items. Making alphabets are more fun when there is an option to nibble at the pieces that are too long. The younger kids can only use rods to make a flat alphabet, while the elder can add connectors and extras to insert a little bonus in the craft. 
6. Tips and Tricks: 
After the usage of rods like pretzel and spaghetti, toothpicks become the easiest ones in buildings. The toothpicks have the most consistent size and shape with maintains the structure of the craft. 
The sturdiest connector in them is gumdrop. Using the best items from the above-provided list, you can even make a dream house as a Candy Craft for summer ideas. It will be worth spending your time on such amazing crafts. 
7. Dreamhouse candy crafts: 
Using different candy items and rods, kids can prepare their custom house, reflecting their dreams. The most straightforward way is to prepare a candy box and add a triangle prism on its top. But elder kids who are the future architects can add much extra and crazy candy stuffs to make them look delicious and dreamy. 
What can you make Out of candy? 
You can do so much using candy. It could be rest over candy or additional candy, which is of no use for you. The candy craft for summer comes up with a wide range of colors and flavors. 
Candy can be used to make a variety of different treats. For example, candy can be melted down and used to make chocolate bars or dipped in sugar to make candy apples.
Candy can also be crushed up and used as a topping for ice cream or mixed into cake batter for a unique flavor.
Here are some things you can make out of candy:
S'mores
Trail Mix
Ice Cream
Cake
Cookies
Brownies
Candy Crafts for Summer
If you find a sweet way and want to engage your kids in STEM activities like designing, engineering, and problem-solving, you have to go nowhere else except your kitchen.
You will find unique ideas to turn delicious candies into amazing crafts. We have gathered a list of candy crafts for summer to keep the children entertained all summer long.
Whether your kid is five years old or a tween, there is no need to roll your eyes. We have the best summer crafts for you.
You can use simple things like:
uncooked spaghetti sticks
toothpicks, candy connectors
pretzel sticks, marshmallows
gummy candies to make different art pieces
pyramids
houses
butterflies
rockets, and much more. 
So, what are you waiting for? Grab some candy and start experimenting. You will be amazed at the results. The best candy crafts for summers will allow you to share your piece of art with your friends and family only before gobbling them. 
Check Out These Spring Candy Crafts
Bottom Line on Candy Crafts for Summer
In conclusion, candy crafts are a fun and easy way to keep your kids entertained this summer. They can be made with simple supplies that you likely already have at home, and they are a great way to use up any leftover candy.
So, get creative and have some fun with your kids this summer by making some sweet and delicious crafts!
If you like this article about Candy Crafts for Summer and would like to know more, please comment below.