Draw a Vacuum Step by Step with Free Vacuum Template
Looking for a fun and easy art project to do with your kids? Check out this step-by-step guide on how to draw a vacuum!
This unique and creative project is perfect for mothers, fathers, grandparents, and even kids! With just a few simple steps, you'll be able to create an amazing work of art that everyone will love.
So get ready to put your artistic skills to the test and start drawing!
You might also like:
Supplies Needed for the Vacuum
1. Free Printable Vacuum Template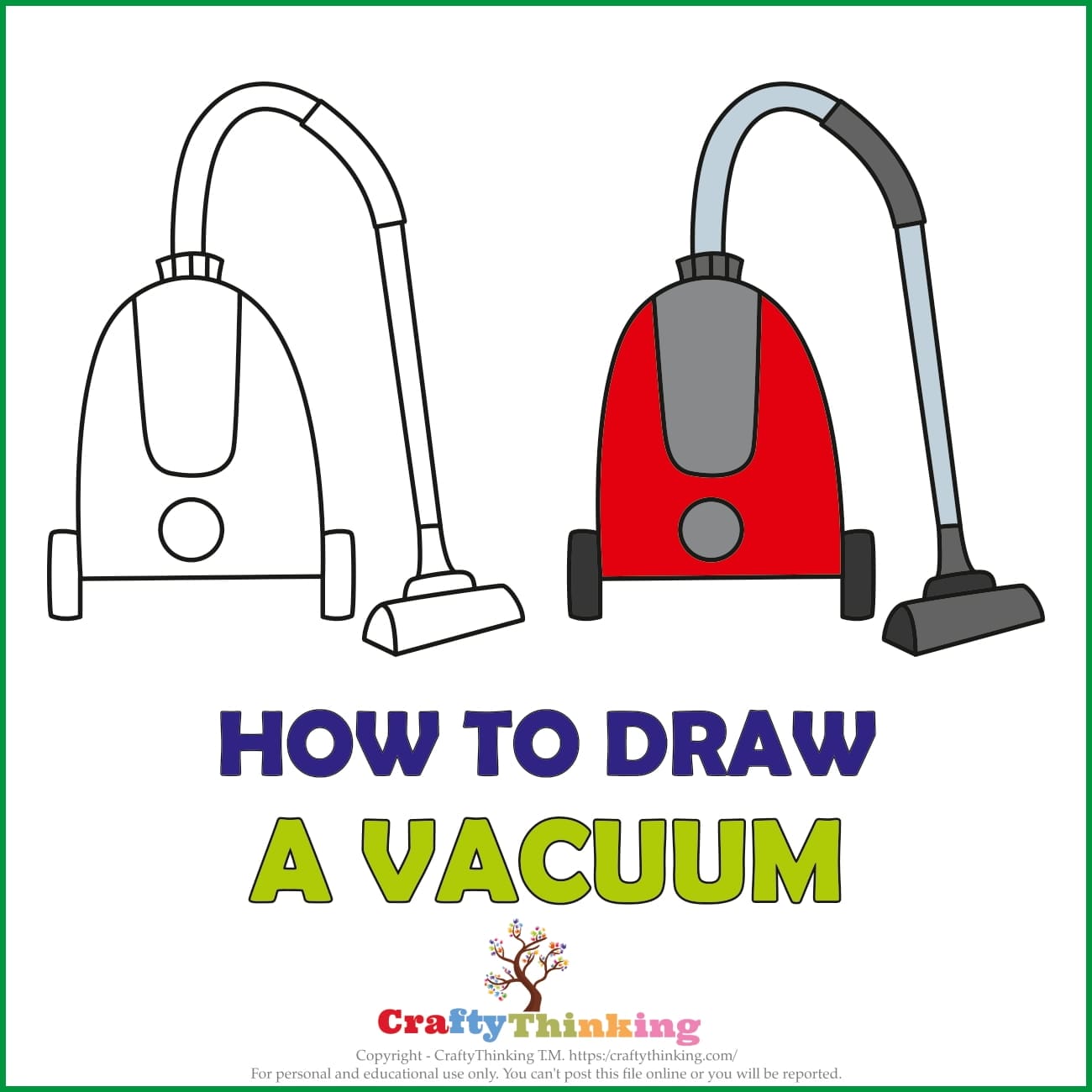 What Is a Vacuum?
A vacuum cleaner is an electrical appliance that uses an air pump to create a partial vacuum to suck up dust and dirt from floors and other surfaces.
The first prototype was invented by Daniel Hess in 1860, but the modern vacuum cleaner was not invented until 1901 by Hubert Cecil Booth.
Today, vacuum cleaners are an essential part of many households, and come in a variety of shapes and sizes to suit different needs.
How to Draw a Vacuum in Ten Steps?
Hang on tight! It's time to learn how to draw a vacuum cleaner in ten easy steps! This fun and simple drawing tutorial is perfect for kids of all ages. So grab some paper and pencils, and let's get started!
Step 1
In the first step, draw the straight line, then an arc-type structure on it will form this type of shape. 
Step 2
The draw a rectangle with three lines inside this shape.
Step 3
Now draw four small squares on the tops of this shape and an oval shape inside the condition. 
Step 4
Now draw two small rectangles on the right side and left side for creating wheels of vacuum.
Step 5
In step 5, draw two arcs over the small squares, as shown in the figure.
Step 6
Draw a small rectangle adjacent to this arc. 
Step 7
Now draw two straight lines from the arc's ending point, and you will have this type of shape.
Step 8
In this step, draw this shape and join it with the straight lines you have drawn in the above step.
Step 9
Your structure of vacuum cleaner is ready. 
Step 10
In the last step, fill the colors in this structure, and you're drawing of the vacuum cleaner is ready.
Congratulations! You have completed How to Draw a Vacuum Tutorial.
Bottom Line on How to Draw a Vacuum
So, there you have it. Our guide to drawing a microwave. We hope you found this article helpful and that you will try some of these techniques out for yourself.
If you want more articles like this one, please let us know in the comments below. And don't forget to share with your friends and followers!
Free Printable Vacuum Template
Enter your email below to get your
Free Vacuum Printable and join our Newsletter.