How to Create a Clown Fish Paper Plate Craft with Free Fish Template
Looking for a fun and easy Clown Fish Paper Plate Craft to make with your kids? This Fish Craft is perfect!
Children will love using their imagination to create a colorful and silly Fish Paper Plate Craft.
Use our Free Fish Template below and get creative making your own Fish craft design. Let's get started!
Materials Needed for the Paper Plate Fish Craft
Free Fish template
Paper Plates
Paint
Paint Brush
Colored Cardstock or Constuction Paper
Glue
Scissors
Crayola Markers
Paper Plates
Elmer's Glue Sticks
Crayola Markers
Paint Brush
Colored Cardstock
Westcott Blunt Scissors
Paint
How to Make a Fish Paper Plate Craft?
Making a Fish paper plate craft is a fun way to show your students or children how creative you are.
Have your kids follow the steps below to make their very own paper plate Fish!
So, gather your supplies and keep reading for the simple step by step instructions.
Then print the craft Fish Template and cut out the pieces.
2. Glue the Paper Plate
With the help of glue, stick a big white circle on the paper plate. Add onto this another circle but smaller and orange in color. Next draw two eyebrows using a marker.
(Optional: Paint the paper plate and leave it to dry before proceeding.)
3. Glue the Fish Scales
Grab a black marker and draw lines stretching around the outer circle of the paper plate. The glue the two irregular shape scales to the bottom half.
4. Attach the Fins
Paste each fin of the fish to both sides of the clown fish.
5. Add the Eyes
Glue the eyes on the orange face.
6. Glue on the Mouth
Glue the mouth of the clown fish below the eyes.
Thats it! You just created The Paper Plate Fish Craft
How did your Fish Craft turn out? What color did you use to make your Fish out of paper? Don't forget to share your Fish with us.
We hope you enjoyed our Paper Plate Fish Craft!
We hope you enjoyed our Fish Paper Plate Craft for kids! If you liked this article, please leave us a comment and let us know.
We'd love to hear from you. In the meantime, be sure to check out our other fun kid's crafts on our website.
What is a Paper Plate Fish Craft?
What is a Paper Plate Fish Craft? Fish Paper Plate Crafts are a simple Fish activity for preschoolers and can be enjoyed by kids of all ages.
All you need is a paper plate, some construction paper, and a few simple supplies to make your own paper plate crafts.
Fish crafts for kids are a great way to get them excited about summer.
Fish Craft
This paper plate Fish craft is simple and fun, and the results are adorable! Kids will love making these little Fishes out of paper plate.
Check out these Paper Plate Crafts Ideas!
Do you have a craft that you like to do with your kids, but don't think they're old enough for it? Try this paper plate apple craft! It's perfect for pre-schoolers and kindergarteners!
This paper plate butterfly craft is perfect for school-aged kids. With just a few materials, they can create their very own colorful butterfly. This Craft is easy to do and kids will love seeing their work come to life on the wall!
Are you looking for a craft that your school-age kids will love? Try this Paper Plate Baby Chick Craft! It is simple to set up and can be done in no time at all. Plus, it is a great way to get your kids excited about learning!
Check Out Our Handprint Crafts for Kids!
More Arts and Crafts
Fish Paper Plate Instructions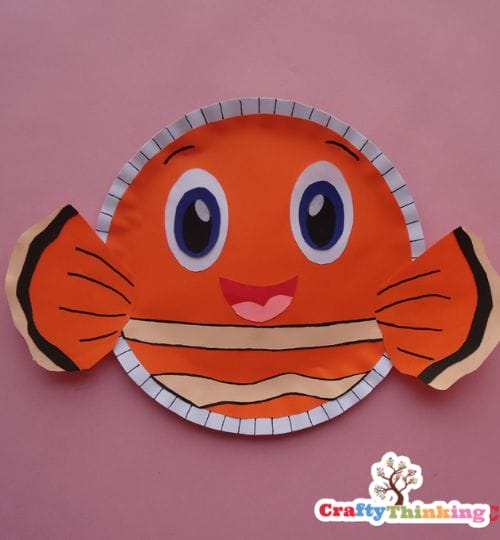 Download the Fish Paper Printable Template.
Print the Fish template.
Cut it out and trace it onto the required colored paper.
(Optional: Paint the paper plate and leave it to dry before proceeding.)
Stick the orange circle on the paper plate.
Then stick on it another smaller orange circle.
Draw short black lines emerging from the inner orange circle connecting to the border of the paper plate.
Attach the face of the Fish to the bottom of the paper plate.
Stick yellow tiny tubes on the side attached to the face at the border.
Glue the mouth on the orange face.
Take two more yellow tubes and attach them to the top of the orange face subsequently, connected with the eyes on the top.
On the ends of the yellow tubular cut out in the side, attach the claws of the Fish.
Congratulations! You have completed the Fish Paper Plate Craft!
Craft Fish Template
Enter your email below to get your
Free Fish Template and join our Newsletter.