Halloween Crafts for Kids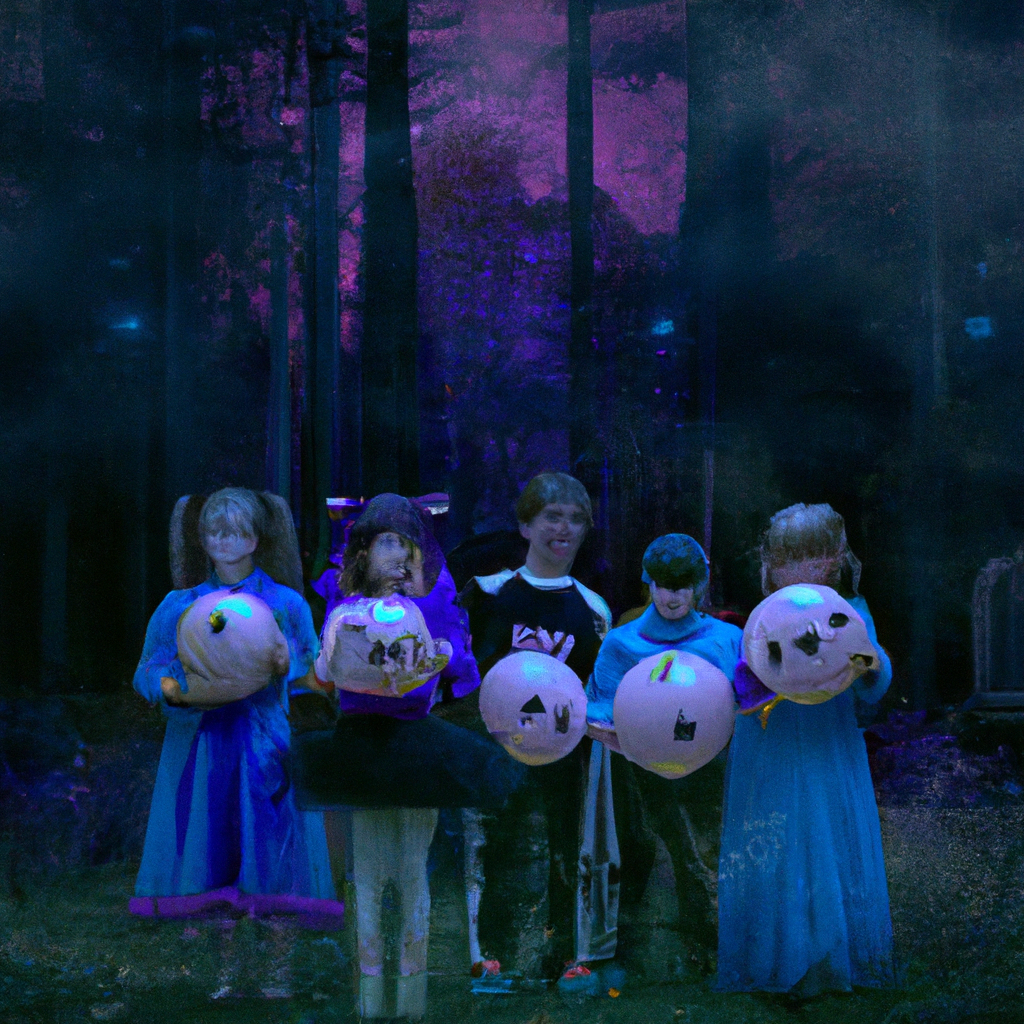 Easy Halloween Crafts for Kids
To create spooky memories with your kids, explore easy Halloween crafts with paper plates, cotton balls, popsicle sticks, egg cartons, and handprints. Each of these craft ideas offers a fun way to celebrate Halloween and get creative with your little ones.
Paper Plate Spider
This Halloween, let your kids get creative by making their own creepy-crawly creatures! The Plate Arachnid is a fun and easy project for them to enjoy.
Step 1: Cut the plate in two, then paint it black.
Step 2: Add four pipe-cleaner legs to each side.
Step 3: Draw spider eyes and fangs with white.
Step 4: Glue one pom-pom ball at the center of the plate.
Make it extra special by adding colors to the eyes and body. Your kids can explore their artistry skills while having spine-tingling fun! Share photos of their creations on social media and challenge your friends and family to try it too.
Don't spend money on expensive Halloween decorations – make a budget-friendly cotton ball ghost that looks like Casper's cousin!
Cotton Ball Ghost
Creating Halloween crafts with cotton balls is a popular activity among young children. One craft ideas is to make a ghost from cotton balls and other easy-to-find materials. Here's how:
Gather a handful of cotton balls.
Shape them into a ghostly form – round head and a flowing body.
Secure them with glue or tape.
Add googly eyes or draw eyes on with markers.
Hang it up in your home or classroom for festive decor.
For extra fun, try using different colors or adding glitter or pipe cleaners. Letting kids be creative with arts and crafts helps develop their motor and cognitive skills. Making homemade decorations gives them a sense of accomplishment and pride in their work. Who needs store-bought monsters when you can make spooky creations with popsicle sticks and imagination?
Popsicle Stick Monsters
Design your own exclusive, vibrant characters with Popsicle Stick Monsters! Make spooky creatures to excite their minds.
Gather supplies like Popsicle sticks, paint, glue and googly eyes.
Glue together 3 or 4 Popsicle sticks to form a body then paint it any color.
Let your creativity shine as you add wings or horns, and attach googly eyes to give your creature life.
This project can be anything they dream up and encourages a fun educational experience. They'll feel proud of making something special with their own hands and will be encouraged to do more!
A group of kids in kindergarten made monsters with Popsicle sticks. It was amazing to see them work together and show their creativity.
Plus, Egg Carton Bats can be made easily and will surely make your little monsters ecstatic for Halloween.
Egg Carton Bats
Create a spooky Halloween craft with your kiddos using egg cartons and felt. Here are 3 steps to make Bat-inspired Egg Carton Bats:
Cut apart the egg compartments and trim them as 'bat' wings.
Paint the egg carton wings and let them dry.
Add googly eyes, felt ears, fangs and hang them up with string or fishing line.
For a unique touch, let the kids personalize their bats with different colors of paint.
Pro Tip: Glue tiny magnets on the back of the paper bats and stick them on fridges or metal plates to make them flutter in the Halloween breeze.
Teach your little ones how to craft their own hats so they can stop stealing yours!
Handprint Witch Hat
Transform your tyke's handprint into a spell-binding witch hat! It's an effortless, exhilarating Halloween craft for kids to feel the holiday cheer.
Grab a sheet of black construction paper and trace your child's hand onto it. Cut it out.
Staple the pinky and thumb edges together.
Cut a circle from orange or green paper. Glue it to the hat's wrist or cuff area.
Create some buckle shapes with yellow paper and attach them to the hat's tutelage.
Trace a smaller cup onto another sheet of black construction paper to make the brim circle. Cut it out and glue it under the cuff area.
Add some decorations such as crumpled red tissue paper for its band or glitter for extra glitz!
For a more exciting time, try different colors and designs!
Pro Tip: Ask your kids to search their parents' closets for high-heeled shoes that could complete their witch hats! Let's get your home ready for Halloween with these fun crafts for kids!
Halloween Decoration Crafts for Kids
To make your Halloween decorations special, here are some exciting Halloween decoration crafts for kids with mini pumpkin diorama, Jack-o-Lantern Mason jar, Halloween wreath with tissue paper, spooky ghost lantern, and spiderweb vase.
Mini Pumpkin Diorama
This Halloween, make your own spooky scene with mini pumpkins! Here's what you'll need:
Mini pumpkins
A sharp knife
Craft paints
A glue gun
Decorative items like moss and plastic animals
Instructions:
Cut off the top of the pumpkin and scoop out the inside.
Paint the outside with craft paint and let it dry.
Add the decorative items to the inside to create the spooky scene.
Secure everything with a glue gun.
Now your mini pumpkin diorama is ready! Make it even more creepy with glow-in-the-dark paint.
Fun fact: Carving pumpkins for Halloween began in Ireland with turnips or potatoes for pagan harvest festivals. So, why buy expensive pumpkin spice candles when you can make your own Jack-O-Lantern Mason Jar and both frighten away the darkness and impress your thrifty pals!
Jack-O-Lantern Mason Jar
Unleash the creativity of your kids this Halloween by making Mason Jar Jack-O-Lanterns! Gather mason jars, orange paint, black paint, brushes, and tea light candles. Have the kids paint the jars with orange acrylic paint, then let it dry for at least 30 minutes.
Using black paint, kids can draw Jack-O-Lantern faces on their dry painted jars. Let their imaginations run wild! Leave the jar to dry overnight and place a tea light candle inside. It'll create a spooky effect that's perfect for decorating homes or classrooms during festivities.
To add a unique touch, use glittering paint or paint spiders and webs. Crafting Mason Jar Jack-O-Lanterns will provide quality time and memories for everyone to cherish! And don't forget to make a spooky statement on your door with a tissue paper wreath of bats and ghosts!
Halloween Wreath with Tissue Paper
Create a spooky wreath using tissue paper and fun embellishments! It's a great way for kids to decorate their homes for Halloween.
Cut a circular shape from cardboard.
Cut small squares of tissue paper in orange, black, and purple.
Crumple up the squares and glue them to the cardboard circle.
Add spiders, bats, or skulls for a Halloween feel.
Paint the cardboard black for extra style! Or, use fake cobwebs and LED lights. Hang plastic spiders or tiny skeletons with fishing line for an extra creepy look.
Kids can make unique wreaths with lots of imagination! Plus, it's a budget-friendly way to get into Halloween decorating. Hang the Spooky Ghost Lantern up high to avoid any personal hauntings!
Spooky Ghost Lantern
Construct a spooky lantern with a ghost theme to spruce up your Halloween décor. The Spooky Ghost Lantern is a fun and inexpensive craft for the kids. Here's a 3-step guide:
Begin by covering the white paper lantern with tissue paper and glue. When the lights go out, it will give an eerie atmosphere.
Embellish with ghostly features such as eyes, nose, and mouth, made with black construction paper. Or, use markers and stickers.
Remove any excess glue and let it dry for an hour before illuminating it from inside.
Plus, add some cobwebs around the lantern to make it more mysterious. Create this Halloween décor your kids will adore today! Don't forget to repurpose the spiderwebs around your home into a spooky vase.
Spiderweb Vase
Craft a unique Halloween decoration with two glasses and some twine! Start by getting one larger and one smaller glass. Tie the twine around both, then weave it back and forth until you get a spiderweb pattern. Use glue to stick the smaller glass into place, then spray paint it. Once it's dry, remove the inner glass and add plastic spiders for an extra spooky look. Get creative and experiment with different colors to suit your decorations!
"You can't buy happiness, but you can make it" with homemade Halloween costumes for kids.
Homemade Halloween Costumes for Kids
To make unique and budget-friendly homemade Halloween costumes for your kids, turn to the section about homemade Halloween costumes for kids with DIY Superhero Cape, No-Sew Tutu Skirt Costume, Animal Onesie Costume, Ghost Costume with a Sheet, and Cardboard Box Robot Costume as creative costume ideas.
Diy Superhero Cape
Making a homemade superhero cape is easy! You only need fabric, scissors, Velcro strips, and a sewing machine. Here's how:
Step 1: Measure the cape's length with your child's height as a guide. Cut out a rectangle of the required size.
Step 2: Cut out another piece for the cape's collar.
Step 3: Sew on the collar and attach Velcro strips to secure it.
Personalise the cape by adding colours and patterns that your child loves. This will make it unique and special.
For extra durability and style, layer two fabrics together before cutting out the desired shape.
Creating a superhero cape with your child is a great way to have fun and create memories. Why buy a costume when you can make one?
No-Sew Tutu Skirt Costume
Make an easy, beautiful Tutu Skirt Costume without sewing. Perfect for kids who want to look pretty and comfy for trick-or-treating! Here's a Three-Step Guide:
Cut tulle fabric into strips 2″ by 18″. Double the desired skirt length, and cut tulle twice that length.
Fold the elastic waistband in half, and knot tulle strips around it. Over-under-twist-and-pull for a tutu look!
Add details to make it special! Choose colors that go together and wear matching tops or accessories like fairy wings or flower crowns. For extra sparkle, use glittery tulle fabric and shimmery ribbons. Why be a boring animal when you can be a walking, talking onesie?
Animal Onesie Costume
Transform your kiddo into their beloved fuzzy animals with the Animal-themed Onesie Costume! This fun, homemade Halloween costume is a creative way to make your child's imagination come alive.
Easy to make and very versatile, this costume is great for busy parents.
It's perfect for the younger ones who want something comfy to wear all night.
Make different animals using different colors of fabric, like lions, tigers, bears, and more.
Let your little one become their favorite animal while staying warm and comfy. They'll stand out from the crowd wearing this unique costume! Did you know the onesie was first made in 1898 as thermal underwear? It's now used for loungewear and sleepwear. Save money on a ghost costume! Just drape a sheet over your kid and call it a day. – Source: Sleep Advisor
Ghost Costume with a Sheet
Create a spectral look with linen for your child this Halloween! A ghost costume is one of the simplest ideas. Get a white or light-colored sheet that fits them. Make two small holes in the top to fit their face. Drape the sheet over their head, and tie a belt around their waist to adjust the length. Add an eerie vibe by cutting ragged edges at the bottom with scissors. Accessorize with white or gray gloves and shoes.
Remember: always have an adult supervise while cutting fabrics. To make it even more fun, add glow-in-the-dark paint or streaks of food coloring to the outfit. For extra creepiness, your kid can put on makeup to exaggerate shadows under their eyes, cheeks, nose and brows. Making a ghost costume from linen sheets is both easy and cost-effective.
Cardboard Box Robot Costume
Bring your child's imagination to life with this awesome, budget-friendly robotics costume! Made from simple cardboard boxes, it's crafted with a futuristic twist.
Here's how:
Gather different sizes of cardboard boxes.
Paint the boxes in metallic colors and cut out holes for arms, legs, and the head.
Put on knobs and switches with plastic cups or buttons.
Add accessories like antennae or extra lasers.
Plus, why not add battery-powered lights or sound effects for an extra touch of creativity? It's great for night carnivals and trick-or-treating.
Did you know? According to the NPD Group, in 2019 more than two-thirds of Halloween celebrants will either buy or make their costumes.
Frequently Asked Questions
Q: What are some easy Halloween crafts for kids to make at home?
A: Some easy Halloween crafts for kids include making paper ghosts, spider web art, and pumpkin decorations using construction paper or tissue paper.
Q: How can I involve my child in Halloween craft activities?
A: You can involve your child in Halloween craft activities by providing them with materials and instructions for making fun Halloween-themed crafts or by finding age-appropriate crafts online to do together.
Q: What materials do I need for Halloween crafts for kids?
A: Materials for Halloween crafts for kids can include construction paper, glue, scissors, markers or crayons, craft sticks, pipe cleaners, and other items that can be found around the house.
Q: Can I use recycled materials for Halloween crafts for kids?
A: Yes, you can use recycled materials for Halloween crafts for kids such as old cardboard boxes, bottles, and jars. This can be a fun way to teach children about recycling and being environmentally conscious while creating something spooky for Halloween!
Q: How can I make Halloween crafts educational for kids?
A: You can make Halloween crafts educational for kids by incorporating math, science, or history into the craft. For example, you can teach about the science behind making slime or the history and culture behind the Day of the Dead celebration while making decorations.
Q: What are some Halloween crafts for kids that are safe to make with young children?
A: Some Halloween crafts that are safe to make with young children include making spider handprints, decorating foam pumpkins, creating paper plate masks, and making yarn-wrapped mummies.