How To Draw A Unicorn (Step by Step)
This tutorial about how to draw a unicorn is very prominent in our list, as kids have an instant close relation with unicorns. Unicorns are essentially ponies with sorcery. Magic is the most loved theme about unicorns that individuals have discussed for many years.
Unicorn
Do you know what a unicorn is? They are legendary creatures with ethereal beauty, and they are as white as snow. In this tutorial, we will learn how to draw a unicorn easily. Unicorns possess a secret power that makes them unique. Yes, we are talking about the mystical long and spiraling horn projecting from the top of their head. It is a beautiful creature, isn't it?
These white and graceful creatures are very popular and appealing basically because they have a heavenly appearance which makes them distinctive and out of the world. They are adored because people find them as a source of escaping reality.
Do you know?
Do you know that they have a distinctive ability to grant wishes of those who contain a pure heart? Unicorns are portrayed and described as the image of freedom, innocence, purity, magic, and healing.
Have you heard about the numerous legend tales about unicorn wizardry? Unicorns have exquisite magnificence that doesn't appear to have a place in this world. Children simply love secretive things that grown-ups neither accept nor trust. Don't we agree to this?
Draw A Unicorn
Without going into further details, let's start with our learning tutorial about how to draw a unicorn.
Things Required
Unicorn drawing printables
Market/Pencil
Paper
Coloring supplies
How to Draw a Unicorn Step by Step
This tutorial will guide you through 9 steps designed for kids, beginners, and anyone who wants to make a cute unicorn drawing.
Note that every new step included in each illustration is featured in red.
Step 1:
Like our preceding tutorials, we always start with simple and easy steps. Start by drawing a tilted U shape. You can just draw a regular tilted u shape or you can even add more details while drawing it.
Step 2:
It's time to draw all the facial details. You need to be a little more careful as true beauty will only be captured if you do it properly.
Now it is time to draw the muzzle, the closed eye, and one ear which will be far away on the top of the head. You have just learned how to draw a unicorn face.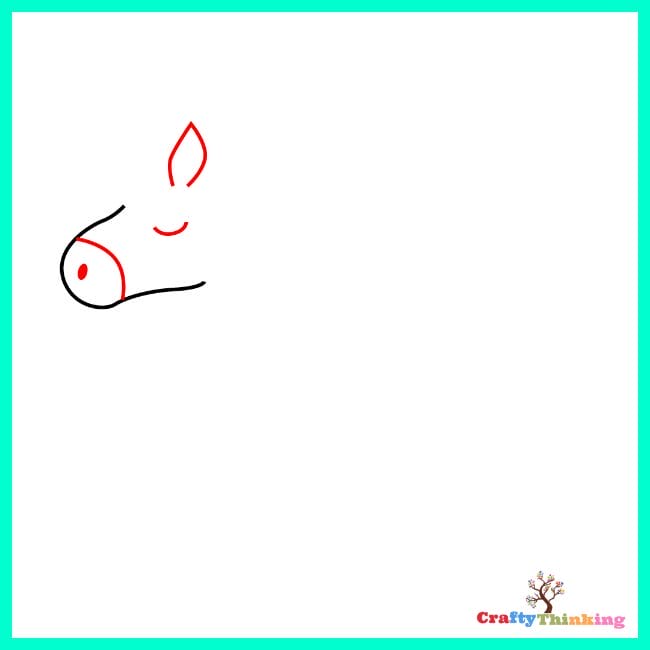 Step 3:
In this step, we will work on the mane. It may be a difficult part for some, but a little concentration will make it perfect.
Start from behind the ear and try to finish it accordingly as illustrated. After drawing this part you have finished the most important portion of the whole image.
Step 4:
This step has two segments. Firstly, you need to continue on the mane. Add a minimum of three more layers to show up the mane but you can add more according to your choice. When you will color them they will be highlighted to form the best portion of the drawing.
Now add the neck by drawing a curved line. Keep it straight from the top and curve it a little as you move down.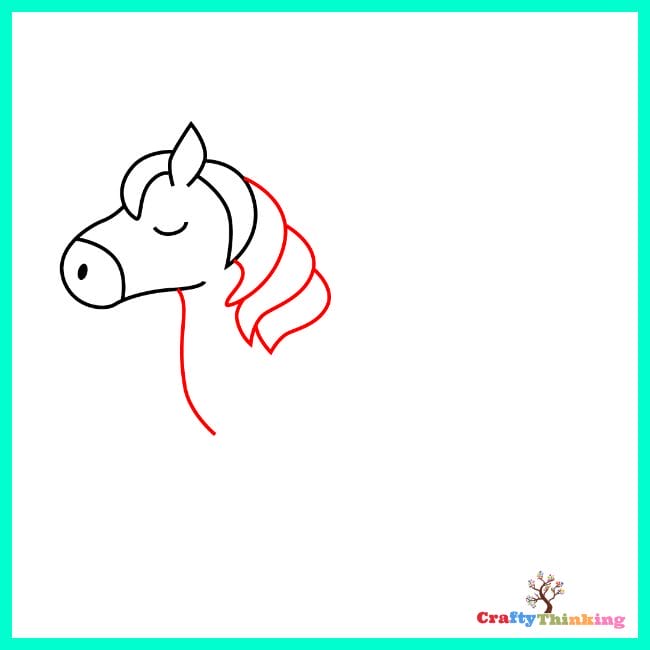 Step 5:
Next, you will draw two front legs at the bottom of the page and then you will connect the neckline with it as we have done in the picture below.
Step 6:
We will cover two portions in this step. Draw a straight line between the legs to sketch the slim stomach.
Now you can join the mane and the back leg to draw the back of the unicorn. Did you find it magical? Kindly share your comments after completing this drawing tutorial.
Step 7:
We are two steps away from learning how to draw a unicorn. Now draw the other pair of legs at the back. Try to be active and join them with the front legs. Keep the shapes the same as you drew in step 5.
Step 8:
Draw the tail of the Unicorn. You can keep it long or short according to your imagination or how it suits the remaining body and the one that attracts you more. It should look more like a ponytail.
Step 9:
In the last step of drawing a Unicorn easily, you can add more strokes to the tail. Add the same small and thin lines on the tail.
Now finally it's time to draw the elegant horn projecting from its forehead. It will be long and spiraling in shape which is considered a source of magic.
Tip: You can add a star at the cone horn if you would like to.
Color: 
Coloring the unicorn will give you the liberty to use multiple colors and it is up to you how you show your creativity.
What could be better than letting you express your imagination by coloring the unicorn with your favorite colors?
We are using rainbow colors in the tail and the mane.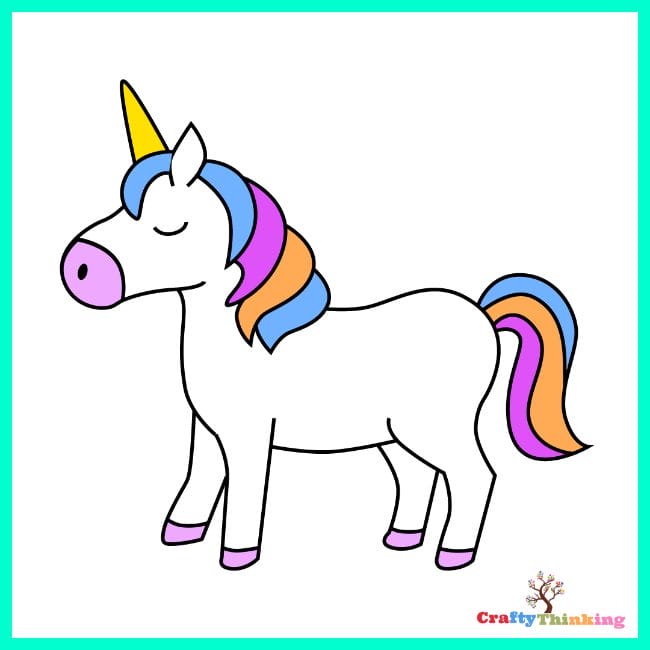 Hooray! You have learned easily how to draw a unicorn! The steps were indeed very simple, yet enjoyable!
If you like this article about how to draw a unicorn and would like to know more, please comment below.
Here goes our How to Draw Printable Here