How to Draw Chainsaw Step by Step with Free Chainsaw Template
Do you like to draw? Do you like chainsaws? Well, now you can learn how to draw chainsaws! This handy tutorial will show you everything you need to know.
You'll be able to create a realistic chainsaw sketch in no time. So, what are you waiting for? Start the How to Draw Chainsaw tutorial!
You might also like:
Supplies Needed for the Chainsaw Drawing
1. Free Printable Chainsaw Template
How to Draw Chainsaw Step By Step for Beginners
When drawing a chainsaw, it is important to start with the basic shape of the saw. Then, add details such as the handle, bar, and chain.
Finally, color in the saw to complete the drawing. Remember, practice makes perfect! With a little bit of practice, anyone can learn how to draw a chainsaw.
Step 1
In the very first step, draw a square like this. 
Step 2
Then draw two parallel lines having a starting point with this square, and in the last, join these two lines with an arc. You will have this type of shape.
Step 3
Now draw a thin rectangle just like a pencil on the upper part of the square.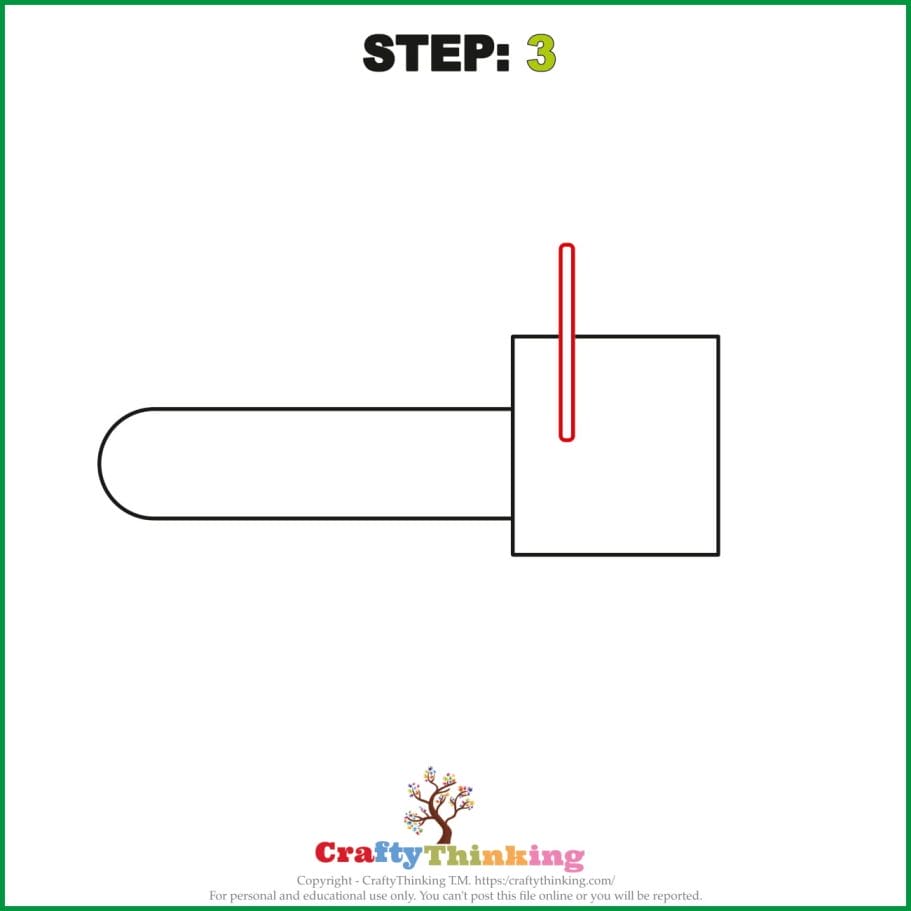 Step 4
Step 4 creates a wavy structure, like the figure around the rectangle arc. 
Step 5
Now draw a tiny box inside the square, which should be close to the bottom line.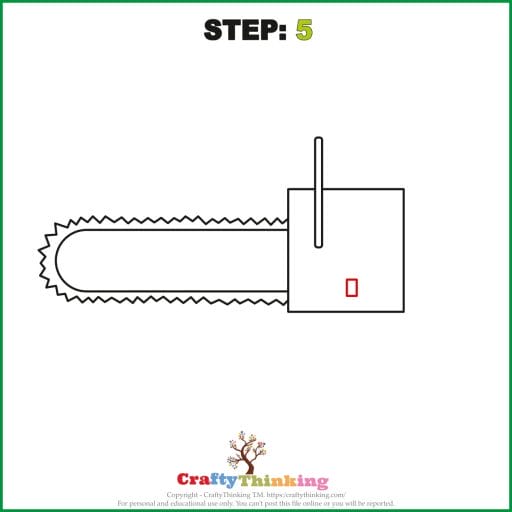 Step 6
Draw another small box along with this box. Now you have two boxes. 
Step 7
Draw a third box with these boxes, and you have three boxes inside.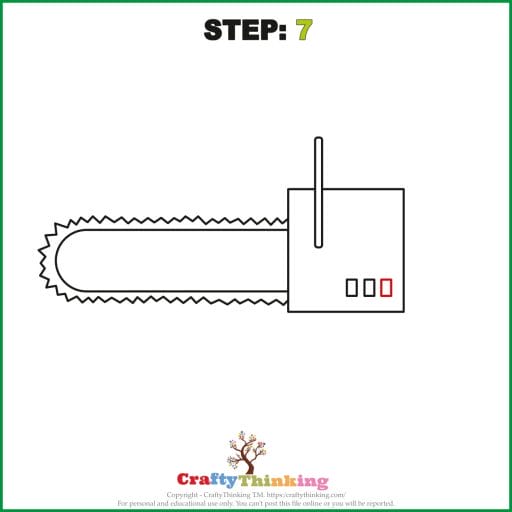 Step 8
In the eighth step, draw your handle just like in the figure.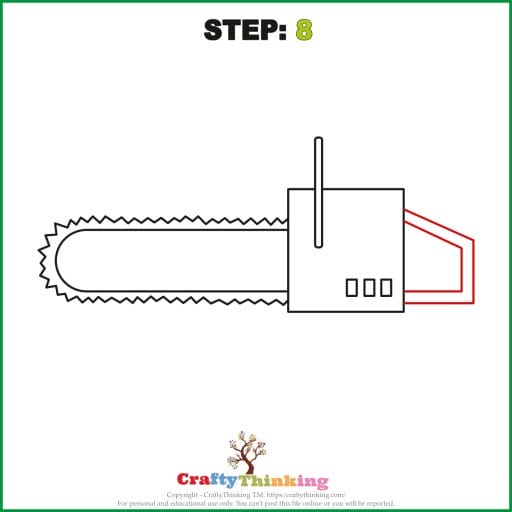 Step 9
Now you have the structure of the chainsaw. 
Step 10
The structure of the chainsaw is ready. Now fill the colors inside and complete your drawing. Congratulations! You have successfully learned How to Draw Chainsaw.
We hope this was a fun-filled experience for you all.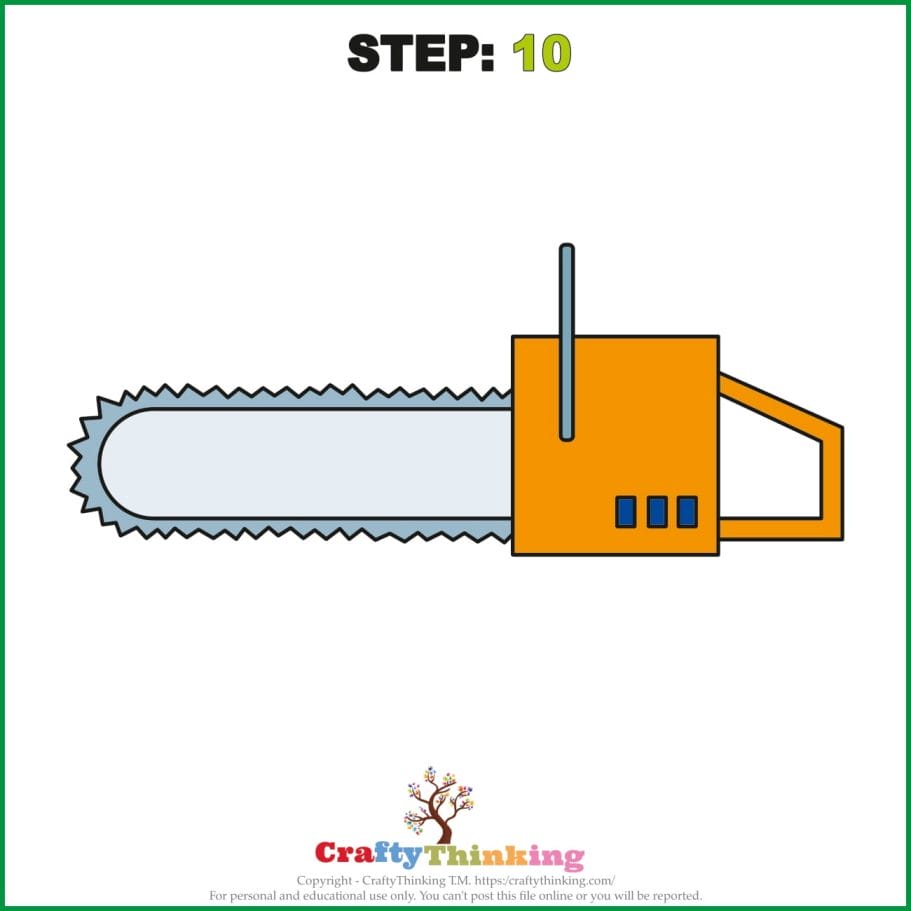 What are Chainsaws? 
A chainsaw is a portable, mechanical saw that cuts with a set of teeth attached to a rotating chain that runs along a guide bar.
It is used in activities such as tree felling, limbing, bucking, pruning, cutting firebreaks in wildland fire suppression, and harvesting of firewood.
Chainsaws with specially designed blades and chains are also used for artistic purposes in chainsaw art.
To sum up How to a Draw Chainsaw
You can add extra details and highlights at any point in your drawing. Remember, little details go a long way.
Don't hesitate to take your time and focus on those small things that will make your drawing look more professional. You can also change some of our proportions if you feel like they need adjustment.
Most importantly, have fun! Drawing should be enjoyable, so experiment with different methods and media until you find what works best for you.
If you like this article about How to Draw Chainsaw and would like to know more, please comment below.
Free Printable Chainsaw Template
Enter your email below to get your
Free Chainsaw Printable and join our Newsletter.