The Best Kindergarten Crafts for Kids to Boost Creativity: From A to Z
Are you looking for the Best Kindergarten Crafts for Kids? If so you came to the righ place! We will take you through a wide range of craft ideas that are perfect for kindergarten-aged children.
Kindergarten is a crucial time for children to explore their creativity through various art projects and crafts.
Engaging in crafts not only enhances their motor skills but also fosters their imagination and self-expression.
Keep reading to find out the Best Kindergarten Crafts for Kids, from flower crafts to printable projects, we have got you covered!
You might also like:
What are Kindergarten Crafts?
Kindergarten crafts are hands-on art and creative projects tailored for children in kindergarten, typically designed to be fun, engaging, and developmentally appropriate.
15 Best Kindergarten Crafts for Kids
Welcome to the realm of wonder and creativity, where every paper and glue stick holds a promise of adventure!
Discover the '15 Best Kindergarten Crafts for Kids' and let the little hands weave tales of imagination and love.
1. Paper Plate Portraits
Dive into the world of kindergarten art projects with paper plate portraits. Let students' imaginations run wild as they create self-portraits or imaginative faces using paint, yarn, and googly eyes.
2. Nature Collages
You've got the perfect opportunity to blend art with nature. Collect leaves, twigs, and flowers and let kids arrange them on paper to create their unique masterpieces.
3. Finger Painting Fun
A classic pre-k activity, finger painting allows young artists to explore textures and colors while developing their fine motor skills.
4. Craft Stick Puppets
Using craft sticks, felt, googly eyes, and yarn, kids can create their own characters. These are perfect for imaginative play and storytelling.
5. Bubble Wrap Prints
Dip bubble wrap in paint and press onto paper. The result? A fun and textured print that students will love.
6. First Grade Ready Handprints
As they transition from kindergarten, have kids make handprint art. It's a sentimental craft that captures their growth.
7. Famous Artists Coloring Pages
Introduce them to famous artists like Van Gogh or Picasso with coloring pages inspired by their iconic works.
8. Tissue Paper Flowers
Using colorful tissue paper, kids can craft beautiful flowers. This project is great for developing fine motor skills as they scrunch and shape the paper.
9. Animal Masks
Using paper plates and craft supplies, kids can design masks of their favorite animals. It's a fun way to discuss different species and their characteristics.
10. String Art
With some cardboard, string, and pins, kids can create geometric designs or simple images, introducing them to the world of patterns.
11. Clay Creations
Moldable clay offers endless possibilities. From animals to abstract shapes, it's a tactile experience that kids adore.
12. Storybook Crafts
After reading a favorite story, have kids create a craft related to the book. It's a wonderful way to reinforce comprehension and celebrate literature.
13. Sensory Bags
Fill zip-lock bags with paint, glitter, and other materials. Kids can squish and move the contents around, creating abstract art while engaging their senses.
14. Collage Self Portraits
Provide magazines, fabric scraps, and other materials for kids to cut out and assemble into a self-portrait collage, showcasing their unique personalities.
15. Footprint Art
Much like handprints, footprints can be turned into various designs, from animals to scenes. It's a delightful and memorable craft for young kids.
Remember, the goal of these crafts isn't just to produce art, but to foster creativity, develop skills, and most importantly, have fun!
Best Kindergarten Craft Kits
Embark on a delightful journey of hands-on creativity and joy! Unveiling the '10 Best Kindergarten Craft Kits' that promise endless hours of fun and cherished memories for your little artist.
Bestseller No. 1
Mumaloo Crafts, Arts and Crafts for Kids, Kid Craft Kit, 6 Year Old Girl…
gift for 7 year old girl, 6 Year Old Girl Birthday Gift Ideas, kids crafts, gifts 4 year old girl, kids…
boy craft, kids travel activities, arts and crafts 5 year old girls, gift for 6 year old girl, toddler crafts…
kids craft kits age 5-8, painting kits for kids ages 4-8, arts and crafts toddlers, toddler art set, art kids…
unicorn craft, unicorn gift, kids crafts ages 6-8, toddler arts and crafts 2 years, 4 year old girl gifts, crafts…
Sale
Bestseller No. 2
Imagimake 5-in-1 Awesome Craft Kit | Includes 15+ Projects | Crafts for…
THE ULTIMATE KIDS ARTS AND CRAFTS: 15+ projects across 5 awesome arts and crafts techniques – Stamp Art, DIY…
MESS-FREE CREATIVE PLAY: Each activity is neatly & conveniently packed into a separate box. We give special…
COMPLETE CRAFT KIT: This set of crafts for girls ages 6-8 comes with everything you need from the markers to the…
AN INSPIRING GIFT FOR GIRLS TO ENCOURAGE CREATIVITY: A great option for 5 year old girl gifts & 6 year old girl…
Bestseller No. 3
Pretty Me Headband Making Kit for Girls – Make Your Own Fashion Headbands…
THE GREATEST HEADBAND-MAKING KIT: Tap into your inner fashionista and design ten beautiful headbands to match any…
UNLEASH & SPARK YOUR CREATIVITY: Mix and match colors, accessories, ribbons, trims, flowers, and more to put your…
COMPLETE 50+ PIECE CRAFT KIT – INCLUDES EVERYTHING YOU NEED: 10 satin headbands, 2 wide ribbons, 2 wide mesh…
A FUN GIFT FOR ALL AGES: It fascinates children as soon as they pull it out of the box and is a perfect project…
Sale
Bestseller No. 4
Paint Your Own Wooden Kids Heart Treasure Box Kit – Art Kits for Toddler…
PERSONALIZE YOUR OWN TREASURE CHEST: Add a touch of creativity to your room with the heart-shaped wooden treasure…
ENDLESS DESIGN OPTIONS: The kit comes with four paints (in pink, teal, yellow, and blue), purple glitter glue,…
SPARKLE AND SHINE: The kit includes purple glitter glue and assorted gem stickers to add bling to your design….
PERFECT GIFT IDEA: A great gift for young girls who love to express themselves creatively. Whether for a…
Sale
Bestseller No. 5
Skillmatics Art Activity – Fun with Foam Unicorns & Princesses, No Mess…
ART ACTIVITY WITH FOAM STICKERS: Fun with Foam is a no-mess, stickering art activity set designed to engage…
WHAT'S INSIDE: 800+ Colorful Foam Stickers, 6 Picture Boards, Instruction Manual
HOW TO USE: Have your child choose a picture board and provide them with sheets of colorful foam stickers….
INDEPENDENT CREATIVE PLAY: With easy-to-peel & press foam stickers, this art set is designed to inspire…
Sale
Bestseller No. 6
Creativity for Kids Big Gem Diamond Painting Kits: Magical Stickers and…
DIAMOND PAINTING: Create your own diamond art designs! This craft kit for girls and sparkle lovers combines two…
DIY DIAMOND ART: The perfect unicorn gifts for girls who love arts and crafts! Everything you need is included,…
1000+ DIAMOND ART GEMS: Unleash your creativity with colorful, sparkling diamond dots! No glue, no mess!…
DIAMOND PAINTING DUO: The most enchanting craft kit for girls and boys ages 6-8+ is here, with TWO diamond art…
Sale
Bestseller No. 7
YOFUN Make Your Own Unicorn Night Light – Unicorn Craft Kit for Kids, Arts…
【MAKE YOUR OWN UNICORN NIGHT LIGHT】Comes with all you needed to create your own unicorn night light, your…
【UNICORN GIFTS FOR GIRLS】 Unicorn night light is a perfect gift idea for younger kids as well as teens,…
【DETAILED INSTRUCTION INCLUDED】 Detailed instruction with an image of each step is included, no more…
【REPLACEBALE BATTERY】The battery for the LED light is replaceable,no plug and wire needed, just simply…
Sale
Bestseller No. 8
Skillmatics Art & Craft Activity – Foil Fun Animals, No Mess Art for Kids,…
FOIL ART & CRAFT ACTIVITY: Let your child's imagination soar with this magical, mess-free foil art and craft…
INCLUDES: 100+ Colorful Foam Stickers, 100 Colorful Foil Sheets, 10 Picture Canvases, Googly Eyes and an…
EASY TO USE: Select a picture canvas, apply sparkly foil sheets using the included stickers, and watch the…
AWARD-WINNING TOY: Skillmatics Foil Fun has received The Toy Insider's Top Summer Toy 2023 award and is also a…
Bestseller No. 9
Paint Spin Art Machine Kit for Kids – Arts and Crafts for Boys & Girls Ages…
UNLEASH CREATIVITY: Dive into the world of splatter art and create unique masterpieces reminiscent of famed…
NO RULES, JUST FUN: With abstract art, there's no right or wrong. Use the white crayon for special effects,…
ALL-INCLUSIVE KIT: This comprehensive set comes with a paint spinning machine, splatter guard, 4 bright paints, 3…
HASSLE-FREE SETUP: Equipped with a splatter guard and intuitive setup process, this kit ensures a mess-free art…
Bestseller No. 10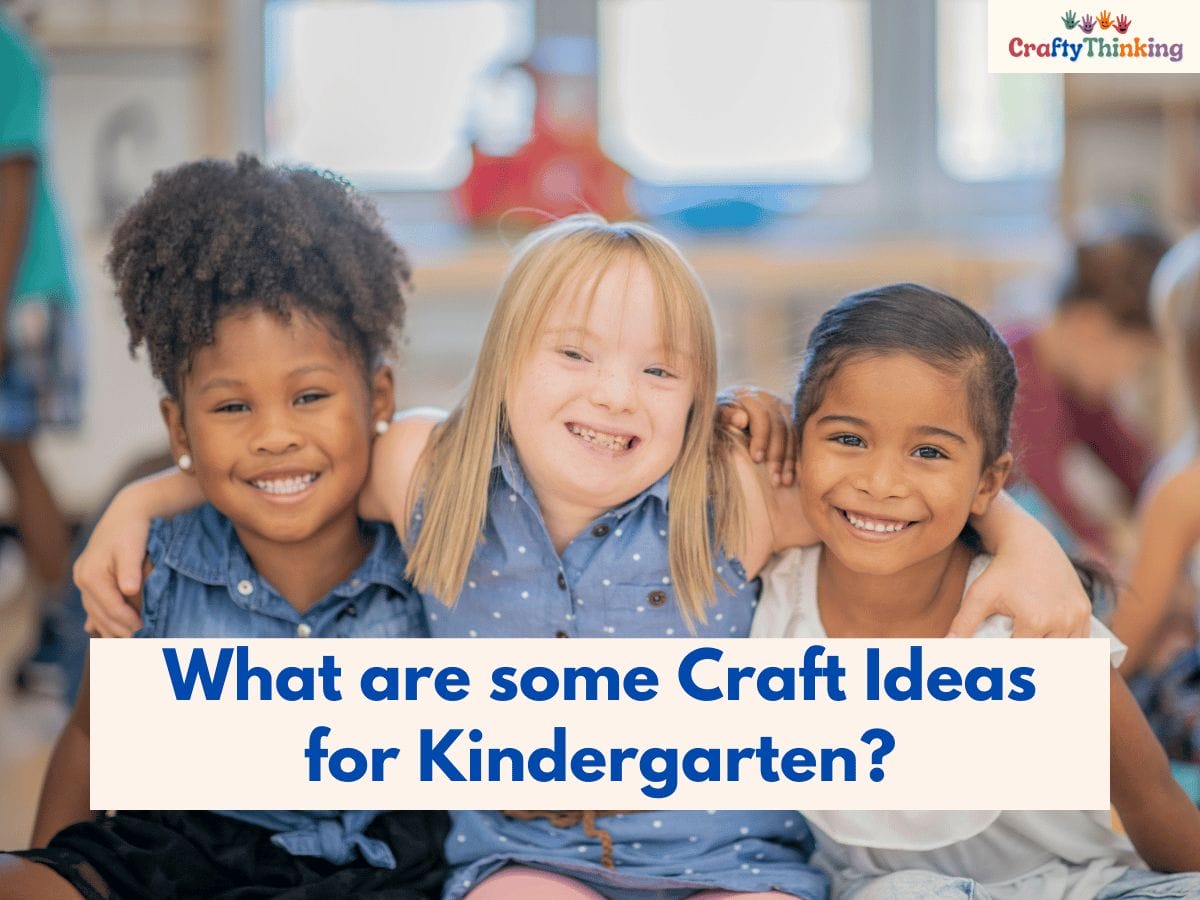 What are some Craft Ideas for Kindergarten?
Craft ideas for kindergarten include creating paper plate animals, painting with watercolors, making handprint art, and crafting simple nature collages using leaves and flowers.
1. Flower Craft
One of the most popular craft ideas for kindergarteners is creating beautiful flower crafts.
These crafts not only teach them about different types of flowers but also allow them to experiment with colors and textures.
With simple materials like colorful paper, pipe cleaners, and glue, children can create their own vibrant flowers that will surely brighten up any space.
2. Printable Craft
Printable crafts are a great way to engage children in a creative activity without much hassle.
There are numerous websites and resources that provide free printable templates for kindergarten crafts.
From animals to vehicles and even seasonal themes, you can find a wide range of options to choose from.
These crafts can be easily printed, cut, and assembled, giving children a sense of accomplishment.
3. Preschool Craft
Preschool crafts are specifically designed for young children to enhance their fine motor skills and hand-eye coordination.
These crafts typically involve simple cutting, pasting, and coloring activities that are suitable for kindergarten-aged children.
It could be a paper plate dinosaur or a handprint art project – the options are endless.
Not only will these crafts keep children engaged, but they will also help develop their cognitive abilities.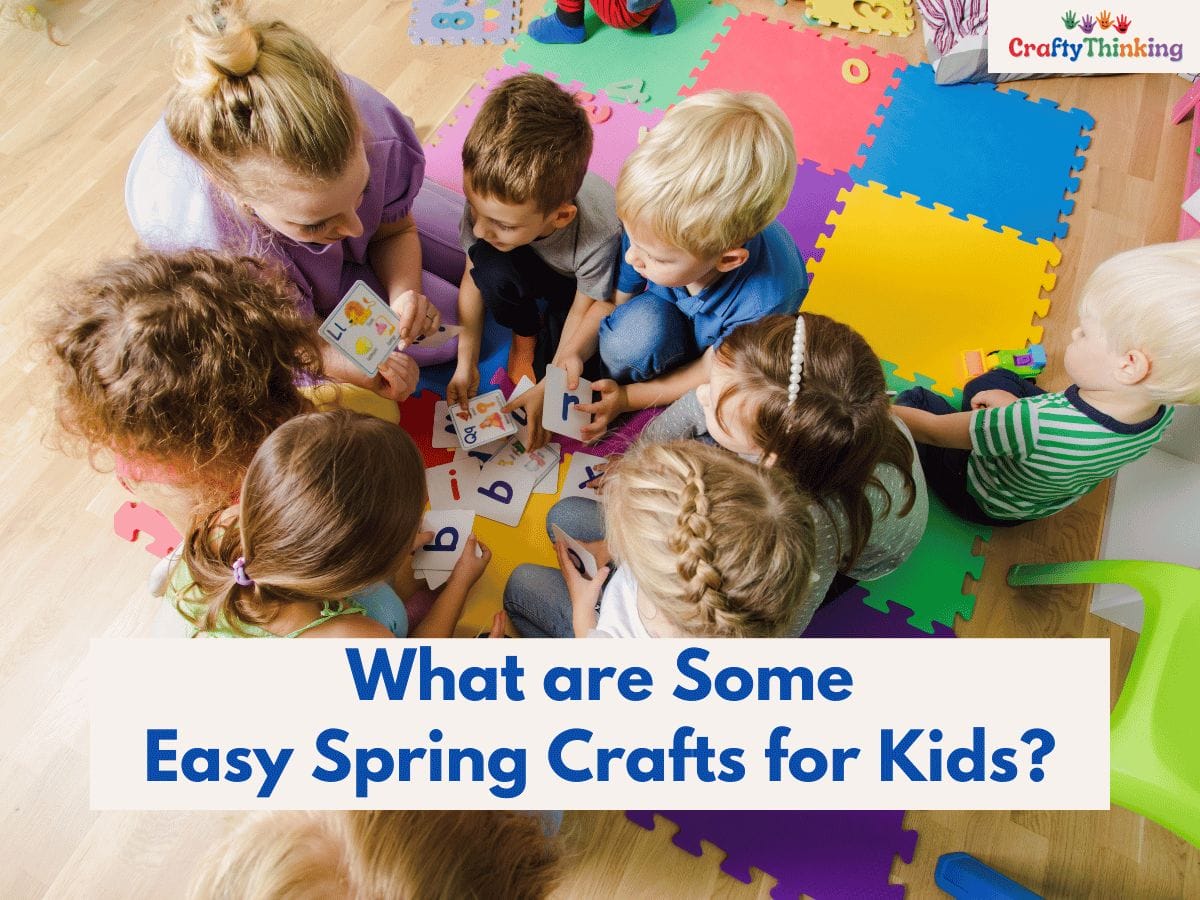 What are Some Easy Spring Crafts for Kids?
Easy spring crafts for kids include making paper flowers, crafting butterflies using colorful coffee filters, creating rainbows with cotton balls, and painting egg carton tulips.
1. Shaving Cream Art
Spring is the perfect time to engage children in messy yet fun art activities.
Shaving cream art is a popular craft idea that involves spreading shaving cream on a tray and then dropping liquid watercolors or food coloring on top of it.
Children can then swirl the colors using a stick or toothpick to create beautiful abstract designs.
2. Bubble Wrap Painting
Another easy spring craft idea is bubble wrap painting.
Children can create their own bubble wrap stamps by cutting small pieces of bubble wrap and attaching them to wooden blocks or cardboard.
They can then dip the bubble wrap stamps in paint and press them onto paper or canvas to create unique patterns and textures.
3. Glitter Rainbow Craft
Nothing screams spring more than rainbows!
Children can create their own glitter rainbow crafts using colorful construction paper, glue, and lots of glitter.
They can cut out cloud and rainbow shapes from the construction paper and then decorate them with glitter to make them shine.
This craft is not only fun to make but also a great way to teach children about colors and weather.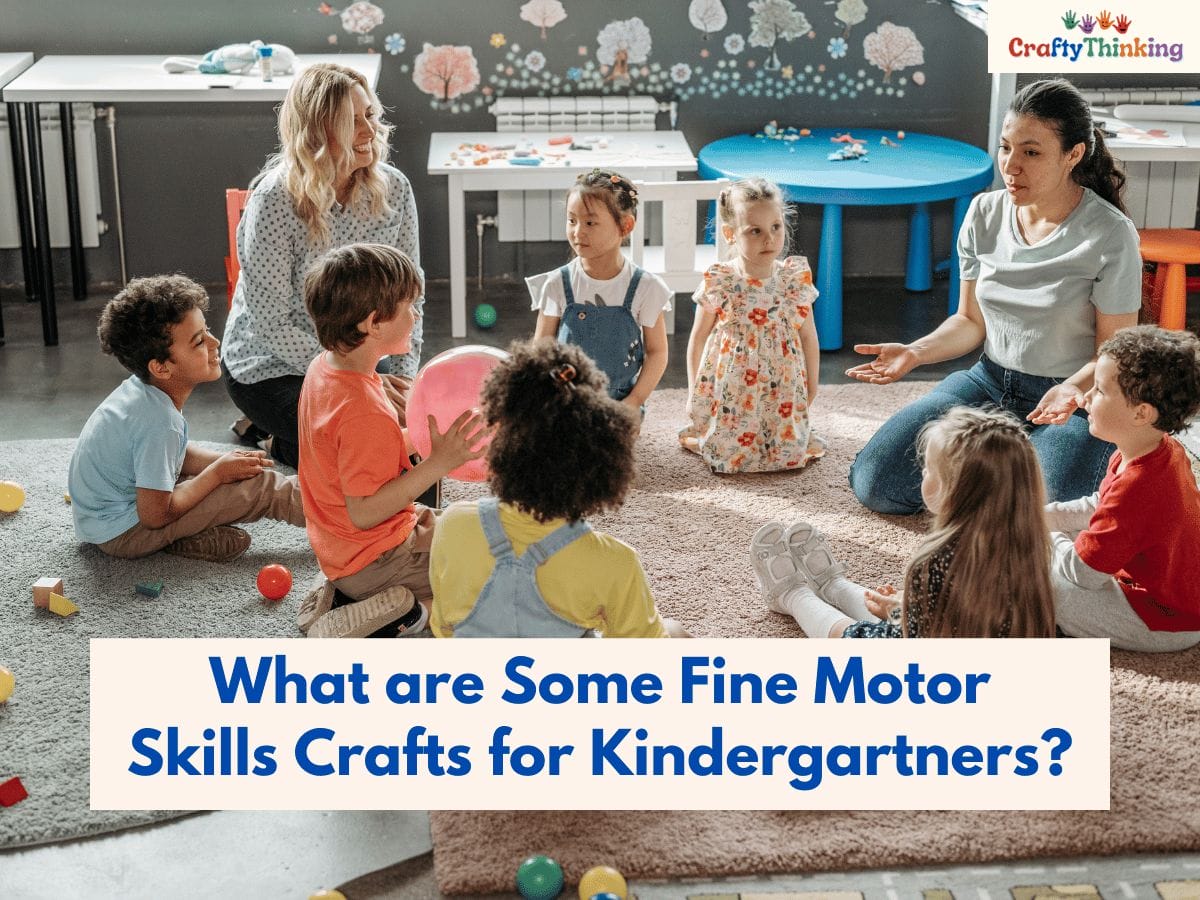 What are Some Fine Motor Skills Crafts for Kindergartners?
Fine motor skills crafts for kindergartners involve activities like threading beads, using safety scissors to cut patterns, molding shapes with playdough, and creating art with tweezers and pom-poms.
1. Pipe Cleaners Butterflies
Butterflies are always a favorite among children.
Making pipe cleaner butterflies is a fantastic craft that helps develop fine motor skills.
Children can shape colorful pipe cleaners into butterfly wings and then attach them to a clothespin or popsicle stick.
They can also add googly eyes and decorate the wings with paint or stickers to give them a personalized touch.
2. Paper Plate Jellyfish
Creating paper plate jellyfish is a fun and engaging craft that allows children to explore their creativity.
They can paint the underside of a paper plate with vibrant colors and then attach colorful streamers or ribbons to create jellyfish tentacles.
This craft not only strengthens fine motor skills but also teaches children about different sea creatures.
3. Straw Painting
Straw painting is a simple yet effective craft idea for kindergartners.
Children can dip a straw into paint and blow on it to create unique and abstract designs on paper.
They can experiment with different colors and blowing techniques to create stunning artwork.
This craft not only encourages creativity but also improves hand-eye coordination.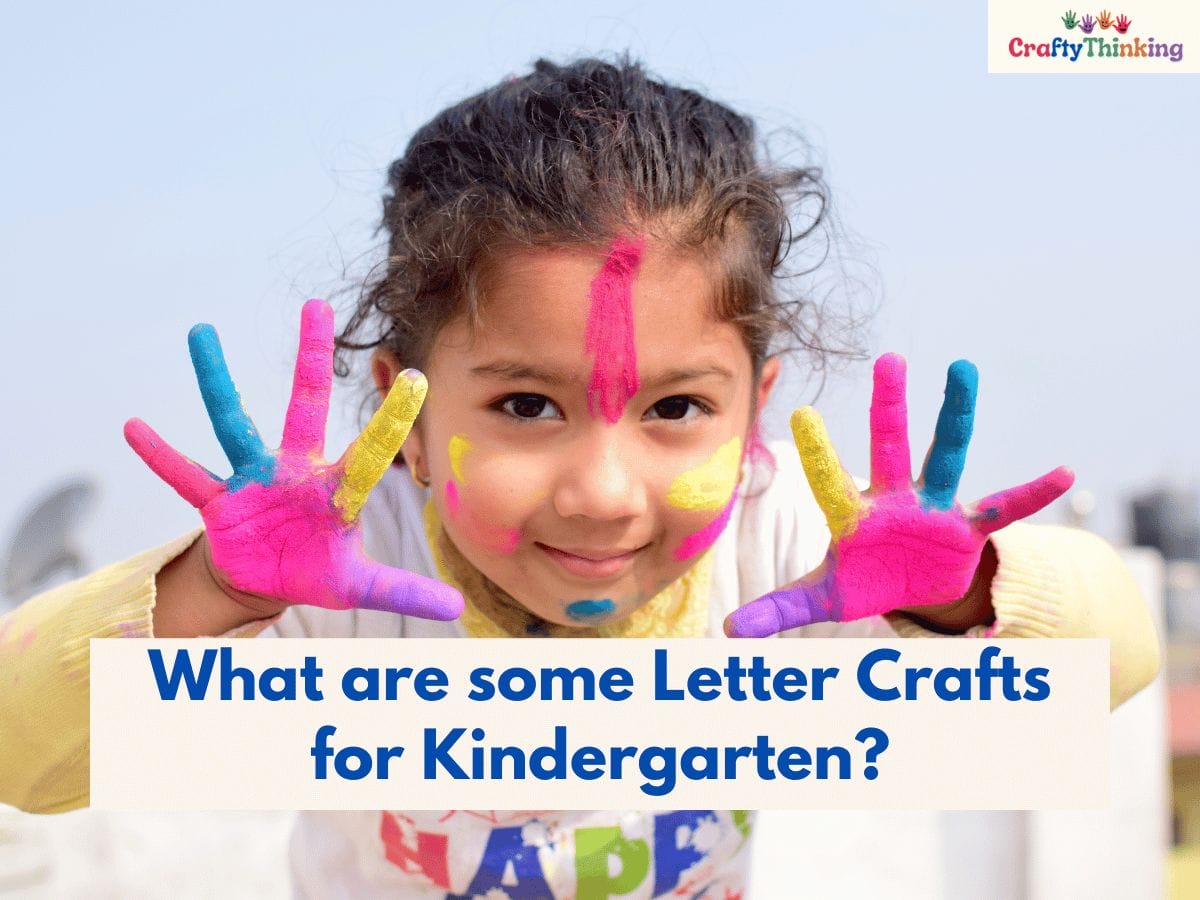 What are some Letter Crafts for Kindergarten?
Letter crafts for kindergarten often involve creating each letter of the alphabet using materials like construction paper, felt, or fabric, or associating each letter with an object or animal, such as "A is for Apple" crafted art.
1. Paper Bag Kitty
Letter crafts are a great way to introduce children to the alphabet while engaging in a creative activity.
Creating a paper bag kitty is an excellent craft idea for the letter "K".
Children can cut out ears, eyes, a nose, and whiskers from construction paper and then glue them onto a paper bag.
This craft not only teaches them about the letter "K" but also introduces them to basic shapes and spatial awareness.
2. Watercolor Letter Art
Watercolor letter art is a fascinating craft that allows children to combine their artistic skills with letter recognition.
They can draw or print out large letters of the alphabet on watercolor paper and then use watercolors to paint beautiful designs inside the letters.
This craft is not only educational but also encourages children to think creatively.
3. Straw Letter Puppets
Straw letter puppets are an interactive craft idea that engages children in imaginative play and letter recognition.
Children can cut out letters from construction paper and attach them to the end of a straw or popsicle stick.
They can then use these letter puppets to spell words, create stories, or even put on a puppet show.
This craft is not only fun but also enhances letter recognition and language skills.
What are some kindergarten crafts that incorporate the alphabet?
Incorporating the alphabet into arts and crafts is a great way to make learning fun. Kindergarten on Instagram showcases lots of easy and fun craft ideas, like using coffee filters and washable markers to create colorful letters. These hands-on activities ensure students will love learning their ABCs.
How can you create a scribbler art project?
A scribbler art project is all about letting kids experiment with a variety of materials. Using craft foam, q-tips, and even decorative scissors, students can create multicolored masterpieces.
It's a fun idea that young kids especially enjoy.
How do you make a kindergarten art flower craft?
For a fun spring flower craft, kids can use coffee filters, washable markers, and a little water to create beautiful blossoms.
This hands-on activity is not only adorable but also offers fine motor practice for little ones.
What are the best printable resources for preschool?
There are many printable resources for preschool, especially around themes like Earth Day or Father's Day.
Look for mega bundles that offer a variety of learning ideas, ensuring students will enjoy the hands-on experience.
What are some fun craft projects suitable for kindergarteners?
Kindergarteners love arts and crafts that allow them to be hands-on. Craft sticks, brown paper, and q-tips are just a few materials that can be used.
From creating kid-made Father's Day cards to fun spring crafts, the possibilities are endless.
Do you have any craft ideas for kids using watercolor?
Yes, watercolor crafts are lots of fun for kids. One idea is to let kids paint coffee filters with watercolors and then use them to craft Earth Day globes or springtime flowers.
It's a simple yet effective way to teach kids about colors and blending.
How can you craft with pipe cleaners and paper plates?
Pipe cleaners and paper plates offer endless fun craft ideas. For instance, students can create adorable craft animals or flowers for springtime. These crafts are not only engaging but also help improve fine motor skills.
What are some popular kindergarten craft ideas for spring?
Spring brings lots of easy and fun ideas for kindergarten arts and crafts. From crafting flowers using multicolored craft foam to creating rainbows with q-tips, students will love these hands-on projects.
How can you incorporate bubble wrap and glitter into crafts?
Bubble wrap and glitter can be used to create textured and sparkly art pieces. It's a great way to help young kids experiment with different textures and shine, making their crafts stand out.
What are some fun crafts for kindergartners that involve rainbows?
Rainbows are always a hit with kindergarteners. Using washable markers, craft sticks, and even coffee filters, kids can create vibrant rainbow crafts. These projects are not only colorful but also offer a chance for fine motor practice.
What year crafts can you make using straws?
Straws are versatile and can be used to craft items related to any theme, be it Earth Day, springtime, or even Father's Day. They're especially useful for first-grade students looking for a simple and hands-on crafting experience.
How do you create a paper bag jellyfish kitty craft?
Combining a paper bag with craft foam and decorative scissors, students can craft a unique jellyfish kitty. It's an adorable craft idea that kids love and can be straight to your inbox if you're subscribed to arts and crafts newsletters.
Where can I find a freebie peacock craft template?
Many online resources, especially kindergarten arts and crafts blogs, offer freebie templates. Look for ones that provide hands-on learning ideas, ensuring that students will enjoy the crafting process.
How can you make a masterpiece chick craft?
Using craft sticks, multicolored craft foam, and q-tips, students can create a chick masterpiece. It's a fun and hands-on activity that's perfect for springtime and is sure to be a hit with the little ones.
What are some rainbow craft ideas suitable for preschoolers?
Preschoolers love colorful projects, and rainbows are no exception. Using materials like washable markers, craft foam, and even bubble wrap, young kids can create vibrant rainbow crafts that they'll be proud to show off.
Frequently Asked Questions
Here are some frequently asked questions about the Best Kindergarten Crafts for Kids. Get some quick answers to everything you need to know.
What should kindergarteners learn in art?

Kindergarteners in art should learn basic elements like colors, shapes, and lines, as well as develop fine motor skills through activities like cutting, pasting, and drawing, all while expressing their creativity and emotions.

What is a fun craft for kids?

A fun craft for kids is creating handprint or footprint art, where they can dip their hands or feet in paint and stamp them onto paper, later turning them into animals, flowers, or other imaginative designs.

Why arts and crafts are important in kindergarten?

Arts and crafts in kindergarten foster creativity, enhance fine motor skills, promote self-expression, and help children understand and connect with the world around them.

What are good crafts for 3 year olds?

Good crafts for 3-year-olds include finger painting, creating collages with pre-cut shapes, stringing large beads, and molding shapes with playdough.

What easy things can a 5 year old draw?

A 5-year-old can easily draw basic shapes, simple animals like fish or birds, sun, moon, trees, and stick figures representing people and animals.

What should my 5 year old be drawing?

A 5-year-old should be drawing more detailed and recognizable pictures, such as basic human figures with distinct body parts, simple scenes like a house with a yard, and more intricate shapes and patterns.
Wrapping Up the Best Kindergarten Crafts for Kids
Navigating the world of kindergarten art projects can be a colorful journey, and with the masterpieces you've got in your students' portfolios, they're on their way from pre-k prodigies to first-grade famous artists.
So, before you close the book (or the footer) on this creative chapter, remember: the best is yet to be crafted!
If you enjoyed this article the Best Kindergarten Crafts for Kids and would like to learn more, please leave a comment below.