Baby Gift Guide: The Ultimate List of Things to Buy For Your Baby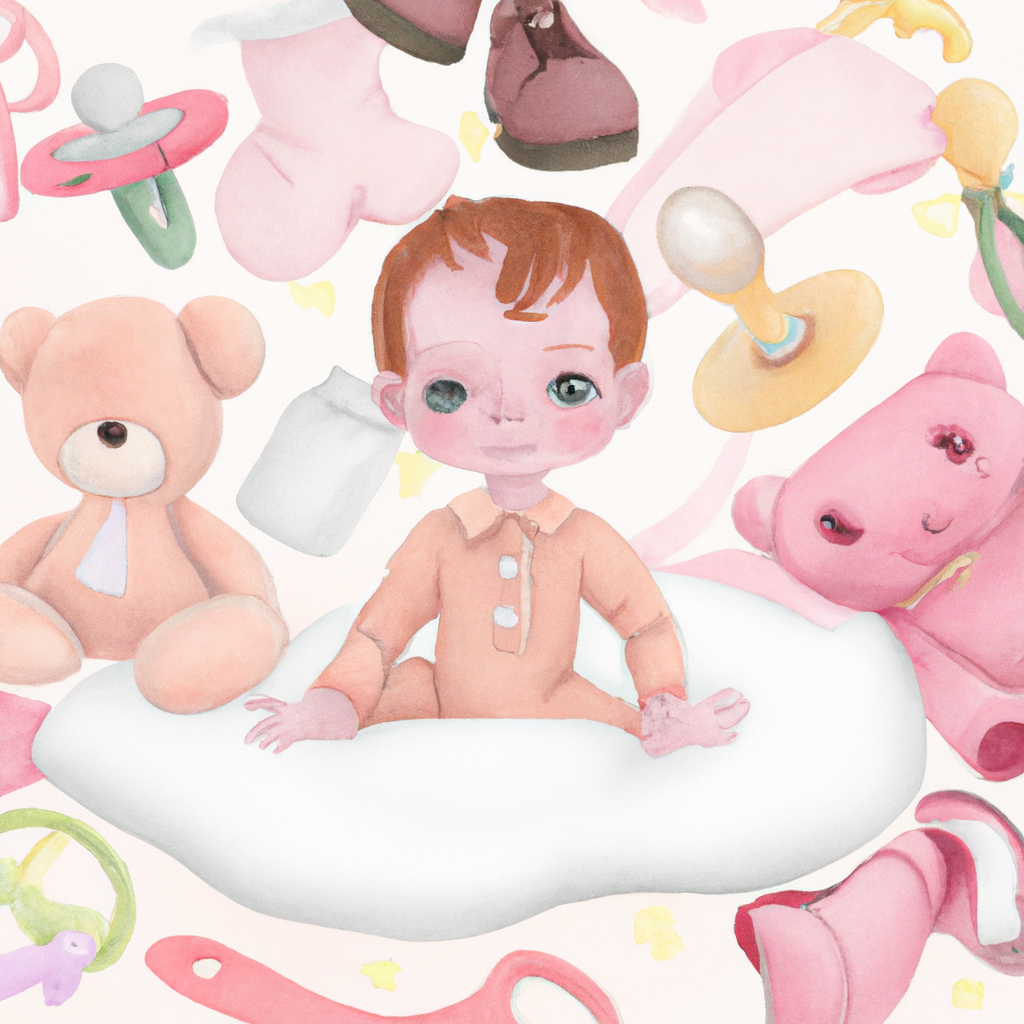 Essential Items for Feeding
To ensure hassle-free feeding for your baby, this section on "Essential Items for Feeding" with sub-sections including "Nursing pillow, Bottles and nipples, Breast pump, Burp cloths, and Bottle warmer" is your ultimate solution. These items will help in making the feeding process more convenient for you and your baby.
Nursing pillow
A Comforting Addition to Your Feeding Time
A comfortable feeding pillow is an essential for both the mom and baby during breastfeeding. Here are its benefits:
Proper positioning: Helps the baby latch on right.
Reduced strain: Supports baby's weight, lessening tension in the mother's arms, back and neck.
Improved milk flow: Less tension means milk flow is better.
Multi-use: Has many uses, like support for tummy time or prop for sitting up/playing.
Portable: Lightweight and compact, so easy to carry around.
Washable covers: Buy pillows with washable covers for easy cleaning.
Using a nursing pillow brings comfort plus it helps with better breastfeeding techniques. Don't miss out on relaxation. Get this item for your feeding essentials and win the baby's mealtime battle!
Bottles and nipples
When it comes to feeding your baby, it's essential you get the right tools! Here are some things to consider when selecting bottles and nipples:
– Material: Pick BPA-free plastic or glass, depending on your budget and preference.
– Size: Newborns usually need small bottles and slow-flow nipples. Older babies may need bigger sizes with faster flow rates.
– Shape: Narrow-necked bottles are easier to hold and clean. Wide-necked bottles look more like a breast, making it easier to feed.
– Nipple Type: Silicone nipples are durable, while latex nipples are softer and more flexible. Choose one that suits your baby's taste.
– Flow Rate: Newborns often require slow flow nipples, as they let them feed at their own pace. As they grow, switch to medium or fast flow.
– Vent System: Air vents help reduce colic and gas.
Remember to replace any damaged or old bottles and nipples regularly. Cleaning them correctly is key to avoiding any health risks.
For a smoother feeding time, think about getting bottle warmers or sterilizers. Bottle warmers make sure the milk is at the right temperature. Sterilizers help to remove bacteria from bottles and other feeding items.
By carefully selecting the right bottles and nipples, ensuring they're in good condition, and cleaning them properly, you can make feeding time a comfortable experience for you and your baby. Plus, you can even get an arm workout from a breast pump!
Breast pump
The Milk Expressing Device is a must-have for lactating mums! It provides convenience and efficiency when it comes to breastfeeding. Women can express their breast milk into a container for later use.
We have a table with useful info about two types of Breast Pumps – manual and electric. It includes columns such as brand name, suction strength, user-friendly feature, portability and price range.
| Brand Name | Suction Strength | User-Friendly Feature | Portability | Price Range |
| --- | --- | --- | --- | --- |
| Manual Pump A | Low | Easy to Clean | High | $10-20 |
| Manual Pump B | Medium | Multiple Suction Settings | Medium | $20-30 |
| Electric Pump A | High | Hands-free pumping | Low | $50-100 |
| Electric Pump B | Variable | Rechargeable Battery | Medium | $100-200 |
When choosing a Breast Pump, you must think about your individual needs and preferences. Each option has its pros and cons, based on factors like suction strength, noise level and portability.
Studies show that using a Breast Pump helps to increase milk production, and makes life easier for working mums who need to feed their babies at different times. The American Academy of Pediatrics (AAP) recommends that newborns should be fed breast milk for at least the first 6 months of life.
This useful tool gives mums the chance to take control of their breastfeeding routine without giving up other parts of their daily life. Plus, who doesn't love being covered in drool and spit-up thanks to burp cloths?
Burp cloths
Make Feeding Fun with Absorbent Cloth!
Absorbent cloths are essential for feeding – here's why:
Keep your clothes clean – place the cloth on your shoulder to avoid baby spit-up and food stains.
Maintain hygiene – use it to wipe away excess food from your baby's mouth.
Clean up messes – use it to quickly clean up spills during feeding time.
Comfort your baby – place the soft cloth over their belly while burping for extra support.
Style it up – choose from various designs for a fashionable feeding routine.
Plus, absorbent cloths have other uses too – like wiping drool and cleaning pacifiers.
Don't miss out on the benefits of absorbent cloths. Get yours now for the best feeding experience!
Bottle warmer
A device to warm baby milk or formula to the right temperature is essential for efficient feeding. Heating bottles over hot water can lead to overheating and reduce the nutrients. Therefore, an infant bottle temperature control system is a smart solution.
This technology warms bottles quickly and correctly.
It won't overheat or underheat the milk, protecting its nutrition.
These bottle warmers are easy to use and have adjustable settings.
You don't have to worry about boiling water on a stove or microwave, which can cause accidental burns.
Make sure you check compatibility before buying a bottle warmer for your baby's bottles.
This product was developed and marketed in 1987 by Dr Brown as a safer and quicker way to warm baby feeds. Since then, new features like steam sterilisation, portability, and digital temperature control have been added to serve current parents' needs. Why take a big diaper bag when you could just take a spare sock and a prayer?
Must-Haves for Diapering
To ensure smooth diapering, you need to have the basic essentials in order. This section, 'Must-Haves for Diapering,' with 'Diapers, Wipes, Diaper rash cream, Changing pad, and Diaper bag' as solutions briefly, will guide you through the sub-sections and provide you with all the necessary information to make your diapering experience hassle-free.
Diapers
Diapering is an important job for new parents. Having the right tools and products makes it much easier and less stressful. Here are five diapering must-haves:
Absorbent Diapers: Pick from cloth or disposable diapers with advanced moisture-wicking technology to keep baby dry and comfy.
Wipes: Baby wipes help clean messes while still nourishing the skin with natural ingredients like water, aloe vera, and vitamin E.
Diaper Rash Cream: Protect baby's delicate skin from rashes with creams featuring zinc oxide or calendula extract.
Diaper Pail: Invest in a good quality diaper pail to keep odors and germs away from your home. Get one with an odor control system.
Changing Pad: Babies move around during diaper changes – keep them safe and supported with a soft, waterproof changing pad.
Plus, parents can also get other items like wet bags, disposable liners, and cloth diaper subscriptions. Diapering isn't just about cleanliness, it's also about keeping baby healthy and happy. Make sure you have everything you need to take care of them! And don't forget, wipes can be used to clean up spills and messes – even your laptop screen after reading this article!
Wipes
Cleansing Essentials!
Accurate sanitation is very important for diapering. Keeping your baby's skin clean can be done with special cleansing products.
– Wipes: Gentle, yet effective formulas make sure poop and pee are cleaned up. Unscented and hypoallergenic wipes keep babies fresh.
– Portable: Lightweight wipes are easy to carry in a diaper bag or pocket. Resealable packages keep them from drying. Different dispensing mechanisms allow one wipe per use.
– Moisturizing: Some wipes have moisturizing solutions that make your baby's bottom smooth.
Fun fact: The first disposable baby wipe was released in the UK in 1957. They gained popularity in America 10 years later. Johnson & Johnson built the first disposable wipe factory there in 1971.
Diaper rash cream is a must-have – you hope you won't need it, but you're glad to have it if you do.
Diaper rash cream
For your little one's skin care, a protective ointment is a must-have! This guards against diaper rash and keeps their skin soft. Here are 3 important features to look for:
Firstly, select a hypoallergenic formula. Babies' skin can be sensitive so it's important to find one suitable for delicate skin.
2. Ingredients like zinc oxide or petrolatum provide excellent protection and help heal any irritation.
Finally, go for an antibiotic-free variety. Frequent application of antibiotics can lead to resistance over time.
It's also worth noting that some creams work better during the day, while others work best at night. Finding the right product for your baby may take some trial and error.
So, don't wait any longer to safeguard your baby's skin from rashes and irritations. Get protecting them with the right diaper rash cream now! Who needs a yoga mat when you can do downward dog on a changing pad?
Changing pad
When it comes to your child's comfort and easy cleaning, a soft surface for diaper changing is essential. An ideal Diaper Changing Pad should be waterproof, lightweight, and easy-to-wipe – perfect for travelling and small spaces.
Here are 5 features that make a great addition to any nursery:
Comfy and cushioned to keep baby comfy.
Water-resistant to help with liquid spills.
Foldable design for portability and convenience.
Built-in storage pockets to keep supplies close.
Non-skid base for added safety.
Plus, it should fit securely onto any surface, like a dresser or table, to prevent accidental rolling.
My sister learnt this the hard way when her husband dropped their daughter while changing her on an unstable surface. After the incident, they got a Diaper Changing Pad with protective sidewalls – providing peace of mind and added security.
Make sure your diaper bag has enough space for your dignity and sanity too!
Diaper bag
A baby's kit is incomplete without the must-have items for unexpected diaper situations. A Baby's On-the-go Bag is a convenient way to carry these.
A Portable Changing Mat is useful when changing nappies in public, preventing contact with dirty surfaces.
Diapers and Wipes are essential – must-haves in every parent's bag.
Rash Cream is needed to prevent irritation and inflammation.
Eco-friendly diapers and wipes can help protect the environment, as well as benefit your baby.
Have spare clothes ready, including onesie, socks, and hat, for those diaper blowouts.
My son once had an extensive poo in his diaper on an international flight. I had no diapers since I thought we'd land soon. But my experienced mother packed an extra one, teaching me not to underestimate her foresight.
Clothing Essentials
To ensure your baby feels comfortable and cozy, you need to get the clothing essentials right. In order to help you with that, the next section with the title 'Clothing Essentials' offers you a list of must-have apparel for your little one. This section is further divided into five sub-sections, 'Onesies, Footed pajamas, Socks, Mittens, and Hats'.
Onesies
One-piece outfits for newborns and infants, commonly referred to as "baby onesies," are essential clothing items. They are versatile and practical. They:
Facilitate quick and easy diaper changes.
Prevent the shirt from riding up.
Protect delicate skin.
Come in many sizes, colors, and patterns.
You can purchase baby onesies online or at most retail stores. Often, families personalize them with designs, names, or dates that have special meaning. One mom, who had struggled with infertility, printed a meaningful message on her daughter's first onesie: "Worth the wait."
In conclusion, baby onesies serve an important purpose while also allowing for personalization and sentimental value. They make great gifts and additions to a child's wardrobe. Who needs a partner to keep warm at night when you have footed pajamas?
Footed pajamas
Ultra-Comfy Onesies!
Footed pajamas, also known as onesies or footie pajamas, have been a popular sleeping attire for all ages. Here's why you need them in your wardrobe:
One-piece design: Completely eliminates drafts from uncovered areas.
Soft fabrics like cotton or fleece: Keeps you warm and cozy throughout the night.
Footed style: Cover and keep your feet warm. No need for socks that twist in bed.
Variety of designs: Animal prints, cartoon characters, stripes & more.
Multifunctional: Not just limited to bedtime. Wear as costumes or leisurewear.
Onesies are a must-have for those who want to stay stylish and comfy indoors during winters. They make great gifts too.
Accessorize your onesies with a hot cup of cocoa while indulging in a book or some music.
Go for a colorful and mismatched combination that screams 'I'm fun and a little bit chaotic'!
Socks
Socks are key for any apparel look. They provide comfort and protection from blisters and infections. Choose socks based on their purpose: sports, compression or dress. The right type of sock can prevent odours and promote hygiene. Plus, match the colour of your socks with your attire, not your shoes. Invest in high-quality socks that fit to ensure healthy feet. Make them a wardrobe essential! Don't forget to keep your digits warm with some cozy mittens during cold weather.
Mittens
Crafted with a lightweight fabric, fingerless gloves give you the ultimate dexterity. Ideal for activities like hiking, photography, or texting on the go, these gloves offer comfort and style. They come in various styles such as leather, wool, or cashmere to add a unique flair to your outfit. Musicians have even designed fingerless gloves with wrist support.
Did you know that early versions of fingerless gloves were worn by boxers? Over time, their practicality made them popular amongst military personnel and biker gangs. A hat is the perfect multitasker – it covers up a bad hair day, keeps your head warm, and it looks sophisticated.
Hats
Headwear is key for style and temperature needs. Caps, Beanies, Bucket hats, Beret hats – they all have unique features for different occasions. Check out the table below to learn more.
| Type | Features |
| --- | --- |
| Caps | Various shades and designs, Flat Peak |
| Beanies | Soft, warm and stretchy material. Perfect for winter or outdoors |
| Bucket Hats | Fashionable and informal, Wide brim for sun protection |
| Beret Hats | Stylish design with a French feel |
Material is important too! Woolen Knit or Polyester – choose what's best for comfort, purpose and style.
Think of what message you want to send when choosing a hat, and keep in mind the event it will be worn at. Experimenting is great – keep an eye on trends and don't miss out on any new fads!
Equipment for Sleeping
To ensure your baby has the best sleeping experience, equip yourself with the right tools! In order to get started with [section] 'Equipment for Sleeping' with [sub-sections] as solution, we've got you covered with all the essentials you need. Explore our recommendations for a crib and mattress, swaddle blankets, a white noise machine, a sleepsack, and a baby monitor to provide your little one with a peaceful and comfortable sleep.
Crib and mattress
When it comes to creating a safe and comfy sleeping space for infants, you need certain equipment. Arranging 'Infant Sleeping Space Structure and Support' is essential for their comfort and safety. The table below showcases the different types of options available:
| Type of Equipment | Material | Size |
| --- | --- | --- |
| Cot/Crib | Wood/Metal/Plastic | 52″ x 28″ |
| Bassinet | Woven fiber/Wood/Metal/Plastic | 36″ x 18″ |
| Co-Sleeper/Baby Bedside Sleeper | Mesh Fabric/Wood/Metal/Plastic | 34″ x 20″ |
Note: The above sizes are standard measurements and may vary, depending upon design.
Safety guidelines must be followed when setting up the infant sleeping space. Securely attach the mesh fabric in Baby Bedside Sleepers. Parents must choose an appropriate size based on the child's age and weight.
Pro tip: Place the infant on their back to sleep, not their stomach or side. This reduces Sudden Infant Death Syndrome (SIDS) risks. Keep them snug in a swaddle blanket – nothing says safe and secure like being wrapped up like a burrito!
Swaddle blankets
Swaddling is a traditional way of wrapping babies up snugly in a blanket. It gives them a warm, secure feeling like the womb. These soft wraps are more than just blankets; they help soothe newborns and make them sleep longer.
Swaddle blankets come with special features:
Designed for infants to make them feel safe and comfortable.
Breathable fabric keeps them warm.
Keeps baby snuggly, preventing loose bedding that can be dangerous.
Wrapped around like a warm embrace.
Different fabrics, sizes, colors, and designs.
Pro Tip: Make sure the swaddle is tight enough but still comfortable. Put babies on their back when swaddling to avoid Sudden Infant Death Syndrome. Swap silence for white noise. Wonder why you ever used earbuds.
White noise machine
Introducing Sleepsack, the device that soothes you to sleep! It fills the environment with low-level sound, creating calming background noise. Features include:
White noise to block out external sounds
Speakers playing soothing sounds like rainfall or ocean waves
Compact and lightweight for travel
Adjustable volume and timer settings
Can be used for relaxation during massage, yoga or meditation sessions
Plus, it can also help those with tinnitus by reducing the contrast between background noise and irritating ringings. Try out different sounds to find what works best for you – some prefer nature, while others like white noise better.
Sleepsack
The Rest Bag: an ideal sleeping accessory for outdoor enthusiasts! Here's why:
Light, compact and super portable.
Insulates and keeps you warm.
Shields from bugs and the elements.
Different shapes and sizes for different body types.
Durable materials for long-term use.
A range of styles – from basic to feature-packed.
This sleep equipment is perfect for adventurers! It traps heat, wicks moisture, and provides comfort without taking up too much space. I tried mine in Yosemite National Park and it was like a warm hug! All I heard were rustling leaves as I drifted off into a peaceful sleep – one of my best experiences ever! Get the Rest Bag and get ready for a great night's rest!
Baby monitor
The Baby Sleeping Monitor is an essential tool for newborns. It provides parents info about their baby's abnormal activities or sounds. The monitor also helps to confirm their baby's breathing and movements are normal during sleep.
Plus, the latest tech monitors come with video and audio features. This allows parents to both see and hear their baby, even from afar.
Moreover, the Baby Sleeping Monitor possesses a special ability – it can play soothing sounds to help a fussing infant drift back to sleep. A study conducted by the American Academy of Pediatrics confirms the use of baby monitors may decrease the chance of SIDS.
Get ready to enjoy playtime with this essential item!
Playtime Gear
To help you prepare for your baby's playtime, we have compiled a list of essential playtime gear in this section – 'Playtime Gear' of the article 'Baby Gift Guide: The Ultimate List of Things to Buy For Your Baby'. The sub-sections include a variety of playtime items like play mat, toys, bouncer, ExerSaucer, and swing to keep your little one entertained and stimulated.
Play mat
A 'Play Area' with its water-resistant feature and various designs to choose from, adds fun and excitement to any playtime experience. Cushioned with soft and durable foam, of varying thicknesses from 3/8″ to 1″, it encourages imagination in children of all ages. It also promotes motor skills, social skills and physical activity.
The American Academy of Pediatrics (AAP) states that it can protect children from injuries and enhance their psychological development. Who wouldn't want a toy that relieves stress, frustration, and childhood traumas?
Toys
Playing Accessories
For kids, playing accessories are essential. From soft toys to building blocks to board games, pick age-appropriate and quality toys that are both fun and educational.
Promote movement, coordination and social interaction with active play accessories like balls, swings, and trampolines.
For creative play, get drawing boards, craft kits, and puzzles to stimulate imagination, problem-solving and fine motor skills.
Educational play accessories like science kits, musical instruments, and language games encourage learning, curiosity, and cognitive development.
Foster communication, empathy, and teamwork with social play accessories like dolls, action figures, and train sets.
Gender-neutral play accessories can prevent stereotypes. These toys can be enjoyed by boys and girls, without reinforcing rigid gender roles.
Children's books are great for playing! They provide entertainment, while teaching morals or concepts.
For example, my friend's son with Autism Spectrum Disorder has improved his socialization skills through playing with toy cars with other kids at daycare. This shows how important it is to have the right playing gear for each child's unique needs. Who needs a personal trainer when you have a baby bouncer? It's like a mini gym, but with way more screaming!
Bouncer
A 'Baby Bouncer' is an awesome investment for parents. It has a bouncing mechanism made of soft padded seat and metal springs. This gear helps babies relax and develop physical strength. Plus, some bouncers come with toys and music boxes that make learning fun! Baby Bouncers give parents peace of mind as they free up their hands.
Believe it or not, these were first made manually with clotheslines in the 19th century. Nowadays, they offer reliable support – who needs a gym membership when you have an ExerSaucer that doubles as a baby entertainment center and a full-body workout?
ExerSaucer
Introducing the 'Activity Center' for infants – a revolutionary piece of playtime gear designed to advance healthy child development. It provides a safe environment for babies to learn and exercise as they grow. With adjustable heights, interactive toys, and activities, it supports cognitive development and encourages exploration. This versatile equipment not only promotes progress but also gives parents peace of mind to complete their own tasks.
Invest in an Activity Center today to give your baby the best start in life! You won't regret providing essential developmental opportunities that will benefit your child's future growth. Get ready to rock n' roll with this playtime gear – just make sure not to launch your kid into the neighbor's yard!
Swing
Suspended seats, hung from beams or tree branches, are gaining popularity amongst parents and children. They provide a thrilling, sensory experience! The swinging stimulates the vestibular system and helps with balance and coordination. Kids can use their imaginations while pretending they're flying or sailing on a ship.
Safety belts are available for younger children, to prevent them from falling out. Some swings have adjustable heights, so they can grow with your child – plus, sturdy frames for safe playtime.
Swing sets may include slides and climbing equipment – creating a full playground experience, right in your backyard! Quality outdoor time with family and friends can be enjoyed in the comfort of home.
To make the swing even more fun, attach sensory toys, like soft fabrics or glittery surfaces. Swings are sure to bring endless delight and fun, while providing developmental and imaginative growth benefits.
On-The-Go Gear
To ensure that you have everything ready for your baby's next outing, you need to have the right on-the-go gear. In this section titled 'On-The-Go Gear' of the article 'Baby Gift Guide: The Ultimate List of Things to Buy For Your Baby', we have listed several sub-sections such as 'Infant car seat', 'Stroller', 'Baby carrier', 'Portable high chair', and 'Diaper clutch' that can make your life easier when you are out and about with your little one.
Infant car seat
Newborn safety is a top priority. An Infant Mobility System is a must-have item for new parents, so they can safely transport their infant in a vehicle. These systems vary in cost and features – from simple and affordable to more high-end, with adjustable headrest, anti-rebound bar, and easy-to-install systems.
Federal child restraint regulations date back to the early 1960s, and since then, car seat technology has continually evolved. So why not upgrade your stroller to a Batmobile and let pedestrians scatter?
Stroller
Carry Young Children in Mobile Chairs!
For transporting young kids on-the-go, mobile chairs are perfect. They provide a secure, comfy way to take children from one place to another.
Features like cup holders, adjustable handles and extra storage add value for busy parents needing to carry more stuff.
Mobile chairs have been around for years, and have evolved a lot. Now, there are various styles to suit different needs and tastes.
So, if you want your baby to have a wild ride while you snack and scroll, a mobile chair is the way to go!
Baby carrier
Carrying your little one around just got easier with a mobile infant sling! This soft-structured carrier is like a cross-body bag and distributes the weight of your baby evenly. You can get them in materials like cotton and mesh to suit all seasons.
You can wear it in different positions depending on your baby's age. For the early months, it's front-facing. Then switch to back or hip carrying as your baby grows. You can keep your hands free while keeping your baby close.
But make sure you use it properly; incorrect use can lead to breathing problems or bad spinal support. Read the instructions or get a pro's help if you're not sure.
These carriers have weight limits and shouldn't be used for too long without taking breaks. One mom shared how it helped them navigate a busy airport with their newborn secure and happy. Now you can bring a high chair to a restaurant without people judging you!
Portable high chair
A portable seating solution for baby is a must-have accessory for parents who travel. Let's talk about Lightweight High Chairs.
They are flexible and designed for travel – foldable, with a small package, and comes with a carry case.
Plus, adjustable straps secure your child to most dining chairs.
The removable, washable tray provides a clean surface for the baby to eat from.
Some models have built-in mesh padding that aids airflow and keeps the baby cool.
These high chairs are adjustable and can grow with your child.
To make traveling with a Portable High Chair even more convenient, select one with machine-washable parts and wheels. Some even come with shoulder straps.
For young, learning-to-sit children, a high-back model would provide more support.
In short, investing in a Portable High Chair gives parents more flexibility when dining out or traveling. It brings safety and comfort for little ones, and convenience for busy parents.
Diaper clutch
The Baby Essentials organizer is the perfect way to carry all your baby's must-haves. It's a stylish alternative to traditional diaper bags. Plus, it comes in a variety of colors and patterns so you can pick one that matches your style. Here are 5 key points:
It has pockets for easy access to diapers and wipes.
It comes with a changing pad for a clean surface for changings.
It's compact and fits in any bag or on a stroller handle.
It's durable and can withstand multiple uses.
It can also be used as a makeup bag or general organizer.
One customer was able to quickly change her baby's diaper on the Baby Essentials organizer, even in a busy airport. She was thankful for its sleek design and easy access to everything she needed. It's perfect for parents on-the-go who don't want to sacrifice style for functionality. And, don't forget to bring a first aid kit along with you!
Health and Safety Items
To ensure your baby's health and safety, you'll need to equip yourself with the right tools and products. In order to help you with this, the following items should be on your radar: baby thermometer, nasal aspirator, baby nail clippers, baby-safe laundry detergent, outlet covers, and cabinet locks. Let's take a closer look at each of these items and how they can contribute to your baby's overall well-being.
Baby thermometer
Monitoring your babies' health? Get yourself a temperature measuring machine! Also known as an infant thermometer, this device can detect changes in body temperature. It's easy to use – rectally, orally or on the forehead. Some models are specifically designed for kids and have features like a flexible tip or cool designs. Make sure to pick the right one for your baby's age and keep it clean to avoid contamination.
Record readings to monitor progress or worsening conditions. A digital thermometer can save data for you, but you can also track manually. Pro Tip: Keep your thermometer away from your baby – they could harm themselves if they play with it. Need help with your baby's runny nose? Get a nasal aspirator – it'll do the job!
Nasal aspirator
This health and safety item is to clear nasal passages effectively. It sucks out mucus that can't be done manually. Here are 5 things you should know:
Electric or manual nasal aspirator.
Safe and easy to use.
Gently insert rubber tip into nostril.
Prevents illnesses like pneumonia.
Clean after every use with warm water and soap.
Choose a high-quality aspirator for thorough cleaning. To make it more effective, use saline drops to loosen stubborn snot. Clipping your baby's nails? Get these clippers to sleep peacefully during late-night diaper changes.
Baby nail clippers
Trimming baby nails is a delicate task, but can be done safely with the right tools. Here's a helpful guide:
Pick a peaceful time to trim.
Place the nail in the clipper.
Firmly, yet gently, hold the baby's hand.
Make a swift and steady cut.
Take care not to cut too far.
File sharp edges with a soft file.
Keep your baby calm and relaxed, and seek assistance if needed. A mom once shared how she nicked her newborn's finger when cutting their nails. It takes practice and patience; accidents can happen even with the best of intentions.
New parents should definitely have baby-safe laundry detergent on hand for any messes!
Baby-safe laundry detergent
When it comes to washing baby clothes, one must ensure the detergent is gentle and safe for a baby's sensitive skin. A fitting Semantic NLP variation of 'Baby-safe laundry detergent' is 'Laundry Detergent Suitable for Infants'.
Here are six points to consider when selecting Laundry Detergent Suitable for Infants:
Pick detergents labeled hypoallergenic and free of harsh chemicals, such as fragrances, dyes, parabens, phosphates, etc.
Look for detergents specially formulated for infants or children's clothing.
Choose liquid detergent rather than powder or capsules, as they leave fewer residues on fabrics.
Wash clothing in warm water and rinse properly, to ensure all traces of detergent have been removed.
Steer clear of fabric softeners or dryer sheets, as they can irritate a baby's sensitive skin
If your baby has allergies or eczema, locate detergents specifically formulated for sensitive skin.
Not all detergents marketed as infant-safe may be suitable. Infants with allergies or very sensitive skin require special attention when selecting Laundry Detergent Suitable for Infants.
Interestingly, the demand for Laundry Detergent Suitable for Infants skyrocketed after pediatricians started encouraging parents to use it. As parents became more aware of their child's health and well-being, the demand for these products increased. Subsequently, many manufacturers began offering tailor-made laundry products specifically for infants and young children.
Protecting your child from electrical sockets and dangerous chemicals? Simply refer to them as toddler-proofing items, AKA the things we all wish we had before becoming parents.
Outlet covers and cabinet locks.
Protecting your infant is key, and baby-proofing your pad with safety items is a must. Here are vital items for safeguarding your children:
Outlet covers stop your kid from accessing electrical outlets, which can cause shocks, burns, or even electrocution.
Cabinet locks are essential for keeping little hands away from cabinets with hazardous substances like cleaning agents.
Door knob covers add an additional layer of security, stopping access to rooms which could be dangerous for kids.
Stair gates are crucial if you have stairs in your home, to avoid falls or trips.
Window guards are necessary too, as they stop kids from falling out of windows.
It's paramount to note that safety items should never substitute direct adult supervision when it comes to your child's protection. Always watch them, especially if their environment isn't baby-proofed.
Installing these safety items correctly can make a huge difference in keeping your infant secure. If needed, get professional help with the installation for optimal results.
Frequently Asked Questions
1. What are some good baby gifts?
There are many great baby gifts such as blankets, clothes, diapers, pacifiers, toys, and more. Consider buying items that are practical and will be useful for the baby.
2. Are baby clothes a good gift?
Yes, baby clothes are a great gift for new parents. Make sure to choose the right size and style for the baby and consider the material and durability of the fabric.
3. What are some popular baby toys?
Some popular baby toys include soft toys, teething toys, musical toys, and play mats. Look for toys that are safe, age-appropriate, and promote development and learning.
4. What are some useful baby accessories?
Useful baby accessories include diaper bags, baby carriers, strollers, car seats, and changing pads. These items make it easier for parents to take care of their baby on-the-go.
5. What should I consider when buying a baby gift?
When buying a baby gift, consider the age and gender of the baby, the needs of the parents, and your budget. It's also important to choose safe and practical items that will be useful for the baby.
6. What are some unique baby gifts?
Some unique baby gifts include personalized items such as blankets and onesies, milestone cards to document the baby's growth, and keepsake items such as handprint kits and photo albums.