15 Helpful Everyday Tips and Tricks to Make Life Easier: Useful Life Hacks
Learn helpful everyday tips and tricks to make your life better!
Get the most out of every event or activity you partake in and save time and energy with our unique selection of quick tips and advice.
Life can often be filled with small everyday challenges that can make our daily routines a bit more complicated.
However, with the help of some handy life hacks and practical tips and tricks, we can simplify our lives and make them easier.
Whether it's in the kitchen, at home, with technology, or personal care, these everyday life hacks can save us time and energy, enhance our daily experiences, and improve our overall well-being!
Keep reading for our Ultimate Guide to our 15 Helpful Everyday Tips and Tricks!
You might also like:
What are Helpful Everyday Tips?
Helpful everyday tips are practical suggestions or shortcuts designed to make daily tasks more manageable, efficient, and effective.
They offer solutions to common challenges we face in our routine, ensuring we save time, effort, and sometimes even money.
What are Life Hacks?
Life hacks are clever and unconventional methods or techniques that help solve everyday problems in a quick and easy way.
These tips and tricks can range from simple shortcuts to innovative DIY solutions.
Life hacks are popular because they provide practical and efficient solutions to common challenges, making our lives more convenient.
Why are Life Hacks Important?

Life hacks are important because they offer simple and effective solutions to everyday problems.
They can save us time, money, and effort, allowing us to focus on more important things in life.
By incorporating life hacks into our daily routines, we can enhance our productivity, improve our overall well-being, and make the most out of every day.
15 Helpful Everyday Tips and Tricks to Make Life Easier
In the grand theatre of life, it's the little hacks that steal the show.
Dive into these clever shortcuts that promise to sprinkle a dash of wit and a dollop of ease into your everyday routine.
After all, why just live life when you can hack it to perfection?
Here are 15 Helpful Everyday Tips and Tricks to Make Life Easier:
1. Toothpaste for Clean Sneakers
Toothpaste isn't just for your teeth. It can make your worn-out sneakers look brand new.
Apply a dab of white toothpaste on a toothbrush and scrub away the dirt on your shoes.
Rinse and let them dry. The result? A slick, clean pair that looks almost as good as new.
2. Freezer Bags for Wrinkle-Free Clothes
If you're tired of your clothes getting wrinkled in your suitcase, try the freezer bag trick.
Fold your clothes neatly and place them inside large freezer bags.
This method doesn't just keep your clothes wrinkle-free but also makes packing and organizing simpler.
3. Dryer Sheets for Fresh Smelling Shoes
Those amazing dryer sheets can do more than just make your clothes smell good.
Place a sheet inside each shoe and leave them overnight.
By morning, any unpleasant odors will be replaced with a fresh scent, making your life a bit easier and definitely less smelly.
4. Rubbing Alcohol for Permanent Marker Stains
Got a permanent marker stain on your wooden furniture or work surface?
Don't fret. Dab a bit of rubbing alcohol on a paper towel and gently rub the stain. It'll come off in no time, saving you both time and money.
5. Sponge Ice Packs
For a quick DIY ice pack, soak a sponge in water, place it in a freezer bag, and freeze it.
It's a simpler and less messy way to deal with minor injuries or to keep your beverage cool during a picnic.
6. Post-It for Cleaning Keyboards
The sticky end of a post-it note can be a great tool to clean the dust and debris between the keys of your office desk keyboard.
Swipe the sticky side between keys to pick up dust and crumbs, making your workspace cleaner and more hygienic.
7. Toothbrush for Cleaning Grout
An old toothbrush can be a lifesaver when it comes to cleaning the grout between tiles.
Apply a mixture of baking soda and water, scrub with the toothbrush, and watch as the grout becomes whiter and cleaner.
It's a way to keep your house or apartment looking pristine without even needing to visit big box stores for specialized cleaners.
8. Beverage Can Tab for Double Hanger Space
If your closet is overflowing, here's a trick that won't cost you a dime. Use the tab from a beverage can to link two hangers together.
This way, you'll effectively use the vertical space in your closet, making it less likely for it to become cluttered.
9. Freeze Grapes to Chill Wine Without Diluting
Want to enjoy a chilled beverage without diluting it with ice? Freeze grapes and use them as ice cubes. They'll chill your drink without watering it down, ensuring every sip is as flavorful as the first.
10. Use a Wet Rubber Glove to Remove Pet Hair
If your furry friend leaves hair everywhere, making it difficult to see your beautiful couch, just wear a wet rubber glove and wipe.
The hair will stick to the glove, making cleaning a breeze.
11. Coffee Ice Cubes for Iced Coffee
If you love iced coffee but hate how it gets watered down, this lifehack is for you.
Freeze coffee in an ice tray and use these cubes for your iced coffee. You'll get a beverage that doesn't lose its flavor over time.
12. Lemon to Clean Water Stains
A simple lemon can be a powerful cleaning agent. Rub a sliced lemon on water stains on faucets or showerheads.
The citric acid will break down the stains, leaving your fixtures shiny and spotless.
13. Use Bread to Pick Up Broken Glass
If you've broken a glass, ensure safety by using a slice of bread to pick up the shards.
Press the bread over the area, and it'll pick up even the tiniest pieces, ensuring no one gets hurt.
14. Wrap Cables with Toilet Paper Tubes
Tangled cables can be a real headache. Use empty toilet paper tubes to wrap and organize them.
Label each tube for added convenience. It's a great way to keep things tidy without spending a dime.
15. Use a Hair Straightener to Iron Collars
If you're in a rush and notice your shirt collar is wrinkled, grab your hair straightener.
It'll do the job perfectly, ensuring you look neat and presentable in no time.
In our fast-paced world, these life hacks can be game-changers.
They not only make your life better but also save you time, energy, and sometimes even a bit of cash.
So, the next time you face a minor hiccup in your daily routine, remember these tips and tricks.
They might just have the perfect solution.
Best Life Hacks
Diving into the world of life hacks is like unlocking a treasure trove of simplicity.
These ingenious shortcuts and clever tricks are designed to make your daily grind a breeze, turning ordinary challenges into moments of "Why didn't I think of that?"
Let's explore some of the best life hacks that promise to sprinkle a bit of magic into your everyday routine.
Sale
Bestseller No. 1
Sale
Bestseller No. 2
Bestseller No. 3
Life Hack
Amazon Prime Video (Video on Demand)
Derek Wilson, Jessica Copeland, Sean Kleier (Actors)
Sloan Copeland (Director) – Sloan Copeland (Writer) – Sloan Copeland (Producer)
English (Playback Language)
Sale
Bestseller No. 4
Sale
Bestseller No. 5
Bestseller No. 6
Bestseller No. 7
University Games, The Amazing Life Hacks Card Game, Perfect for 2 to 4…
LIFE HACKS: Play the game filled with crazy and bizarre hacks, pro tips, and creative DIY solutions to everyday problems.
GO VIRAL: Perfect for ages 16 and up – perform Life Hack Challenge Cards that are perfect for your next Tik Tok video!
LEARN MORE: Did you know a colored crayon will work as a candle in a pinch? Learn this and more by playing Life Hacks.
WOW THE CROWD: Impress your friends and family this holiday season – great for family gatherings or party game night
Bestseller No. 8
Real Simple Life Hacks
The Editors of Real Simple (Author)
English (Publication Language)
96 Pages – 09/08/2023 (Publication Date) – Real Simple (Publisher)
Bestseller No. 9
Bestseller No. 10
What are Kitchen Life Hacks?
Kitchen life hacks are clever solutions and shortcuts that simplify cooking and cleaning tasks, making kitchen activities more efficient and enjoyable.
Kitchen Hacks
Navigating the kitchen can be both an art and a science.
With the right tricks up your sleeve, you can transform your culinary experiences, making meal prep both fun and efficient.
DIY Tricks for the Kitchen
In the kitchen, where we spend a significant amount of time preparing meals and enjoying delicious food, life hacks can make our cooking experience more enjoyable and efficient.
One practical kitchen hack is using a jar lid under hot water for 30 seconds to easily open tight lids.
The heat from the water expands the metal, loosening the lid and making it easier to twist open.
Chilling wine without ice: the freeze grapes method.
When it comes to chilling wine, instead of using ice cubes that can dilute the taste, try freezing grapes and using them as a natural alternative.
These frozen grapes not only help to cool your wine but also add a touch of elegance to your glass.
The spaghetti trick: using spaghetti as a candle lighter.
If you're having trouble lighting candles that have burned low, a simple spaghetti noodle can come to the rescue.
Light the end of the spaghetti and use it to light multiple candles without burning your fingers.
Quick Tips for Cooking and Storage
When it comes to cooking and storage, there are a few easy tips that can save you time and make your life easier.
Storing natural peanut butter upside down can help prevent the oil from separating at the top, making it easier to mix and spread.
Additionally, practicing efficient and safe chopping techniques can help speed up your food preparation process.
Finally, consider visiting a kitchen supply store for unique tools and gadgets that can enhance your cooking experience.
What are Home and Living Life Hacks?
Home and living life hacks are innovative tips and tricks designed to enhance comfort, organization, and functionality in various areas of one's living space.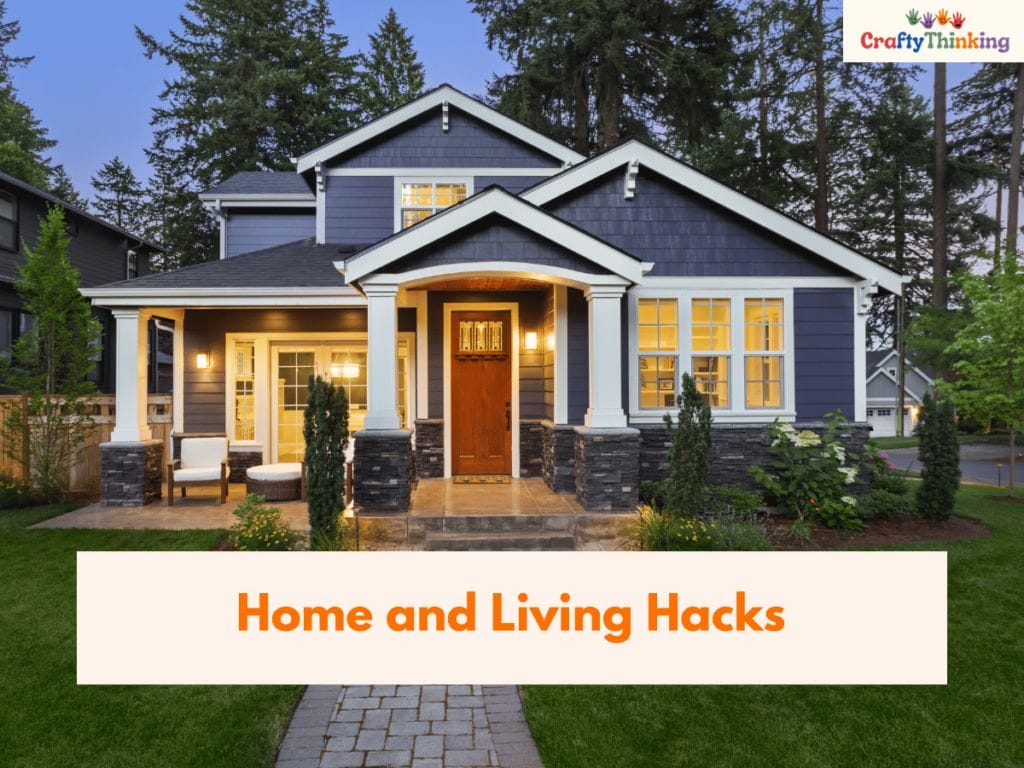 Home and Living Hacks
Our homes are our sanctuaries, and optimizing our living spaces can greatly enhance our daily routines.
Dive into tips that bring both comfort and functionality to every corner of your abode.
Making Everyday Life Easier
Life hacks can also be applied to various aspects of our home and everyday living.
For example, using toilet paper tubes for cord storage can help keep your cords organized and tangle-free.
The hanger trick is another useful hack for organizing jewelry or accessories.
Simply hang a few hangers on a closet rod and use them to hang your necklaces and other accessories.
Filling up a bucket in a small sink using a dustpan.
When you need to fill up a bucket with water, but your sink is too small, try using a dustpan.
Place the dustpan under the faucet and direct the water flow into the bucket.
This hack bypasses the small sink space and allows you to efficiently fill up the bucket without splashing water everywhere.
DIY Solutions for Common Problems
Life hacks can be especially helpful in solving common household problems.
For instance, protect your charger cables from fraying by attaching a small spring from a pen to the end of the cable.
The spring acts as reinforcement and prevents the cable from bending and breaking.
To remove labels or price tags easily, use a coin to scratch them off without damaging the surface.
Moreover, having a water bottle near your bed ensures you stay hydrated throughout the night, preventing morning headaches caused by dehydration.
What are Tech and Digital Life Hacks?
Tech and digital life hacks refer to savvy strategies and shortcuts that optimize the use of technology, making gadgets and digital platforms more user-friendly and efficient.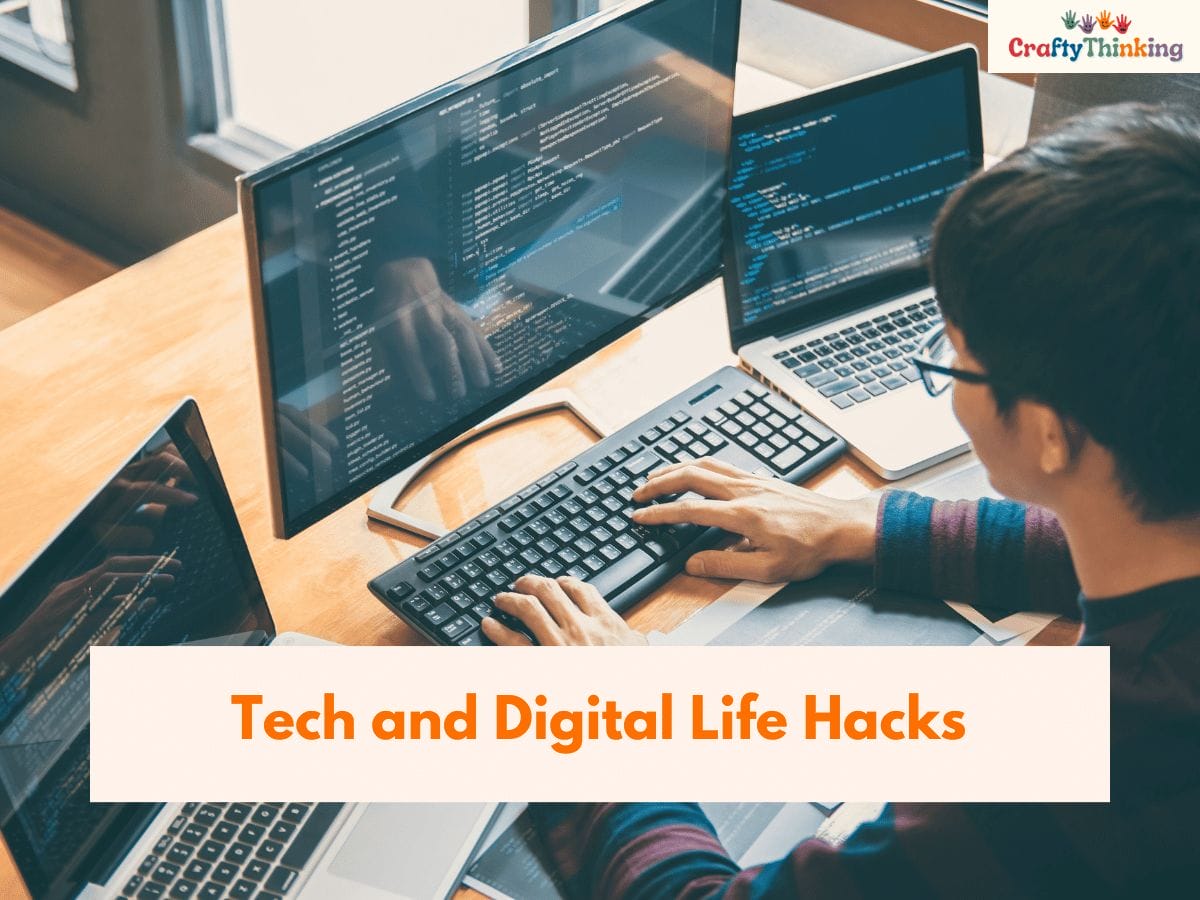 Tech and Digital Life Hacks
In the digital age, technology is intertwined with almost every aspect of our lives.
Uncover shortcuts and solutions that make navigating this tech-driven world a breeze.
Quick Tips for Smartphone Users
Smartphones have become an essential part of our lives, and with some simple life hacks, we can enhance their usefulness.
For example, keeping your phone on airplane mode while charging can help it charge faster.
Additionally, using dark mode can help save battery life.
Computer Hacks
When it comes to using computers, there are several tricks that can boost productivity and make your digital life easier.
For instance, using keyboard shortcuts can help you navigate through various applications and tasks more efficiently.
Creating desktop folders and organizing your files can also save you time searching for documents.
Utilizing cloud storage services can ensure your files are safely backed up and accessible from anywhere.
What are Personal Care, Beauty, and Well-being Life Hacks?
Personal care, beauty, and well-being life hacks are insightful tips that enhance one's grooming, beauty routines, and overall mental and physical health, often using simple and natural methods.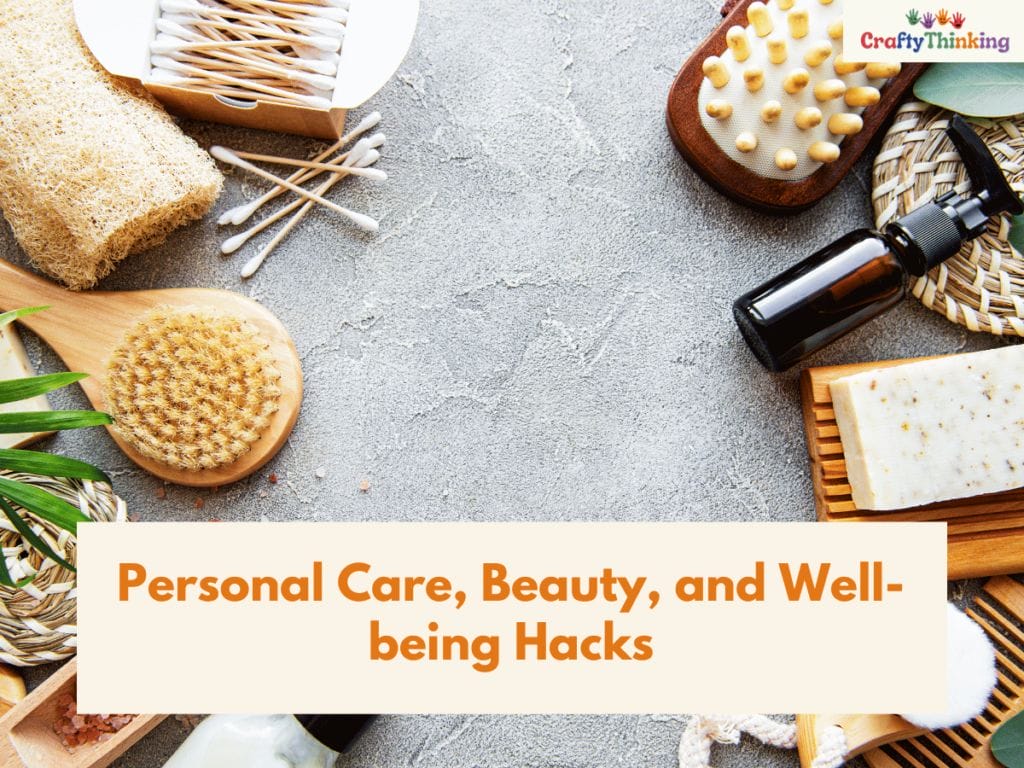 Personal Care, Beauty, and Well-being Hacks
Self-care is more than just a trend—it's a necessity.
Explore hacks that not only elevate your beauty regimen but also promote overall well-being, ensuring you look and feel your best.
Skincare Tricks
Skincare is an essential part of our personal care routine, and there are effective life hacks that can help maintain radiant and healthy skin.
For example, using lemon juice as a natural toner can help balance the skin's pH levels and reduce excess oil.
Additionally, using a mixture of baking soda and water can create an exfoliating scrub to remove dead skin cells.
Haircare Hacks
Managing and styling our hair can sometimes be a daily struggle, but with the help of life hacks, it can become easier.
For instance, using dry shampoo can help refresh your hair between washes and add volume.
Additionally, braiding your hair before going to bed can create natural-looking waves in the morning.
General Well-being
Taking care of our overall well-being is crucial, and life hacks can contribute to a healthier and more balanced lifestyle.
For example, drinking an adequate amount of water throughout the day can help alleviate headaches and improve concentration.
Taking regular breaks from work or studying is also important for mental rejuvenation and increased productivity.
Another useful life hack is highlighting in books without causing damage by using sticky notes or using a pencil to lightly underline important passages.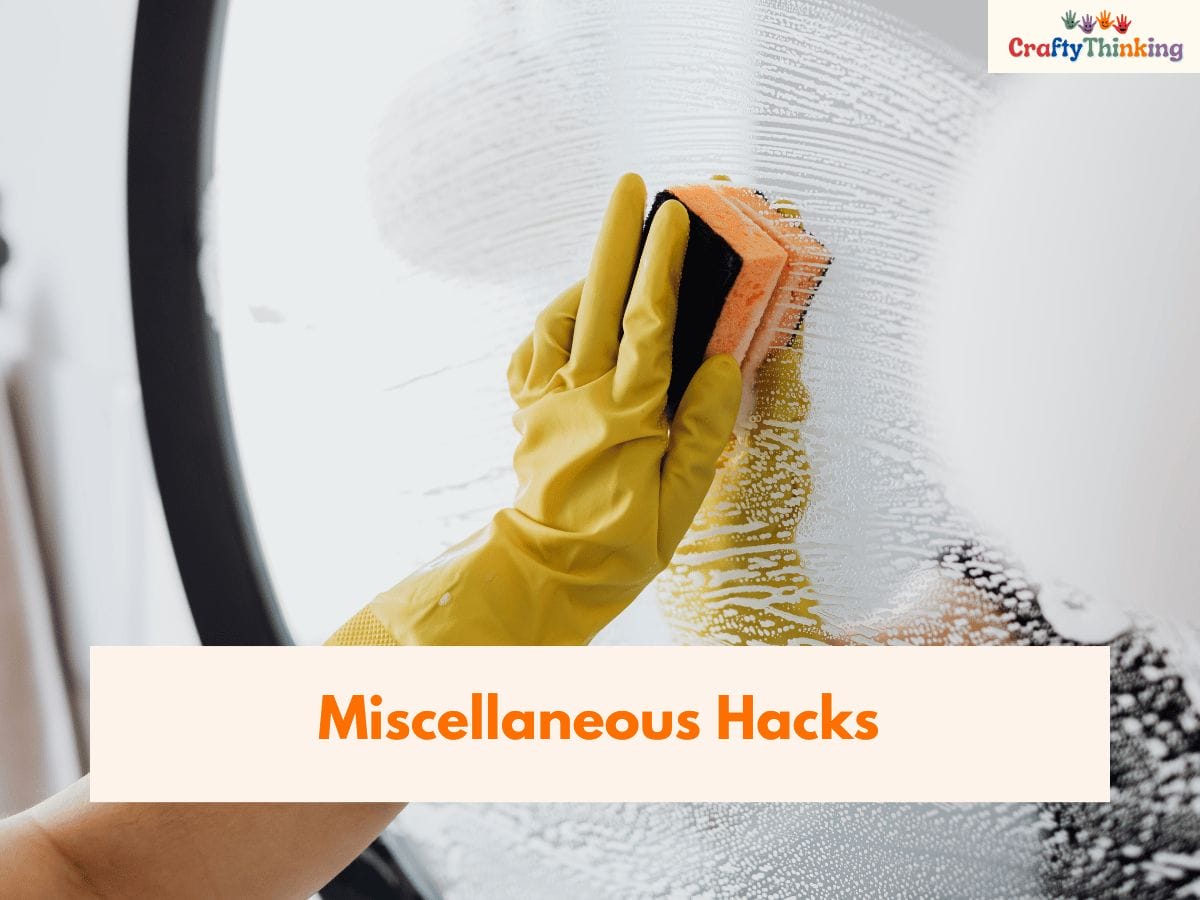 Miscellaneous Hacks
Life is full of unexpected challenges and tasks.
Venture into a collection of diverse hacks that cater to those unique, miscellaneous needs, ensuring you're always prepared, no matter the situation.
Making the Most of Household Items
There are many everyday household items that can be repurposed in creative and practical ways.
For example, you can use a pot and a coin to create a DIY candle starter.
By placing a coin at the bottom of the pot and lighting it, the pot will heat up, allowing you to easily light multiple candles.
Using a brush for dusting electronic devices can help remove dust and prevent it from accumulating in hard-to-reach areas.
Tips for Personal Care and Hygiene
Life hacks can also be applied to personal care and hygiene.
For example, in case of emergencies and running out of toilet paper, using a water bottle with a small hole in the cap can be a temporary solution.
Additionally, using a hanger as a DIY pot lid holder can make cooking and serving meals more convenient.
How can a simple life hack using water improve your everyday life?
Water, a basic necessity in our lives, can be utilized in various life hacks to improve our everyday experiences.
For example, using the 30-second hot water hack to make jar lids easier to open can save time and frustration.
By placing a jar lid under hot water for 30 seconds, the metal expands, making it easier to twist open.
What's the trick behind using peanut butter to remove stains?
Peanut butter, a delicious spread, can also be used as a stain remover.
The oil in peanut butter helps break down and dissolve various stains, including gum, glue, and adhesive residue.
Simply apply a small amount of peanut butter to the stain, let it sit for a few minutes, and then wipe it away with a cloth.
How can freezing grapes transform your wine experience?
When it comes to chilling wine, freezing grapes can add a unique touch to your drinking experience.
Instead of using ice cubes that can dilute the wine, frozen grapes can help keep your wine cool without affecting its taste.
Additionally, the grapes can serve as a decorative element in your glass.
Why is the spaghetti hack considered a game-changer for candle lovers?
The spaghetti hack is considered a game-changer for candle lovers because it provides a simple and safe way to light multiple candles.
By lighting the end of a dry spaghetti noodle, you can use it as a long lighter to reach candles that have burned low.
This hack eliminates the need for matches or lighters while ensuring your fingers stay safe.
Which of these life hacks have you tried or found most useful?
I've tried several of these life hacks, but I've found the tips for simplifying my morning routine to be the most beneficial.
Do you have any unique hacks that have made a significant difference in your life?
Yes, I've started using a specific app to manage my daily tasks, and it's been a game-changer in terms of productivity.
How do you incorporate these tips and tricks into your daily routine?
I usually set aside some time each week to review and implement new hacks that I believe will benefit my daily routine.
Which of these life hacks are you eager to try?
I'm quite eager to try the household hacks, especially those related to kitchen organization.
Do you have a personal favorite life hack that wasn't mentioned?
Yes, I love using binder clips to organize my computer cables; it's simple but very effective.
Why have life hacks changed the way you approach everyday challenges?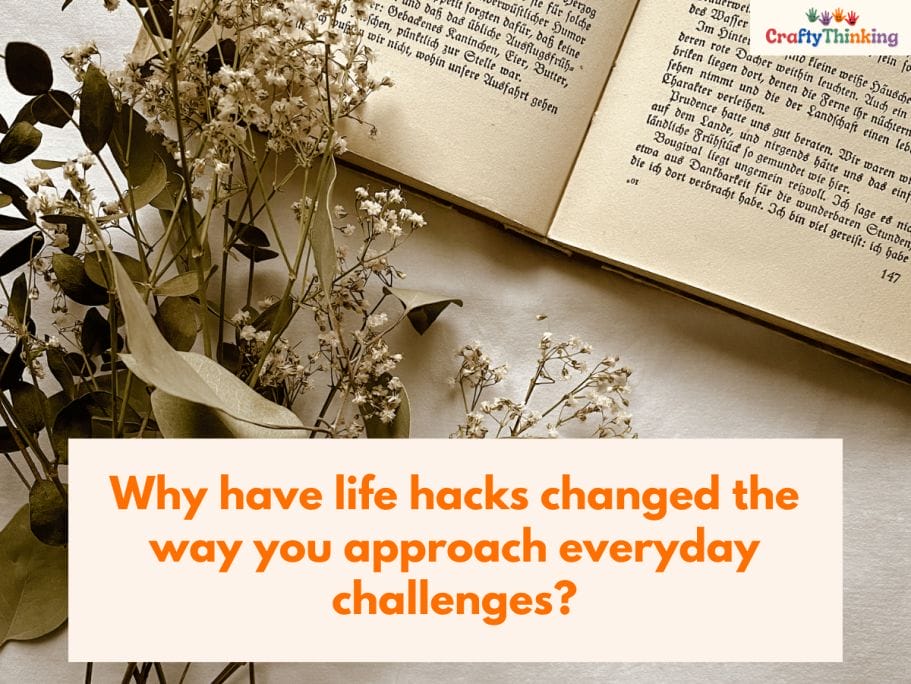 Life hacks have made me more proactive and efficient, allowing me to tackle challenges with a more solution-oriented mindset.
Unlocking the Power of Water: Life Hacks for Hydration and Beyond
Water plays a crucial role in our overall well-being, and implementing life hacks related to water can have significant benefits.
From keeping a water bottle nearby to ensure hydration throughout the day to using water as a solution in various life hacks, water is a key resource that can enhance our daily lives.
Whether it's the hot water hack to open stubborn jar lids or using a water bottle with a small hole as a temporary toilet paper substitute, water is an essential element in simplifying our daily routines.
DIY Stain Removal: The Peanut Butter Trick Revealed
Stains can be frustrating, but with a simple jar of peanut butter, you can effectively remove many difficult stains.
The natural oils in peanut butter help break down and dissolve various stains, making it an effective DIY stain remover.
From gum on clothing to adhesive residue, peanut butter can tackle a variety of stains without the need for harsh chemicals.
The 30-Second Hot Water Hack: Making Jar Lids Easier to Open
Struggling to open stubborn jar lids can be a common frustration in the kitchen. However, with a simple 30-second hot water hack, opening jars becomes a breeze.
By placing a jar lid under hot water for 30 seconds, the metal expands, making it easier to twist open and saving you time and frustration in the kitchen.
The Spaghetti Candle Starter: Lighting Up Your Life the Fun Way
Lighting candles that have burned low can sometimes be challenging and may result in burned fingers.
However, with the spaghetti candle starter, you can safely and easily light multiple candles in one go.
By lighting the end of a dry spaghetti noodle, you can use it as a long lighter, allowing you to reach candles without any risk of burns.
Natural Peanut Butter: Kitchen Hacks for a Healthier Spread
Natural peanut butter is a delicious and nutritious spread that can be enjoyed in various ways.
However, due to its texture and tendency to separate, it can sometimes be challenging to use.
By storing natural peanut butter upside down, you can prevent the oil from rising to the top, making it easier to mix and spread when needed.
4 Helpful Everyday Tips and Life hacks.
Everyday life can be stressful, but it can be easier with the right tips and useful life hacks.
From managing daily stress to finding health strategies for everyday life, there are many ways to make your day-to-day life more manageable.
Here we will explore helpful anxiety tips, weight loss strategies, and amazing life hacks to help you make the most out of your days.
1. Helpful tips on how to manage everyday stress.
Managing and relieving everyday stress is essential for a healthy and balanced life.
There are many different ways to relieve stress, such as activities like yoga, listening to calming music, playing games, and exercising.
Here are some helpful tips on how to manage everyday stress.
Massage can also be beneficial in relieving stress as it works on pressure points in your body.
Meditation is another way to reduce stress, as it helps clear your mind of any worries or anxieties that you have.
Foods can help relieve stress and provide the body with the proper nutrients needed to reduce tension or anxiety.
Practicing breathing exercises can help control heart rate and relax your body.
Taking time out of your day to take care of yourself is key in managing everyday stress.
Music is often seen as a very effective way to relieve stress, and this is true for many people. Listening to calming or uplifting music can help reduce anxiety and create a sense of relaxation.
Yoga is a great way to relieve stress. It helps to relax the mind and body, while also improving your physical fitness.
2. Health strategies for everyday life: Helpful tips for busy people.
Health strategies for everyday life are incredibly important for busy people.
They ensure that we stay healthy and energized throughout the day, no matter how hectic our lives become.
Some helpful tips for busy people include making sure to get enough sleep, eating a balanced diet, staying hydrated with lemon water in a water bottle, exercising regularly with 30 seconds breaks between exercises, and taking time to relax and de-stress.
Additionally, it's also important to make time for self-care practices such as yoga or meditation.
Finally, be sure to book regular checkups with your doctor so you can stay on top of any potential health issues before they become bigger problems.
By following these simple yet effective health strategies for everyday life, busy people can prioritize their well-being and stay healthy despite the demands of their hectic lifestyles.
3. Helpful Anxiety Tips
Helpful Anxiety Tips are essential for anyone struggling with daily stressors and worries.
As beneficial as having a professional help you manage your anxiety, there are also a few helpful everyday tips you can use to help keep your stress in check.
First and foremost, practice mindfulness by focusing daily on the present moment and your current feelings.
Practice deep breathing exercises or progressive muscle relaxation when feeling overwhelmed.
Get enough rest each night and stay hydrated throughout the day.
Don't be afraid to seek support when needed – talking about your worries and concerns can often be more beneficial than tackling them alone.
Ultimately, remember that it's okay not to be okay sometimes – recognizing when you need extra help is one of the most critical steps in managing anxiety.
4. Helpful Tips for Weight Loss
Weight loss can be a challenging process, but with the right tips, it can be easier to achieve.
Start by setting realistic goals and tracking your progress along the way.
Incorporate physical activity into your daily routine, such as walking or biking to work, taking the stairs instead of the elevator, and doing bodyweight exercises at home.
Eating healthy is also key – focus on eating whole foods like fruits and vegetables, lean proteins, and whole grains.
Cut back on processed foods and added sugars as much as possible.
Finally, stay motivated by rewarding yourself when you reach milestones or for your efforts throughout the process.
With dedication and a healthy lifestyle, you can reach your weight loss goals!
8 Everyday Life Tips and Tricks for Specific Events and Activities
Discover practical everyday life tips and tricks that can be used to make specific events and activities such as studying, interviews, sleeping, moving, saving money, budgeting, driving, and ADHD easier and more efficient.
Learn how to make the most of these events and activities and gain the skills to make everyday life easier.
1. Helpful Study Tips
Life hacks are handy when it comes to studying.
One of the essential life hack tips is to break down your tasks into smaller, achievable goals.
Smaller jobs will make learning more manageable and less overwhelming.
Additionally, focus on one task at a time and give yourself regular breaks.
Set time limits for yourself and use that as motivation to finish the task in the allotted time frame to simplify.
Create a diy organized study space to keep track of notes and resources.
Organizing can help you stay focused and productive during your study sessions.
Life hacks can be beneficial when it comes to improving academic performance and making studying easier.
2. Helpful Tips for Interviews
Having a few life hacks can be beneficial when studying. Some of these tips include:
Creating a designated study space
Setting a schedule and sticking to it
Taking notes while reading
Breaking tasks into smaller chunks
Utilizing technology.
Get enough rest
Proper nutrition
Try listening to classical music
Taking short breaks every hour
Reward yourself after completing tasks!
Life hacks are great tools for staying organized and motivated while you work hard towards achieving your goals.
3. Helpful Tips for Sleeping
Getting a good night's sleep is vital for physical and mental health.
Luckily, there are some life hacks you can use to help improve your sleep quality.
One tip is to establish a regular sleep schedule, even on weekends.
A regular sleep schedule helps regulate your body's internal clock to know when it's time to rest.
Another hack is to cut back on caffeine, especially in the late afternoon and evening.
Relaxation exercises or a calming book should reduce stress before bed.
Not only will these tips help you get a better night's sleep, but they can also lead to healthier habits overall.
So, give them a try and see how much of a difference they make in your life!
4. Helpful Moving Tips
Moving can be stressful and overwhelming, but a few helpful moving tips can make it easier.
Start packing early; this will give you plenty of time to get everything ready while avoiding last-minute panic.
Make sure to label boxes clearly with the contents and the room they should go in so unpacking will be much simpler.
It's also a good idea to enlist help from friends or family; having a few extra hands is always helpful during the move.
Lastly, use life hacks such as wrapping delicate things in socks or plastic wrap for drawers, making packing more efficient and saving time.
Following these tips, you'll quickly move into your new home!
5. Helpful Tips to Save Money
Saving money can be challenging for many, but it doesn't have to be.
With just a few simple life hacks, you can save more money and put it towards something important like retirement or an emergency fund.
Start by tracking your expenses and setting up a budget.
Cut back on unnecessary spending like going out to eat every night or buying that new wardrobe item.
Use coupons and bargain hunting when shopping at the store or online.
Consider doing things yourself instead of paying someone else, like home repairs or cleaning.
Take advantage of free resources such as library cards, online streaming services, and public parks.
You'll find more money in the bank each month by following these helpful tips to save money.
6. Helpful Budgeting Tips
Budgeting can be daunting, but it can be manageable with the right tips and life hacks.
Creating a budget plan that outlines your income and expenses.
Make sure to account for your fixed costs, such as rent, groceries, and bills.
You should also include some wiggle room for unexpected expenses or emergencies.
Try to limit spending on non-essentials such as going out to eat or buying new clothes.
To save monthly money, consider using cashback apps or taking advantage of discounts from retailers.
When you have extra money left over each month, make sure to put it into savings for future goals.
With these helpful budgeting tips and life hacks, you'll be able to keep your finances in check!
7. Helpful Driving Tips
Helpful Driving Tips Life Hacks are a great way to make your life easier when you are on the road.
These tips can help you save time, money, and even fuel while driving.
Checking the tire pressure before setting off
Ensuring all lights and signals are working correctly
Avoiding sudden acceleration or braking
Keeping a safe distance from other vehicles
By following these simple tips, you can ensure your journey is as smooth and efficient as possible.
Furthermore, they can also help reduce the number of accidents that occur on the roads by ensuring that drivers are aware of their surroundings and adhere to the necessary safety measures.
8. Helpful Tips for ADHD
Living with ADHD can be challenging, but there are some helpful tips and life hacks that can help make life easier.
One of the most important things to do is to stay organized.
This means having a clear plan for daily tasks and setting reminders to help keep track of them.
Reduce distractions, it's also important to create a comfortable environment with minimal clutter, noise, and chaos.
Another tip is to use technology to your advantage; devices such as calendars, alarms, and task lists can help keep you on track.
Lastly, don't forget to take breaks!
Taking regular breaks throughout the day will help keep you focused and energized so that you can continue tackling tasks efficiently.
With these helpful tips in mind, living with ADHD can be more manageable.
Frequently Asked Questions
Get the answers you're looking for with this comprehensive guide to life hacks, tips and tricks!
Find out how to make every day easier and more efficient with our FAQs.
What are some best life tips?

The best life tips are setting goals, practice self-care, stay organized, and cultivate positive relationships.

How to hack your day?

What is a life hack example?

A life hack example includes using duct tape to repair a broken item, using a can opener to open a jar, hanging a shower caddy from the ceiling for extra storage space in the bathroom, and reusing an old milk jug as a watering can for plants.

How do I hack my morning routine?

To hack your morning routine, you should start by analyzing what works/doesn't work. Make small changes. Set alarms gradually increase in volume. Plan out morning tasks and get adequate sleep.

What are some fun life hacks?

Here are some fun life hacks like mason jars that can replace plastic containers. Freeze lemon slices for added flavor. Lemons can clean stainless steel. Organizing and homemade cleaners are life hacks.

What are simple life hacks?

Simple life hacks to make life easier range from making grocery lists to using a timer; reduce stress levels and help achieve goals; requires trial and error to find best hacks.

How do I get started with the day?

Start your day with physical activity to wake body and mind; healthy breakfast; review goals; plan of action; practice gratitude.

What are some great life hacks?

Some great life hacks include planning and scheduling tasks; making lists, creating routines; budgeting and tracking expenses; cooking in bulk; setting goals and breaking them down; delegating tasks; investing in quality items; improving communication; learning something new daily; benefit from life hacks.

What are some life hacks for students?

Life hacks for students include creating a daily schedule, breaking down large tasks, organizing notes, keeping track of due dates, and setting aside time to relax.

What are some TikTok life hacks?

Some TikTok life hacks include using old t-shirts as dusters, creating phone stands with paper clips and homemade facial masks, using honey as a skin toner, checking store coupons, scouting sales, and using Groupon/Ibotta for deals.
Wrapping up Helpful Everyday Tips
In wrapping up our lifehack journey, let's engage in some final thoughts.
Ever tried using toothpaste to erase that stubborn mark on your work surface?
Or perhaps you've discovered the magic of wrapping a wet paper towel around a beverage and sticking it in the freezer for a quick chill?
If your toothbrush won't fit in that tiny cup, remember it'll always have a home on someone's office desk (just kidding, please don't!).
And if you're ever making it difficult to see the brighter side of life, just remember the time you saved using these hacks.
After all, why flip a coin deciding between a dryer or a sponge when you can have the best of both worlds?
Here's to an amazing life filled with simpler solutions, fewer time-consuming tasks, and the occasional slick move with toothpaste.
Cheers to making life a bit easier, one lifehack at a time!
If you enjoyed this article about Helpful Everyday Tips and would like to learn more, please leave a comment below.