The Importance of Art and Craft in Life: How Art Improves Our Lives
The Importance of Art and Craft in Life is not just a topic; it's a testament to the profound influence of artistic endeavors on shaping our very essence and enhancing our daily experiences.
Art and craft have always held a special place in human society.
From cave paintings to modern masterpieces, art has been a way for us to express ourselves, to communicate, and to explore our creativity.
But art is not just about aesthetics; it holds immense importance in our lives.
In this article, we will delve into the many benefits and The Importance of Art and Craft in Life, and how art improves our overall well-being.
You might also like:
What is the Importance of Art and Craft in Life?
Art and craft play a vital role in enhancing creativity, expressing emotions, and improving cognitive functions.
They not only foster individual expression but also contribute to mental well-being and cultural understanding.
Engaging in artistic activities can also enhance problem-solving skills, fine motor skills, and boost self-esteem.
Why is Arts and Crafts Important?
Arts and crafts play a pivotal role in fostering creativity and self-expression, allowing individuals to explore and communicate their thoughts, feelings, and ideas in tangible forms.
Additionally, engaging in artistic activities enhances cognitive development, fine motor skills, and problem-solving abilities, making it a valuable aspect of holistic personal growth.
Teaches Motor Skills Development
Engaging in arts and crafts activities significantly aids in refining motor skills.
Holding a paintbrush or scribbling with a crayon provides an opportunity for young children to enhance their fine motor muscles.
Crafting activities like beading or using safety scissors further develop the dexterity that's crucial for tasks they'll encounter later in life, such as writing.
Teaches Care and Compassion
Arts and crafts teach children the importance of care and compassion.
When kids create something for someone else, they learn about empathy and the joy of giving.
It instills a sense of generosity, as they take the time to craft something with another person's happiness in mind.
Enhancing Problem-Solving Capacity
These activities are instrumental in increasing a child's problem-solving capacity.
When faced with artistic challenges, such as figuring out how to create a sculpture or achieve a specific shade of color, children learn to think critically and innovatively.
They experiment, make mistakes, and then find solutions, which is a foundational skill that will benefit them in various life scenarios.
The Importance of Art and Craft in Life
Arts and crafts help young children to explore and express their emotions.
They learn how they can relate to their family and friends.
Talk about the difficulties, the future, dreams, the inspirations and aspirations.
Even if they have not yet developed a powerful vocabulary to do so. Moreover, it also develops courage and a healthy self-esteem.
What are the Benefits of Arts and Crafts?
Arts and crafts offer numerous benefits, including enhancing creativity, improving fine motor skills, and fostering critical thinking.
Engaging in such activities also provides therapeutic relaxation and boosts self-esteem, allowing individuals to express themselves and appreciate the beauty in their creations.
15 Benefits of Arts and Crafts
Arts and crafts are more than just a fun pastime or a creative outlet.
They offer a myriad of benefits that go beyond the canvas or craft table.
From enhancing cognitive abilities to fostering deep emotional connections, the world of arts and crafts enriches lives in ways one might not immediately recognize.
Dive in as we explore 15 profound benefits that this delightful activity brings to individuals of all ages.
1. Enhance creative thinking and expression.
Art and craft activities stimulate the brain, allowing individuals to think outside the box and express their unique perspectives.
This form of expression can lead to a deeper understanding of oneself and the world around them.
2. Sharpen problem-solving abilities.
Engaging in art and craft projects often requires individuals to think critically, plan, and execute their ideas, helping them develop and hone their problem-solving skills.
3. Boost hand-eye coordination.
Crafting, painting, and other artistic activities demand precision, which in turn helps improve hand-eye coordination, a crucial skill in many everyday tasks.
4. Strengthen communication and interpersonal skills.
Group art projects or workshops encourage collaboration and discussion, helping participants articulate their ideas and understand others, fostering better communication.
5. Develop fine and gross motor skills.
Activities like cutting, drawing, or molding clay can help in the development of both fine (small muscle movements) and gross (larger muscle movements) motor skills.
6. Serve as a therapeutic method for relaxation and stress relief.
Engaging in artistic endeavors can be meditative, helping individuals relax, reduce stress, and achieve a state of calm.
7. Foster bonding and create memorable moments with loved ones.
Crafting together can be a bonding experience, creating lasting memories and strengthening relationships between family and friends.
8. Acquire and master new skills and techniques.
Art and craft offer endless opportunities to learn new techniques, from painting styles to crafting methods, continually expanding one's skill set.
9. Dive deep into the realm of artistic exploration.
The world of art is vast and diverse, allowing individuals to explore various cultures, histories, and personal expressions.
10. Combat monotony and ignite interest.
Taking up an art project can break the routine, igniting passion and interest in something new and exciting.
11. Utilize leisure time productively.
Instead of passive activities, art and craft provide a constructive way to spend free time, resulting in tangible creations.
12. Broaden horizons by learning and discovering new concepts.
Art exposes individuals to different cultures, ideas, and histories, broadening their understanding and perspective.
13. Heighten concentration and extend attention span.
Focused art projects require attention to detail, helping individuals improve their concentration levels and attention spans.
14. Instill essential life skills in children through hands-on activities.
Artistic activities teach children patience, perseverance, and the value of hard work, skills that are invaluable in life.
15. Educate children on the nuances of colors, diverse shapes, and varied textures.
Through art, children learn to differentiate between colors, understand shapes, and feel different textures, enriching their sensory experiences.
List of Arts and Crafts
Diving into the world of arts and crafts isn't just about creativity; it's also about having the right tools and materials at your fingertips.
From the novice to the seasoned artist, having a curated list of essential arts and crafts products can make all the difference in bringing visions to life.
Let's explore the must-have items that every craft enthusiast should consider adding to their collection.
Sale
Bestseller No. 1
Arts & Crafts Supplies Kits & Materials Set for Kids, Toddler – Carl &…
ALL INCLUSIVE CRAFT KIT: Looking for a fun one-stop, ready-for-anything craft supply bundle that covers all the basics? You…
HUGE ASSORTMENT: Materials included are 100 pipe cleaners, 50 colorful popsicle sticks, 100 craft matchsticks, 50 buttons,…
EASY TO STORE & CARRY: Clean up time is a breeze! Each craft item comes neatly packed in small zipper bags, all conveniently…
BRAIN BOOSTING FUN: Creativity promotes fine motor skills, problem-solving and even emotional wellness. Whether you need…
Bestseller No. 2
Dowsabel Clay Beads Bracelet Making Kit for Beginner, 5000Pcs Heishi…
🌸Everything You Need to Get Started: This bead kit includes everything a beginner needs to start making beautiful…
🚀Be Friendly to Beginner: We have prepared instructions and videos to teach you step-by-step how to make bracelets,…
🌴Kid-Friendly Material: All of our beads are made of healthy and environmentally friendly materials, light and durable,…
❤️Endless Creativity: With thousands of clay beads in 20 colors and various charms accessories, the possibilities for…
Sale
Bestseller No. 3
ORIENTAL CHERRY Arts and Crafts for Kids Ages 8-12 – Make Your Own GEM…
Package includes 5 unfinished diamond Keychains, 1 diamond painting stylus, 1 tray, 1 wax square and 1000+ colorful gems.
Based on the same concept as mosaics and paint-by-numbers, it's very easy to follow, saves time and effort.
Diamond painting is enjoyable activity, fun crafts you can make with your kids.
Great for hand-eye coordination, creative expression, fine motor skills, pretend play, and self-confidence.
Bestseller No. 4
Innorock Paint Your Own Cat Lamp Art Kit, Night Light, Crafts for…
🐱 PAINT YOUR OWN CAT LAMP – Our Paint Your Own Cat Lamp Set includes everything your child needs to create their own…
🐱 FUN AND EDUCATIONAL – Our cat lamp art kit is not only fun but educational too. It is perfect for children ages 8-13 who…
🐱 COMPLETE KIT – Our Paint Your Own Cat Lamp Set is a complete kit that includes a 3-inch tall cat lamp, 12 paint colors,…
🐱 SAFE AND SUITABLE – Our cat lamp art kit is made of safe materials, making it suitable for kids ages 9-12 to use. The…
Bestseller No. 5
Arts and Crafts Vault – 1000+ Piece Craft Supplies Kit Library in a…
UNLEASH & SPARK YOUR CREATIVITY: Your complete arts and crafts supply set with over 1,000 pieces of arts & crafts supplies…
PREMIUM VALUE: Kit includes Pipe Cleaners, Fuzzy Sticks, Pom Poms, Wooden Pieces, Felt Strips, Craft Sticks, Sequins, Wooden…
UNLIMITED USES: Make jewelry by adding beads to the thread or pipe cleaners. A windcatcher by gluing sticks together into a…
100% SATISFACTION GUARANTEED: Love it, or get your money back! We're sure the child will have a blast, but if you are…
Sale
Bestseller No. 6
Sale
Bestseller No. 7
Made By Me Create Your Own Window Art, Paint Your Own DIY Suncatchers,…
DESIGN 20 WINDOW ART CREATIONS: Make your windows pop with 20 whimsical window art creations! Color 12 suncatcher shapes and…
5 EASY-TO-USE PAINT PENS & TUBES: Trace illustrations from the included instructions or create custom creations with the…
SUCTION CUPS INCLUDED: Each suncatcher comes ready to hang with a suction cup! Affix it to the suncatcher with the included…
THE PERFECT GIFT: Give the gift of smiles with a hands-on craft that kids (and adults!) will love. Great for celebrating…
Sale
Bestseller No. 8
Kids Rock Painting Kit – Glow in The Dark – Arts & Crafts Gifts for…
UNLEASH & SPARK YOUR CREATIVITY: The ultimate gift for any child who loves art, creativity, and a little bit of magic. With…
INCLUDES: 10 natural white river rocks, 4 puffy glow-in-the-dark paints, 6 standard paints, gold & silver glitter glue, 2…
LET IT GLOW: The main attraction is the puffy glow-in-the-dark paints. When the lights go out, these paints will light up and…
FUN & EASY: Whether you're a beginner or an experienced rock painter, the Glow-in-the-Dark Rock Painting Kit has something…
Sale
Bestseller No. 9
Soucolor Art Supplies, 192-Pack Deluxe Art Set Drawing Painting…
【Complete ALL-IN-ONE Deluxe Wooden Art Box】Soucolor 192-pack Deluxe Art Set includes a wide range of art supplies: 60…
【Deluxe Paint Set Painting Supplies: 24 Acrylic Paints and 3 A4 Size Canvas Boards Included】This deluxe painting kit…
【Professional Drawing Kit: 3 A4 Size 8.5 x 11.5" Drawing and Sketching Pads Included】300gsm 20 Sheets acrylic pad is…
【Well Organized Deluxe Wooden Case】Our art kits with removable double drawers are neatly organized in a sturdy wooden…
Bestseller No. 10
iBayam Art Supplies, 150-Pack Deluxe Wooden Art Set Crafts Drawing…
🎨【High Quality, Deluxe Art Kit】The Deluxe art case has everything you need to get started creating in a compact wooden…
🎨【Well Packed in Gift Box】All the art supplies are well organized in a nice wooden case and then a beautiful gift box….
🎨【Safe Art Kits】Made with high quality materials, this art drawing kit is safe and no harm for kids and adults. All of…
🎨【Enough Art Supplies】 This Premium drawing set includes 24-Colored Pencils, 24-Oil Pastels, 24-Watercolor Cakes, 3×8…
Role of Art in Well-being
Art has been proven to have a positive impact on our overall well-being.
ngaging in art activities encourages self-expression, allowing us to communicate our thoughts and emotions effectively.
It stimulates our imagination and encourages us to think outside the box.
Moreover, creating art promotes a sense of accomplishment and self-confidence, boosting our self-esteem.
Craft's Impact on Mental Health
Crafting, such as knitting, origami, or DIY projects, has been found to have significant benefits for our mental health.
It provides a focus for our thoughts, diverting our attention from negative or anxious thinking patterns.
Engaging in craft activities also stimulates the release of dopamine, a neurotransmitter associated with pleasure and reward.
This helps improve our mood and promote a sense of happiness and satisfaction.
Artistic Expression and Quality of Life
Artistic expression has a direct impact on our quality of life.
Engaging in creative activities allows us to explore our inner selves, express our thoughts and emotions, and make meaning out of our experiences.
Art provides us with an opportunity to reflect, to connect with others, and to find a sense of purpose and fulfillment.
Therapeutic Effects of Crafting
The therapeutic effects of crafting are well-documented.
Engaging in craft activities has been shown to reduce stress, anxiety, and symptoms of depression.
It provides a distraction from negative thoughts and promotes a sense of relaxation and calmness.
Craft activities, such as folding origami or creating DIY projects, also improve our fine motor skills and hand-eye coordination.
Art as a Life Enhancer
Art enhances our lives in many ways. It helps us develop our creativity and imagination, allowing us to see the world from different perspectives.
Artistic activities encourage us to think critically, to analyze problems, and to find innovative solutions.
It also fosters a sense of appreciation for beauty and aesthetics, enriching our experiences and making life more meaningful.
Craft Activities and Self-improvement
Craft activities are not just about creating something beautiful; they also contribute to our personal growth and development.
Engaging in craft activities requires patience, perseverance, and attention to detail.
These qualities have a positive impact on our character and enhance our self-discipline and self-control.
Additionally, craft activities provide a sense of accomplishment and satisfaction when we see the final result of our efforts.
Importance of Creativity in Daily Life
Creativity is a vital aspect of our daily lives. It helps us find innovative solutions to problems, think outside the box, and adapt to new situations.
Engaging in creative activities, such as art and craft, nurtures our creativity and encourages us to explore new ideas and perspectives.
It also stimulates our imagination, making us more adaptable and resilient in the face of challenges.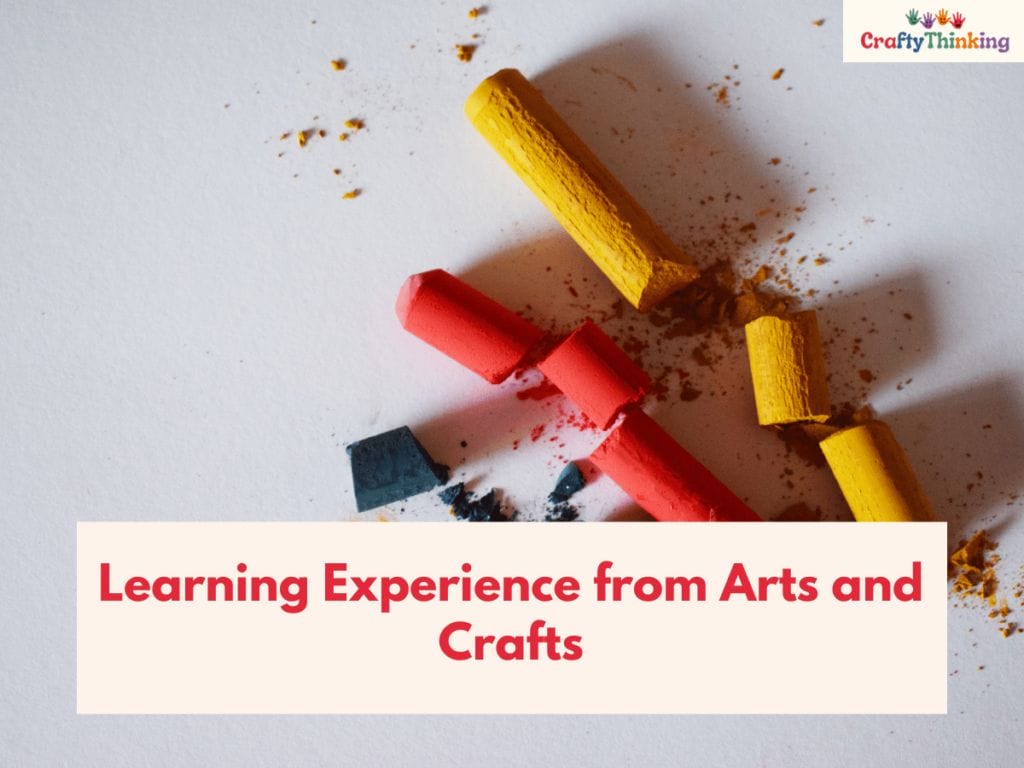 Learning Experience from Arts and Crafts
Engaging in arts and crafts activities provides us with valuable learning experiences.
Through art, we develop our cognitive, sensory, and motor skills. It enhances our spatial awareness, hand-eye coordination, and fine motor skills.
Arts and crafts also encourage critical thinking, problem-solving, and decision-making abilities.
Moreover, they promote language development, vocabulary expansion, and academic achievement.
How do arts and crafts encourage children to develop critical thinking skills?
Arts and crafts encourage children to develop critical thinking skills by presenting them with opportunities to make decisions and solve problems.
As they engage in art projects, they'll encounter situations where they need to find solutions, fostering their problem-solving abilities.
This aspect of early childhood education is vital as it lays the foundation for more complex thinking skills they will use later in formal education.
In what ways does engaging in artwork aid in the enhancement of a child's sensory learning?
Engaging in artwork aids in the enhancement of a child's sensory learning by allowing them to explore different textures, shapes, and colors.
Through hands-on art projects, children get to touch and manipulate different objects, which helps to develop a deeper understanding of the world around them.
This sensory learning is an integral part of their overall cognitive development, fostering a rich and intricate understanding of their surroundings.
How does visual learning via art projects boost children's IQ and literacy levels?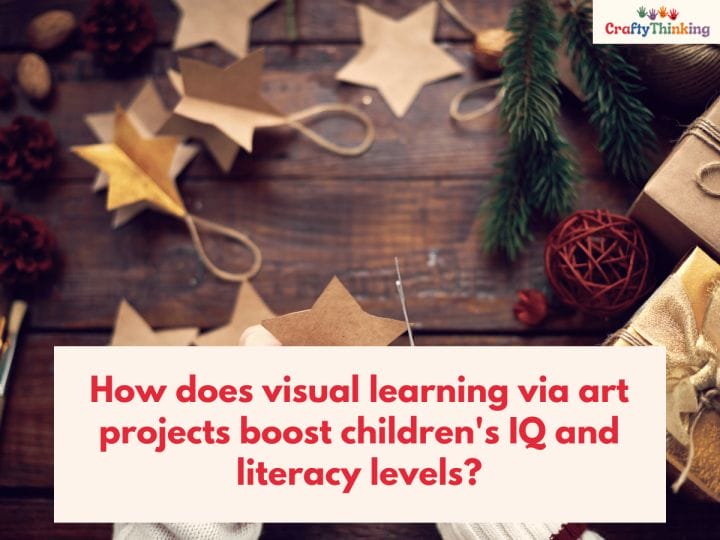 Visual learning via art projects boosts children's IQ and literacy levels by stimulating different parts of the brain responsible for understanding visual information, language, and fine motor skills.
As children create and interpret art, their brain is stimulated, enhancing their ability to grasp complex concepts and improve their reading and writing skills, which are vital components of literacy.
Can you illustrate how creating things through arts and crafts also helps them develop a sense of achievement?
Absolutely, creating things through arts and crafts not only helps children to develop fine motor skills but also fosters a sense of achievement.
As they work towards completing a project, they experience the joy and satisfaction of seeing their creative ideas come to life, which boosts self-esteem and encourages a positive attitude towards learning and personal development.
Why is it important for young kids to explore their creativity through arts and crafts, and how does it broaden their understanding of spoken language?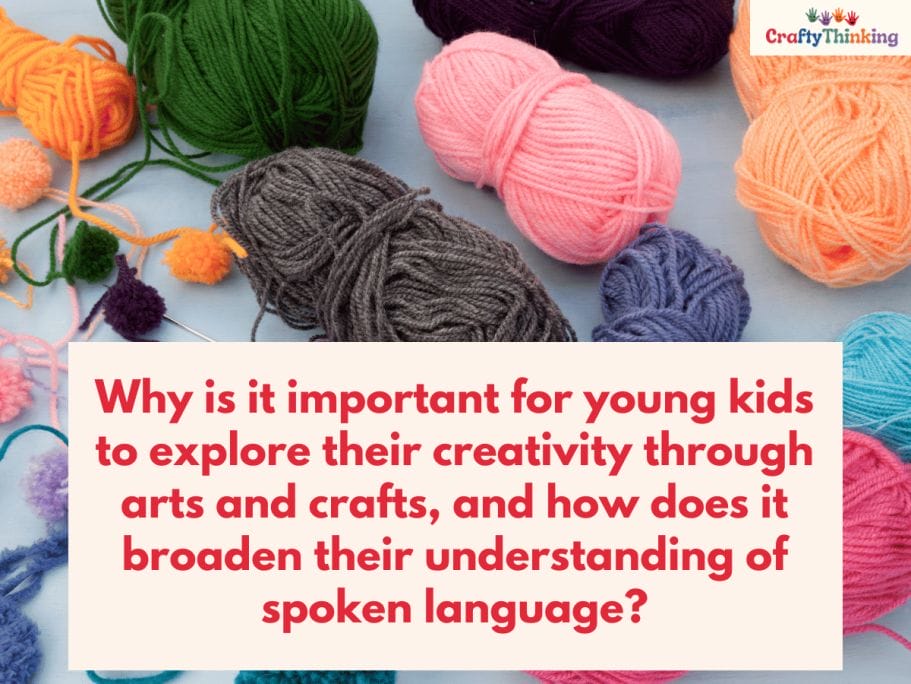 It's important for young kids to explore their creativity through arts and crafts as it plays a vital role in their holistic development.
Engaging in art projects not only helps them to develop unique and beautiful creations but also allows them to express themselves in ways beyond spoken language.
This form of expression can broaden their understanding of communication, fostering a richer and more nuanced grasp of language and literacy.
Frequently Asked Questions
Here are some frequently asked questions about the Importance of Art and Craft in Life.
Get some quick answers to everything you need to know.
Have you experienced the therapeutic effects of art and craft firsthand?

Yes, I have. Whenever I've felt overwhelmed or stressed, diving into an art project has always been my sanctuary.

The process of creating allows me to channel my emotions and find a sense of calm.

How has engaging in artistic activities improved your quality of life?

Art has been a constant source of joy and fulfillment for me.

It's not just about the end product, but the journey of creation that brings clarity, purpose, and a deeper understanding of oneself.

Do you believe that art and craft should be integrated more into educational curriculums? Why or why not?

Absolutely! Art and craft not only foster creativity but also help in developing critical thinking, problem-solving skills, and emotional intelligence.

It's essential for holistic development and should be given as much importance as any other subject.

How do you incorporate creativity into your daily routine?

Every day, I set aside some time, even if it's just a few minutes, to sketch, doodle, or work on a craft project.

It's my way of taking a break, refreshing my mind, and staying connected to my artistic side.

Can you share a personal story where art or craft significantly impacted your life?

Certainly. During a particularly challenging phase in my life, I took up pottery.

The simple act of molding clay was therapeutic.

It taught me patience, resilience, and the beauty of imperfections.

That experience was a turning point, reaffirming my belief in the healing power of art.

Why is art and craft important in our daily life?

Art and craft enrich our lives in countless ways. They offer a medium for self-expression, bring people together, and provide a therapeutic outlet.

They also enhance our surroundings, making our spaces more vibrant and reflective of our personalities.

How do arts and crafts affect our life?

Arts and crafts have a profound impact on our mental and emotional well-being.

They offer a sense of accomplishment, boost self-esteem, and provide a platform to express and process emotions.

Why is art and craft important in human life?

Art and craft have been an integral part of human civilization.

They tell our stories, reflect our cultures, and allow us to connect on a deeper level.

Beyond that, they offer therapeutic benefits and foster creativity, which is essential for innovation and progress.

How does art help us in everyday life?

Art serves as a mirror to society, reflecting our joys, struggles, and aspirations.

It offers solace, inspires us, challenges our perspectives, and provides a platform for self-expression.

In everyday life, it adds beauty, evokes emotions, and stimulates our minds.
Wrapping Up the Importance of Art and Craft in Life
Art and craft hold immense importance in our lives. They improve our well-being, enhance our cognitive and emotional development, and provide a means of self-expression.
Engaging in artistic activities like painting, sculpting, or crafting has numerous benefits, including improved mental health, enhanced problem-solving skills, and increased self-confidence.
From a young age, arts and crafts provide valuable learning experiences and promote personal growth.
So, let's embrace the world of art and craft, and experience the many wonders they bring to our lives.
If you enjoyed this article about The Importance of Art and Craft in Life and would like to learn more, please leave a comment below.