what are the characteristics of a craftsman house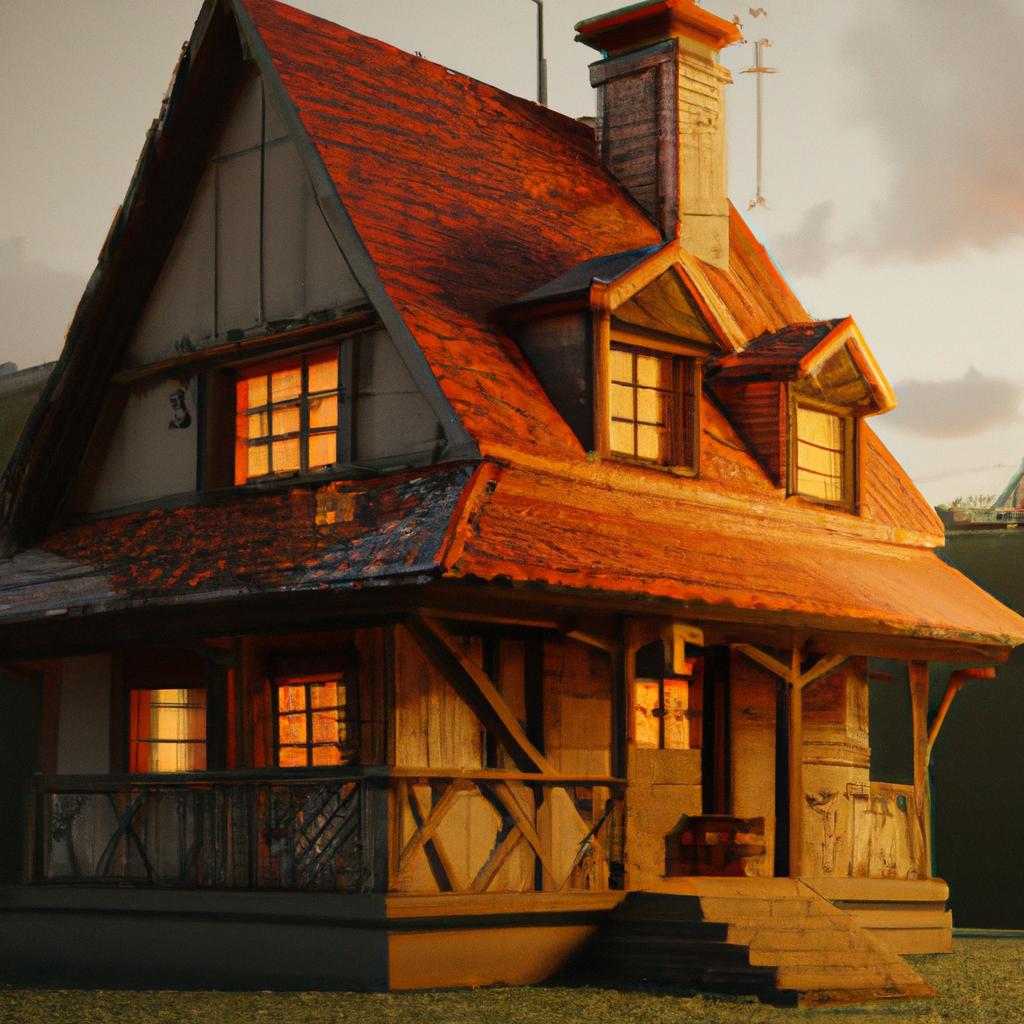 What is a craftsman house?
Craftsman houses are a popular architectural style that emerged in the 20th century. They are renowned for their ornate details and exquisite woodwork. They have a low-pitched roofline, broad front porches and exposed rafters.
The floor plan is open, with spacious living areas that let in natural light and provide a connection between inside and outside. Craftsman houses are all about details – from handcrafted woodwork to artful use of natural materials.
They have unique interior elements like Inglenooks, art glass windows and tapered columns on the porch. This style dates back to the 19th century when William Morris sparked interest in traditional architecture. Gustav Stickley and Robert Allen then helped popularize it.
Characteristics of a Craftsman House
To understand the characteristics of a craftsman house, look no further than its unique exterior features, handcrafted details, and open floor plans. Additionally, craftsman houses often prioritize the use of natural materials, emphasize functionality, and have built-in storage. Inside, a fireplace serves as a focal point, creating a cozy and welcoming ambiance.
Unique Exterior Features
Craftsman homes boast distinctive exterior features that make them a sought-after choice. Here are some of their traits:
Low-pitched roofs and wide eaves.
Exposed rafters and beams.
Covered front porches, perfect for enjoying fresh air and sunshine.
A mix of textures on exterior walls, such as stucco and brick.
They also have specialized trim work, like door frames and windowsills, for ornamentation. To remodel your home to include crafty features, opt for neutral earth-tones to accentuate its organic texture. Plus, ensure the outer area is well-maintained. Keep grass beds and hard scrubs symmetrical. Trim regularly and include furniture that complements the rustic look – think rocking chairs and swinging seats. Craftsman houses have more handcrafted details than a Pinterest DIY board gone wrong!
Handcrafted details
Craftsman House's Artistic Design
Craftsman houses are renowned for their intricate, handcrafted details. These details embody simplicity, practicality, and natural beauty. All of this culminates in the house's overall appeal.
For instance, decorative brackets support the overhanging eaves. These brackets were skillfully carved and shaped by expert craftsmen, using wood as the material. Moreover, handmade finishes, such as hammered copper hinges and doorknobs, bring out the doors.
Woods such as oak, cherry, maple, and chestnut are used for floors and cabinetry. They feature prominent grains and knot formations, arranged in a practical way.
William Morris founded the Arts & Crafts Movement (1853–1896). His home was designed with beautiful craftsmanship in mind. This eventually gave rise to the "Craftsman" architectural style, popular from 1905-1930. Craftsmanship now became a key feature, focused on instead of being neglected.
No walls? No problem! Open floor plans are a thing. Just watch your step, or you might end up playing a game of human-sized Jenga!
Open Floor Plans
A Craftsman House is renowned for its special design features. Its open floor layout allows natural light to fill the rooms, creating an airy and inviting feel. This style removes barriers between rooms, making the house appear to be one large space. Large windows bring outside surroundings into the house.
The Open Floor Plan is not just aesthetically pleasing, it is also practical. Fewer walls allow the house to make better use of space. This offers flexibility in arranging furniture for entertaining, relaxing or cooking.
One can add unique details to enhance the Craftsman vibe. These could be exposed beams on high vaulted ceilings, built-in cabinetry, stained glass windows or rich, dark wooden floors.
To create a smooth transition from one area to another, consider grouping furniture based on function rather than location. This encourages exploration of design elements which bring out the atmosphere of an Open Floor Plan. Craftsman houses use so much natural wood, it's like they're trying to rebuild the forest one home at a time!
Use of Natural Materials
Craftsman houses feature an emphasis on using natural elements during construction. Wood, stone, and brick are combined to create a unified aesthetic, connecting the home with nature. Earthy tones and textures also add to this effect.
The materials used not only make the home look appealing, but serve practical purposes too. Wood is a great choice for flooring, trimwork, and cabinetry – it's durable and timeless. Plus, stone chimneys provide support and a visually appealing element.
These homes are known for their attention to detail. Moldings are intricate yet subtle, and metal hardware fits in perfectly. Bookcases and window seats showcase skilled craftsmanship.
Pro Tip: Natural materials don't have to break the bank; consider reclaimed wood and faux-stone materials to save money. Craftsman houses: stylish on the outside, practical on the inside.
Emphasis on Functionality
Craftsman houses have practicality and functionality at the forefront. Natural materials, simple forms, and open floor plans make these homes both beautiful and practical.
One way to highlight the emphasis on functionality is by creating a table that showcases the features of a Craftsman home. Design elements such as large windows, built-ins, and a fireplace in the living room may be included in one column. The other may illustrate functional details like a mudroom and butler's pantry.
These homes also bridge the gap between indoor and outdoor spaces with porches and decks. The rooflines often feature exaggerated gables or shed dormers to give more headroom in upper-level bedrooms.
For more efficient storage, homeowners may consider built-in seating and shelving, drawer organizers in kitchen cabinets, and under-stair storage solutions.
In conclusion, Craftsman houses prioritize both form and function to create comfortable spaces that are pleasing and practical. Homeowners can maximize their experience of these unique homes by focusing on clever design details and storage solutions.
Built-In Storage
A Craftsman-style house is made unique with Built-In Storage. It adds practicality and a vintage vibe to the home. Here are three aspects of Built-In Storage for a Craftsman House:
Purpose: Filling up empty spaces in the house is avoided. Instead, Built-In Storage makes use of every corner for storage.
Design: The design fits in as a part of the house, featuring shelving, cabinets, window seats, and open niches.
Material: The materials used reflect the Craftsman style – oak or cherry wood is popular.
Built-In Storage in Craftsman Houses stands out for its simplicity and luxury. One family discovered built-in storage behind bookcases in their 100-year-old Craftsman-inspired home. They found hidden compartments with detailed carpentry work, adding character to their new home. Who needs a TV when you can admire the flames of a craftsman fireplace?
Fireplace as Focal Point
A Craftsman House is all about its focal point: the Fireplace. It serves practical and decorative purposes, providing warmth plus a place for cozy gatherings.
These homes typically have a classic design using natural materials like stone or wood. A fireplace with artisanal finishes adds an extra dimension of beauty to the living room.
Large windows let natural light into the home, which enhances the beauty of the fireplace.
The fireplace has a special place in history, and remains a crucial feature today. Don't forget to include one when designing or remodeling any living space! Bring this piece of history into your modern day lives and create a warm and inviting atmosphere.
Cozy and Welcoming Ambiance
Creating a cozy atmosphere is the key to a Craftsman-style home. It gives off welcoming vibes from every detail. Low-pitched roofs, exposed rafters and front porch columns with stone or brick pedestals all contribute to this inviting ambiance.
Designers use earthy colors and natural materials to accentuate the inviting look. To further enhance the warmth, comfortable furnishings like soft sofa cushions, warm-colored quilts, and textured throw pillows are great additions.
Little touches, such as candles on the table or mantlepiece, also give the space an airy, homely feel. Living in a Craftsman house is like having a personal Instagram filter on your life.
Benefits of Living in a Craftsman House
To enjoy the benefits of living in a craftsman house with its durable and sturdy structure, energy-efficient feature, and timeless design, among other perks, check out this section. You'll learn about the advantages of investing in a craftsman house, including higher resale value and emotional connection to the past.
Durable and Sturdy
Craftsman homes are renowned for their strength and stability. Quality materials are used to build them, like thick columns and heavy-gauge steel roofs. These features make them durable and resistant to wear and tear.
Plus, they possess unique architectural features that give them a timeless character. A family bought one of these houses almost two decades ago, and it has withstood numerous storms and disasters with minimal damage.
Living in a Craftsman house is like wearing a cozy sweater. It's efficient, meaning you save on energy bills!
Energy-Efficient
Craftsman houses have great energy efficiency due to their unique elements. Efficient windows and insulation, natural lighting, and proper ventilation can reduce energy consumption by 30%. Windows and doors are thoughtfully placed for optimal day-lighting while lessening artificial lighting needs.
Craftsman houses use long-lasting materials, like reclaimed wood or recycled items, which help prevent heat loss. Plus, they possess active solar heating systems that make use of renewable energy sources like sunlight.
Living in a Craftsman house means having great comfort with low utility bills. Homeowners can save money each month, plus contribute to environmental conservation and sustainable living.
Craftsman houses show good design lasts forever – unlike your ex's fashion choices!
Timeless Design
Craftsman homes offer a timeless look and feel. Their design includes intricate woodwork, top-notch construction, and natural materials like stone and brick. This creates harmony between indoors and outdoors. Plus, their layout maximizes every inch of space while keeping an open atmosphere.
Sustainability is often included with renewable materials, making them eco-friendly. Not to mention, craftsman homes have great resale value. They have unique designs that stand out from the modern and homogenous options. Pro Tip: Invest in a craftsman-inspired design to add charm and future resale value to your property.
Higher Resale Value
Craftsman-style homes ooze warmth and character. Investing in them can bring great returns as they hold a higher market value. It's the ideal choice for homeowners wanting to maximize their resale profits.
These homes are made with quality materials for longevity and resilience. They have spacious front porches, unique moldings and precise attention to detail throughout. Thus, adding extra value to the property aesthetically and functionally.
Craftsman-style homes have a touch of nostalgia from being designed in the early 20th century. Combining classic charm with modern convenience, they appeal to all generations.
Pro Tip: To up the resale value of your Craftsman house, keep its original architectural features but update the overall functionality. This balance between vintage aesthetics and modern amenities can draw in more buyers, upping your chances of getting higher resale rates.
Emotional Connection to the Past
Craftsman Houses: Connecting You to Your Roots
Craftsman houses are a gateway to the past. Unique features and characteristics, passed down over generations, give you an emotional connection to your roots. A comforting reminder in this digital world.
The design elements of these houses – exposed rafters, built-in bookcases, decorative woodwork – have been perfected over time. They feature handcrafted details, which have become rare due to modern techniques.
Living in a Craftsman house offers an experience you can't find anywhere else. Period-specific furnishings and decor transport you back in time.
Own or rent a Craftsman home and show off its unique heritage elements. Invite vintage artwork and antique prints onto the walls. Seek out lighting fixtures from the era and create a time capsule of untold stories. Living in a Craftsman House may not solve all your problems, but it's a beautiful and functional space to cry in.
Conclusion
Craftsman houses boast unique architectural designs that ooze simplicity, functionality and an appreciation for natural finishes. Dating back to the late 19th century in the US, these homes are known for features such as low-pitched roofs, handcrafted materials and exposed beams. Inside, they offer spaciousness with an open floor plan and plenty of natural light. Such a house is a symbol of excellent craftsmanship which still inspires modern home designs.
The Arts and Crafts movement in America encouraged originality and simplicity over mass production. This led to the creation of homes that blended beauty with utility without being over the top or decorated excessively. Exteriors had clean lines with natural materials like wood shingles or clinker bricks, with tapered columns supporting overhanging eaves with exposed rafter tails.
On the inside, craftsman houses have functional floor plans with form-loaded spaces that provide distinction yet retain an open feel. Features like extensive built-in cabinets, alcoves for seating and dining nooks perfectly complete the style.
Today, craftsman architecture is very popular. It provides potential owners with comfort and practicality that isn't seen in many contemporary home styles. According to John Brinkmann, editor of American Bungalow Magazine, "The best way to describe a bungalow is 'comfortable'." There is a growing number of people who prefer this architecture style, as it combines simplicity with elegance.
Research indicates that millennials are drawn to craftsman-style homes. They are eco-friendly, using sustainable building materials and prioritizing quality craftsmanship above quantity.
Frequently Asked Questions
Q: What is a craftsman house?
A: A craftsman house is a style of architecture popularized in the early 20th century, characterized by its strong emphasis on handcrafted details, natural materials, and simple, functional designs.
Q: What are some common features of a craftsman house?
A: Some common features of a craftsman house include low-pitched roofs, overhanging eaves, tapered columns or pillars, exposed rafters, and decorative brackets.
Q: How do craftsman houses differ from other architectural styles?
A: Craftsman houses differ from other architectural styles in their emphasis on handcrafted details, simplicity, and functionality, as well as their use of natural materials such as wood, stone, and brick.
Q: Where did the craftsman style originate?
A: The craftsman style originated in the United States in the late 19th and early 20th centuries as a reaction against the increasing mechanization and industrialization of society.
Q: Are craftsman houses expensive to build or maintain?
A: Craftsman houses can be more expensive to build than other types of houses due to the focus on handcrafted details and natural materials, but they can also have higher resale value. In terms of maintenance, they may require upkeep to preserve their historic character.
Q: Can a modern home be designed in the craftsman style?
A: Yes, a modern home can be designed in the craftsman style by incorporating the hallmarks of the style such as natural materials, handcrafted details, and simplicity of design.