Best Summer Arts and Crafts Ideas: 27 Easy Summer Crafts for Kids
Summer Arts and Crafts Ideas for kids are not only a great way to keep them occupied, but they also provide numerous developmental benefits.
One way to keep children entertained is through arts and crafts.
Summer is the perfect time for kids to unleash their creativity and engage in fun activities.
From enhancing their fine motor skills to fostering creativity and imagination, summer crafts are essential for a child's growth and development.
Keep reading to find out the 27 Best Summer Arts and Crafts Ideas that will not only keep your kids entertained but also help them tap into their creative side.
You might also like:
What are Summer Arts and Crafts Ideas?
Summer arts and crafts ideas involve a variety of creative activities that kids can do during the summer months.
These crafts can range from simple paper plate crafts to more intricate bead art projects.
The goal is to provide children with opportunities to explore their creativity and create something unique and beautiful.
27 Best Summer Arts and Crafts Ideas
Unleash your creativity this season with our curated list of the Best Summer Arts and Crafts Ideas.
Whether you're a seasoned crafter or just looking for some fun activities to keep the kids engaged, this list promises a summer filled with artistic exploration and delightful creations.
Here's a detailed list of the 27 Best Summer Arts and Crafts Ideas for Kids:
1. Sun Print Art
Using sun-sensitive paper, kids can place objects like leaves or flowers on the paper and let the sun do its magic.
After a few hours, you'll have a beautiful print that captures the essence of summer.
2. Beaded Wind Chimes
Using colorful beads and bells, kids can create their own wind chimes.
Hang them outside and enjoy the gentle sounds all summer long.
3. Paper Plate Sunflowers
Transform ordinary paper plates into bright sunflowers using paint and sunflower seeds.
This craft is perfect for younger kids and helps them appreciate nature's beauty.
4. Ocean-In-A-Bottle
Fill a bottle with water, blue food coloring, sand, and tiny sea creatures.
Kids will love shaking it up and watching their mini ocean come to life.
5. Tie-Dye T-Shirts
A summer classic! Using fabric dye, kids can twist, tie, and color their shirts, creating unique patterns and designs.
6. Seashell Mosaics
After a trip to the beach, use collected seashells to create beautiful mosaics on cardboard or wood bases.
7. Popsicle Stick Birdhouses
With some glue, paint, and popsicle sticks, kids can construct their own birdhouses.
It's a fun way to introduce them to woodworking crafts.
8. Handprint Flamingos
Using paint, kids can stamp their handprints on paper and then add details to make them look like flamingos.
It's a cute and memorable craft.
9. Bottle Cap Bugs
Paint bottle caps, add googly eyes and pipe cleaner legs to create adorable little bugs.
10. Nature Collages
Collect leaves, twigs, and flowers and arrange them on paper.
Glue them down to create a permanent summer memory.
11. Fruit Slice Fans
Using paper plates, paint them to look like fruit slices.
Attach a popsicle stick, and you have a functional summer fan!
12. Sand Art
Layer colored sand in jars to create beautiful patterns and landscapes.
13. Clothespin Dragonflies
Paint clothespins and attach craft paper wings to make cute dragonflies.
14. Watermelon Suncatchers
Using tissue paper and contact paper, kids can create suncatchers that look like slices of watermelon.
15. Pebble Art
Paint and arrange pebbles on canvas to create scenes or patterns.
16. Fairy Garden
Using a pot or a section of your garden, create a magical fairy garden with tiny houses, pathways, and plants.
17. Tissue Paper Flowers
Layer and twist tissue paper to create vibrant summer flowers.
18. Fishbowl Slime
Create clear slime and add small fish toys to make it look like a fishbowl.
19. Pineapple Lanterns
Paint jars to look like pineapples and place candles inside for a tropical vibe.
20. Footprint Sharks
Stamp kids' footprints on paper and add details to turn them into sharks.
21. Clay Sea Creatures
Using air-dry clay, mold and paint various sea creatures.
22. Paper Spinners
Cut and color paper in a spiral shape. When you hang them up, they spin beautifully in the wind.
23. Jellyfish Windsocks
Using paper bowls and ribbons, create colorful jellyfish that can hang outside.
24. Soda Bottle Flowers
Cut and paint the bottoms of soda bottles to look like flowers.
25. Beach Ball Suncatchers
Using colored tissue paper, create suncatchers that resemble beach balls.
26. Starfish Salt Painting
Draw a starfish shape with glue, sprinkle with salt, and then drop watercolors on top for a cool effect.
27. Seashell Wind Chimes
String together seashells to create a calming wind chime for your garden or patio.
Each of these crafts not only provides a fun activity for kids but also helps them appreciate the beauty and themes of the summer season.
Whether indoors or outdoors, these crafts are sure to make summer memorable.
Arts and Crafts for Summer
Summer is the perfect canvas for artistic expression. With longer days, brighter skies, and nature in full bloom, it's no wonder that arts and crafts take a lively turn during this season.
Explore our handpicked selection of projects that are not only fun but also celebrate the spirit of summer in every brushstroke, bead, and fold.
Embrace the warmth and vibrancy of the season through these captivating crafts.
Bestseller No. 1
Winlyn 24 Sets Rainbow Suncatchers Ornaments Decorations DIY Window…
Quantity: DIY rainbow suncatcher paint art craft kits include 24 pcs rainbow suncatchers in 6 designs, each design has 4 pcs….
Color: These transparent rainbow window suncatchers are shaped like a rainbow arching between two cute clouds and accented…
Size: Rainbow sun catchers are about 4.1″ wide and 2.7″ tall. Each bottle of suncatcher paint is 0.2 fl oz/6ml in capacity….
Material: Window paint art suncatchers are made of transparent plastic. Suncatcher paint is translucent and sun-through when…
Bestseller No. 2
Harloon 48 Set Flip Flop Craft Kits for Kids Summer DIY Flip Flop…
Sufficient Quantity for DIY: you will get 48 flip flop cutouts card in 24 different styles, and 24 sheets stickers in 12…
Enjoy DIY Fun: play flip flop craft kits activities can exercise kid's creativity and imagination and fine motor skills,…
Summer Flip Flop Design: these summer classroom craft kits are featured with flip flops in different patterns, designed with…
Quality Material: these summer DIY craft kits for kids are made of cardboard, printed on one side, covered with waterproof…
Bestseller No. 3
hapray 4 Pack Bird House Crafts for Kids Ages 5-8 8-12, Buildable DIY…
🎁【Package Include】Package includes 4 unassembled birdhouses with 12 x 2 paints, 4 brushes, 1painting palete, 4 strings…
🎄【Eco-friendly Premium quality】Bird house wooden boards are made of high-quality thick plywood, non-toxic and…
🌈【Non-Toxic Material】Water-based non-toxic painting, great craft and painting kit for children, create your own…
👨‍👨‍👧‍👦【DIY Arts and Crafts!! 】Great gift for kids who enjoy doing crafts and art projects. Kids will…
Bestseller No. 4
chiazllta 30 PCS Summer Craft Kits Kids DIY Hawaii Aloha Owl Craft…
【Package Include】for each summer owl craft kits, you will receive 30 owl body cards ( in 6 styles ) that measures about…
【Premium Material】Our summer classroom craft kits are colourful printed for kids, the owls cards and stickers are made of…
【Enjoy DIY Fun】Play summer craft kits activities can stimulate kid's creativity, imagination, allow them to learn…
【Popular Craft for Kids】Try some fresh summer games and activities with your kids or students! Just encourage litter…
Bestseller No. 5
chiazllta 32 Packs Fruit Craft Kits for Kids Summer DIY Hawaiian…
【Package Include】for each fruit craft kits, you will receive 32 body cards (Include 8 patterns) that measures about…
【Premium Material】Our fruit paper craft kits are colourful printed for kids, the cards and stickers are made of…
【Popular Craft for Kids】Try some fresh summer games with your kids! Just encourage kids to make there own fruit,with…
【Enjoy DIY Fun】Play summer craft kits activities can stimulate kid's creativity, imagination, allow them to learn…
Bestseller No. 6
Qyeahkj 30 Sets 4th of July Craft Kits Kids DIY Patriotic Owl Craft…
【Package Include】for each 4th of July owl craft kits, you will receive 30 owl body cards ( in 6 styles ) that measures…
【Premium Material】Our 4th of July classroom craft kits are colourful printed for kids, the owls cards and stickers are…
【Enjoy DIY Fun】Play patriotic craft kits activities can stimulate kid's creativity, imagination, allow them to learn…
【Popular Craft for Kids】Try some fresh patriotic games and activities with your kids or students! Just encourage litter…
Bestseller No. 7
chiazllta 30 Packs Summer Craft Kits for Kids Hello Summer DIY Picture…
【Package Include】For each set, you will get 30 pieces summer picture frames designed in 6 different colors ,coming with…
【Premium Material & Suitable Size】Each summer picture frame measures about 16 x 12cm/6.3 x 4.7inch with a 8 x 6cm/3 x…
【Kid's DIY Fun】Play summer Aloha DIY games and activities can stimulate kid's creativity, imagination, allow them to…
【Popular Craft for Kids】Try some fresh games with Kids! Just encourage kids to DIY there own summer art craft kit with…
Bestseller No. 8
Ayfjovs 40 Pack Flowers Bug Craft Kits for Kids, Summer Crafts for…
Summer Crafts for Kids: You will receive 40 body cards measuring about 15cm/6 inches, including 20PCS bug patterns, 20PCS…
Popular Kids Crafts: Encourage kids to DIY their own crafts with these simple and fun card and sticker games, these paper…
Develop Hands-On Skills: This craft kit inspires children's practical ability, imagination and creativity to complete their…
Enjoy DIY Fun: Paper art crafts are designed with vivid patterns to attract kids and let them learn while having fun with…
Bestseller No. 9
Bestseller No. 10
WATINC 32 Packs Spring Flower Craft Kit, Make Your Spring DIY…
What You Can Get – You will receive 32 packs crafts, including 32 base cards and 32 flower cards (in 8 styles), coming with…
Suitable Size & Good Material – 6.3*3.2 inch, 6.6*3.6 inch (see the picture 2) , our Mather's Day crafts are made of…
Interesting and Educational – Our art craft set brings great help for kids' patience, recognition, creation, hand-eye…
Funny Activity – These spring DIY flowers crafts are easy, but safe and fun! Surely will bring your kids a happy childhood…
Why Summer Crafts for Kids are Essential?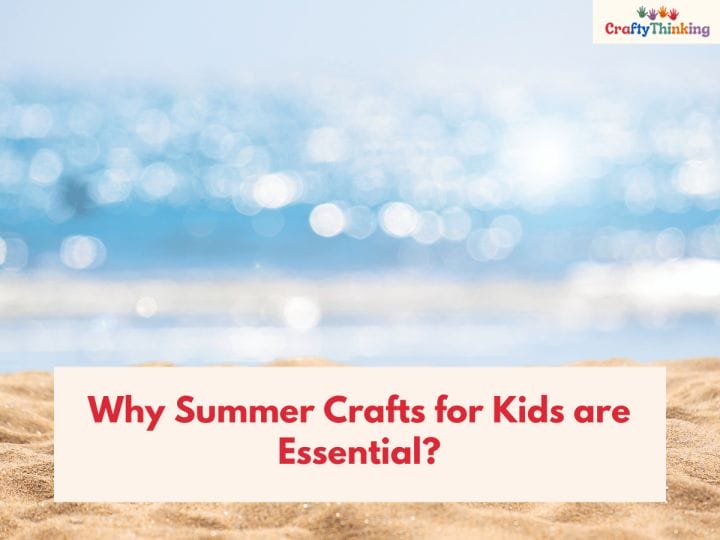 Summer crafts for kids are essential because they foster creativity, provide a constructive way to pass the time during school breaks, and offer opportunities for hands-on learning and skill development.
Developmental benefits of arts and crafts.
Engaging in arts and crafts during the summer has numerous developmental benefits for children.
It helps improve their fine motor skills as they learn to manipulate different art supplies such as scissors, glue, and paintbrushes.
These activities also enhance hand-eye coordination and concentration.
The role of creativity in a child's growth.
Creativity plays a vital role in a child's growth and development.
Summer crafts provide an outlet for kids to express their imagination and ideas.
It encourages them to think creatively and problem-solve as they figure out how to bring their ideas to life.
The process of creating something from scratch promotes innovation and critical thinking.
What are the top Easy Summer Crafts for Kids?
The top easy summer crafts for kids include tie-dye shirts, sun catchers, paper plate masks, and beach-themed crafts like sand art and seashell decorations.
Top Easy Summer Crafts for Kids
There are countless easy summer crafts that kids of all ages can enjoy.
Here are some of the most popular ones:
Paper Plate Watermelon:
A fun and colorful craft for the summer is the paper plate watermelon.
Kids can paint a paper plate green and add black paper seeds to create a realistic watermelon slice.
This craft not only stimulates their creativity but also introduces them to basic shapes and colors.
Ice Cream Cone Crayon Art:
Combine creativity and functionality by creating ice cream cone crayon art.
Kids can melt old broken crayons and pour them into ice cream cone-shaped molds.
Once the crayons harden, they can be used for coloring.
This craft teaches children about recycling while also providing a fun and unique art supply.
Ocean Animal Crafts:
For kids who love the ocean, creating ocean animal crafts is a perfect summer activity.
They can make paper plate jellyfish, seashell turtle magnets, or paper bag sharks.
These crafts allow kids to learn about different sea creatures while using their imagination to bring them to life.
Hot Air Balloon Craft:
Let your child's imagination take flight with a hot air balloon craft.
Using colored construction paper, kids can cut out the balloon shape and decorate it with patterns and designs.
They can then attach a little basket made of paper to create a cute and whimsical hot air balloon.
Starfish Art:
With some paint, paper, and a star-shaped stencil, kids can create beautiful starfish art.
They can mix different shades of blue to create an ocean background and use their fingers or a brush to paint the starfish.
This craft is not only fun, but it also introduces kids to different painting techniques.
What are Summer Crafts for Toddlers?
Summer crafts for toddlers often involve simple and tactile activities, such as finger painting, creating collages with cut-out magazine pictures, or making shapes with playdough.
Summer Crafts for Toddlers: Keeping the Little Ones Engaged
Toddlers may have limited motor skills, but there are still plenty of summer crafts that they can enjoy.
It's important to choose simple and safe crafts that are suitable for their age and developmental stage.
Simple Summer Crafts:
Simple summer crafts for toddlers include finger painting, sponge stamping, and sticker art.
These activities help them explore different textures, colors, and shapes.
They can create their own masterpieces using their hands, sponges, or stickers.
Toddlers Summer Crafts:
Toddler-friendly summer crafts can include nature collages using leaves and flowers, sensory bins filled with sand and shells, or water play activities with cups and buckets.
These crafts are not only entertaining but also promote sensory development and exploration.
What are Easy Summer Crafts for Older Kids?
For older kids, easy summer crafts can include making DIY jewelry, customizing tote bags with fabric paint, creating intricate beadwork, or designing their own kites to fly.
Fun and Easy Summer Crafts for Older Kids
Older kids can enjoy a wider range of crafts that require more intricate details and techniques.
Here are some fun and easy summer craft ideas for older kids:
Bead Art:
Bead art is a versatile craft that older kids will enjoy.
They can create beaded bracelets, necklaces, or keychains using different-colored beads and string.
This craft allows them to express their personal style and create unique accessories.
Paper Flowers:
Older kids can create beautiful paper flowers using colored paper, pipe cleaners, and glue.
They can experiment with different flower shapes and designs to create their own bouquet.
This craft not only enhances their creativity but also introduces them to basic origami techniques.
Ice Cream Crafts:
Ice cream-themed crafts are always a hit during the summer.
Older kids can create paper ice cream cones, decorate them with tissue paper sprinkles, and attach a popsicle stick to make them look like real ice cream treats.
These crafts are not only fun to create but also make great summer decorations.
What are Essential Art Supplies for Summer Crafts?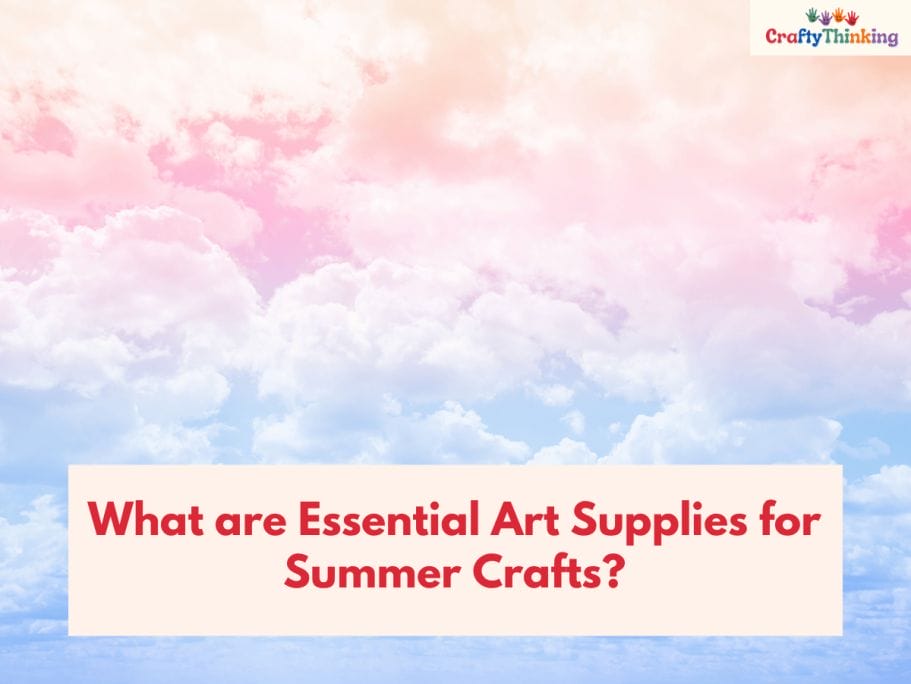 Essential art supplies for summer crafts typically include colored paper, paints, brushes, beads, fabric, glue, scissors, markers, and any themed materials like seashells or sand.
Essential Art Supplies for Summer Crafts
As the sun shines brighter and days grow longer, the urge to create and craft can be irresistible.
Equipping yourself with the right art supplies can transform your summer crafting sessions into a whirlwind of creativity and fun.
Dive into this guide to discover the must-have materials to elevate your summer projects.
Basic art supplies needed for the crafts.
When it comes to summer crafts, there are a few basic art supplies that are essential for a successful crafting experience. These include:
Construction paper
Scissors
Glue stick or liquid glue
Paints and paintbrushes
Markers or colored pencils
Craft sticks
Pom-poms and googly eyes
Pipe cleaners
Ribbon or yarn
Tips on storing and organizing art supplies.
Keeping art supplies organized is important to ensure a smooth and enjoyable crafting experience. Here are some tips for storing and organizing art supplies:
Use clear plastic containers or bins to store supplies.
Label containers to easily identify what's inside.
Separate different types of supplies into different containers or compartments.
Keep frequently used supplies within reach.
Create a designated crafting area or station.
Encourage kids to clean up after each crafting session.
What are Printable Crafts?
Printable crafts refer to craft projects that start with templates or designs that can be printed from a computer. These can range from coloring pages to intricate cut-out designs for 3D projects.
Printable Crafts: Making Art Easier
In today's digital age, crafting has taken a delightful turn with the advent of printable crafts.
These ready-to-use templates not only simplify the crafting process but also offer a plethora of design options.
Explore the world of printable crafts and see how they can add a touch of convenience to your artistic endeavors.
The benefits of using printables in crafts.
Printable crafts are a convenient and easy way to engage kids in arts and crafts.
They provide pre-designed templates and instructions that make the crafting process simpler and more accessible.
By using printables, kids can focus on the creative aspects of the craft without the need for extensive preparation or drawing skills.
Where to find the best summer craft printables.
We have numerous resources where you can find the best summer craft printables for kids.
Some popular printables include:
These printables offer a wide variety of activities suitable for kids of all ages and skill levels.
Simply download and print the templates, gather the necessary supplies, and let the crafting fun begin!
Paper Bag Puppets
Paper bag puppets are a classic craft that never goes out of style.
Kids can decorate paper bags with googly eyes, yarn, and construction paper to create their own unique puppets.
They can then put on puppet shows or use them for imaginative play.
Paper Plate Crafts
Paper plates are excellent crafting materials for kids.
They can be transformed into various animals, masks, or decorations.
Kids can paint, cut, and glue different materials onto the paper plates to create fun and colorful crafts.
Paper Crafts
Paper crafts offer endless possibilities for creative expression.
Kids can create origami animals, paper airplanes, or even 3D paper sculptures.
This craft allows them to explore different folding and cutting techniques while creating unique and impressive pieces of art.
How to Draw Tutorials
For kids who love drawing, online tutorials can be a great resource.
There are numerous websites and YouTube channels that offer step-by-step drawing tutorials for kids.
They can learn to draw animals, characters, or objects and enhance their drawing skills in a fun and interactive way.
Toilet Paper Crafts
Recycle empty toilet paper rolls by transforming them into fun and creative crafts.
Kids can create binoculars, telescope, or even flowers using toilet paper rolls as a base.
This craft encourages both creativity and sustainability.
Looking for More Summer Craft Activities for Kids?
Summer is synonymous with fun, and what better way to engage kids than with delightful craft activities?
If you're on the hunt for fresh and exciting craft ideas to keep the little ones entertained, you're in the right place.
Dive in to discover a treasure trove of summer craft activities that promise endless hours of creativity and joy.
Additional resources and websites for more summer craft inspiration.
If you're looking for more summer craft activities for kids, there are plenty of resources and websites to explore.
Some additional sources of inspiration include:
These websites offer a wide range of summer crafts, DIY projects, and creative ideas that will keep your kids engaged and entertained all summer long.
From nature-inspired crafts to recycled material crafts, there's something for every child's interest and skill level.
What are art ideas for kids?
Art ideas for kids are creative activities or projects that allow children to explore their imagination and express themselves through various art forms.
These ideas can include drawing, painting, sculpting, collaging, or even performing arts such as dancing or acting.
The goal is to provide kids with opportunities to experiment with different art techniques and materials while having fun and letting their creativity soar.
What are art activities?
Art activities are hands-on creative projects or tasks that engage individuals in the process of making art.
These activities can range from simple crafts to more complex art projects.
Art activities can be done individually or in a group setting and can include various forms of art, such as painting, drawing, sculpture, printmaking, and more.
The purpose of art activities is to promote self-expression, creativity, and personal growth.
What is crayon art?
Crayon art refers to the technique of creating art using crayons as the primary medium.
This form of art involves melting crayons to create a unique and colorful masterpiece.
Artists can use various methods to melt the crayons, such as using a hairdryer, heat gun, or hot glue gun.
The melted crayons create abstract patterns and drips, resulting in vibrant and eye-catching artworks.
What Are the Top Summer Craft Ideas for Toddlers?
During the summertime, toddlers and preschoolers love engaging in fun summer crafts that are both easy and fun.
Some great ideas include painted flower pots, crafts using cupcake liners, and simple themed crafts that resonate with the vibrant energy of summer.
These crafts are not only fun for kids but also serve as a delightful piece of art to hang or display, adding to the summer decor.
How Can Parents Create Simple Summer Arts Projects with Kids?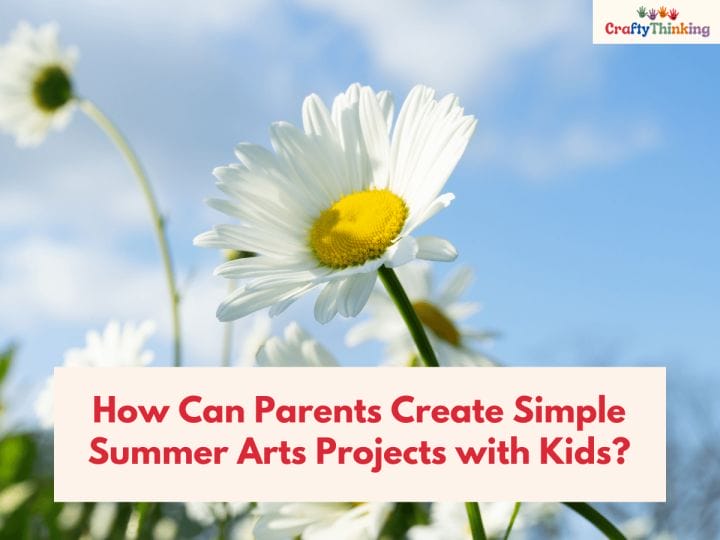 Parents looking for easy and fun summer arts and crafts for kids have a plethora of ideas to choose from.
From crafting abstract art that kids will love making to using everyday craft supplies for innovative projects, the options are endless.
Engaging in these crafty activities is a fantastic way to beat summer boredom.
Plus, it's a great opportunity for family fun, allowing kids to use their creativity and produce something they're proud of.
Which Materials Are Essential for Fun and Easy Summer Crafts?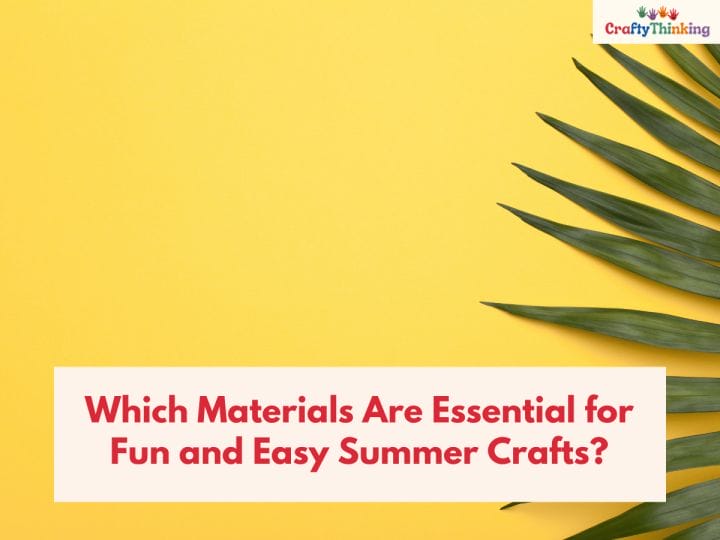 For those heart crafty things, having the right craft supplies on hand is crucial.
Essential materials for fun summer crafts include items like paint, brushes, colored paper, glue, and scissors.
More specific items, such as cupcake liners, can be used for themed crafts, while painted flower pots and abstract art projects might require specialized materials.
It's always a good idea to have a mix of basic and unique supplies to cater to different craft ideas for kids.
Are There Printable Templates for Summer Arts and Crafts?
Absolutely! Printable templates can be a lifesaver, especially for parents seeking easy and fun summer crafts for their kids this summer.
From cute summer crafts for kids like animals and flowers to more intricate designs for older kids and tweens, printable templates offer a structured yet flexible approach to crafting.
They're perfect for summer camp activities or for those days during summer break when kids and tweens will love diving into a fun art project.
Frequently Asked Questions (Reader Interactions)
Here are some frequently asked questions about the Summer Arts and Crafts Ideas. Get some quick answers to everything you need to know.
What's your child's favorite summer craft?

Every summer, my child absolutely adores creating vibrant tie-dye shirts and colorful sun catchers. It's a delightful way to capture the bright essence of the season.

Have you tried any of the crafts mentioned above?

Yes, we've spent many sunny afternoons working on tie-dye projects and making sun catchers. It's a fantastic bonding activity and a great way to cherish our summer memories.

Do you have any go-to summer crafts that your kids love?

Absolutely! We have a tradition of making beach-themed crafts. From sand art to seashell decorations, it's our way of bringing a piece of the beach home with us.

How do you keep your kids engaged in art activities during the summer?

We set up themed craft weeks, organize outdoor art picnics, and even visit local museums for inspiration. The summer vibe truly fuels their creativity, and having a variety of art supplies on hand always helps.

How do you make summer craft?

Crafting in the summer is all about embracing the season. We gather materials that resonate with summer vibes, like bright paints, beads, and even natural materials we find during our beach trips or nature walks.

What are some good arts and craft ideas?

Some of our favorite ideas include making paper lanterns, creating bead jewelry, designing custom tote bags for beach trips, and painting on canvas with summer-themed designs.

What are some unusual arts and crafts?

We've experimented with crafts like creating sculptures from driftwood, making jewelry from sea glass, and even designing art pieces using sand and shells.

What are some fun crafts to do when bored?

When we're looking for a quick and fun activity, we often turn to crafts like making DIY bookmarks, customizing clothing with fabric paint, or even creating homemade bath bombs.

What crafts are popular right now?

Lately, we've noticed that DIY home decor, crafts using sustainable or recycled materials, and personalized clothing or accessories are trending in the craft community.

What can I make at home arts and crafts?

At home, we love making hand-painted mugs, homemade candles with summer scents, woven wall hangings, and even simple sketches and paintings that capture our summer adventures.
Wrapping Up Summer Arts and Crafts Ideas
Summer Arts and Crafts Ideas are a wonderful way for kids to explore their creativity, enhance their developmental skills, and have fun during the summer months.
With a wide range of easy and enjoyable craft ideas available, parents and caregivers can keep kids of all ages engaged and entertained.
So, gather the art supplies, spark your child's imagination, and let the summer crafting adventures begin!
If you enjoyed this article about Summer Arts and Crafts Ideas and would like to learn more, please leave a comment below.