Simple Guide to Arts and Crafts Hardware for your Home
Looking for arts and crafts hardware? Look no further! Our guide includes everything from knobs and pulls to hinges and door stops. Whether you're a beginner or an experienced crafter, we've got you covered. So get crafty!
What is Arts and Crafts Hardware?
What are Arts and Crafts Hardware? Arts and Crafts hardware refers to the classic, simple design style popularized by the Arts and Crafts Movement of the late 19th century. This style is characterized by clean lines, functionality, and a focus on quality craftsmanship.
Today, arts and crafts hardware is making a comeback as more and more people are opting for timeless design elements in their homes. This type of hardware is characterized by its simple, rugged design and often features hand-crafted details. It was used on a variety of furniture and architectural styles including Arts and Crafts, Mission, and Tudor.
Arts and Crafts Decor
Arts and Crafts style hardware displays straight lines and practical designs, especially if machine manufactured. The Arts and Crafts Decor is understated and understated. Craftsman hardware includes forged brass, hand-hammered iron or copper, and ball hinges. Oiled bronze and aged brass are particularly evident in their dark shades and textures.
Art & Crafts era contains less innovation and more nostalgia than other eras. Many Arts and Crafts-style homes, on the other hand, combine craftsmanship with practicality in a unique way. In an Arts and Crafts home, the old and new are often combined in unexpected ways, as shown by these forged brass switch plates for modern electrical switches.
How to choose Front Door Hardware Decor?
Choosing the proper hardware for your outside door will not only improve the beauty of your home but also ensure its long-term operation. The most crucial component of your entry is choosing a handle that matches your outside door and hinges. Many doors have knobs or handles with a padlock. You can also obtain keyless pads with a numeric passcode in addition to a standard outside door handle.
Knobs and handles are available in rubbed bronze, antique brass, and satin nickel. We can use the same materials for hinges, so matching is simple. Opting with a handle set or even knobs and deadbolts depends on how noticeable and regularly you utilize your door. Handlesets seem prettier, but they take longer to open and are more expensive.
Here are 8 types of door handles styles to choose from.
There are many types of door handles available on the market today, each with its own unique benefits. Here are 8 of the most popular types of styles:
Lever handles
A lever handle set eliminates the requirement for a doorknob by providing a lengthy handle grip. Doorknobs are more affordable, but handle sets have a more elegant appearance.
Knob handles
Knob handles are easier to grip than lever handles, making them a good choice for those with arthritis or other dexterity issues.
Push-button handles
Push-button handles are becoming increasingly popular, as they offer a sleek and modern look.
Keyed handles
Keyed handles offer additional security, as they can only be operated with a key.
Touchscreen handles
Touchscreen handle offers a convenient and technologically advanced option for those who want the latest in home security.
Magnetic handles
Magnetic handles use magnets to keep the door closed, making them ideal for high-traffic areas.
Automatic handles
Automatic doors are becoming more common in public buildings, as they offer a hands-free option for those who are wheelchair-bound or have other mobility issues.
Handle set
A handle set eliminates the requirement for a doorknob by providing a lengthy handle grip. Doorknobs are more affordable, but handle sets have a more elegant appearance.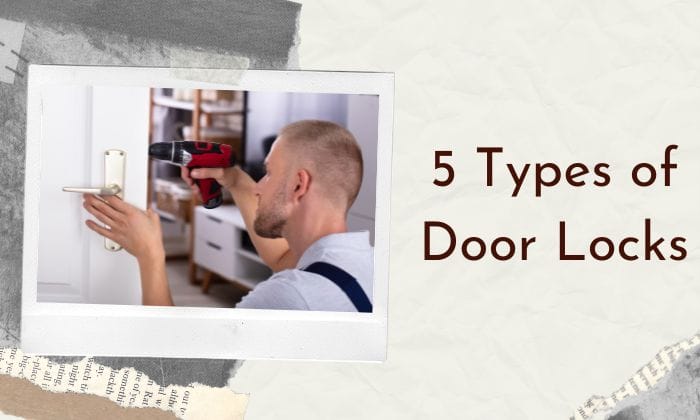 5 Types of Door Locks to Add A Some Spice To Your Decor
There are five types of door locks: keyed, keyless, mortise, rim and deadbolt. Here is a more detailed look at each type:
1) Keyed locks
There's a reason keyed locks are still around after all these years – they're just that effective. A simple keyed lock can deter would-be burglars and keep your belongings safe. And while electronic locks are becoming more popular, there's still a lot to be said for the tried-and-true keyed lock
2) Keyless locks
There are a few benefits of keyless locks. For one, they're more convenient because you don't have to carry a key around with you. They're also more secure because there's no chance of your key getting lost or stolen. And finally, they're more environmentally friendly because they don't require any metal keys that could eventually end up in a landfill.
3) Mortise locks
Mortise locks are a popular type of lock that is found in many homes and businesses. They are named for the mortise hole, which is the cavity that is cut into the doorframe to house the lock. The lock mechanism itself is mounted inside the door, and a keyhole is typically located on the outside of the door.
4) Rim locks
Rim locks are a type of locking mechanism that use a key to lock and unlock the door. They are generally considered less secure than other types of locks, such as deadbolts or knob locks, because they can be easily picked with a credit card or piece of paper.
5) Deadbolt locks
A deadbolt lock is a type of locking mechanism that uses a bolt in order to secure a door. Deadbolts are often used in addition to regular doorknob locks, and they can be either manual or automatic. One of the benefits of a deadbolt is that it is more difficult to pick than a standard doorknob lock.
Types of Door Hinges
There are many types of door hinges, but the most common are the butt hinge, strap hinge, and T-hinge.
The butt hinge is the simplest type of door hinge and is made up of a single piece of metal that is bent into a "U" shape.
The strap hinge is a variation of the butt hinge and consists of two pieces of metal connected by a strap or plate.
The T-hinge is named for its triangular shape and is commonly used on cabinet doors. It consists of two pieces of metal attached to each other by screws or pins.
Further, You may fix Squeaky hinges without buying new hinges if you are the know-how to install them. After determining the type of hinge you'll require, the next consideration should be the appearance of the hinge. Solid brass, nickel, or bronze hinges are available in various finishes. Choosing hinges that complement your door handle is usually the most visually appealing option.
Arts & Crafts Hardware for Cabinets
Your cabinetry is only as good as the hardware you put on it. With that in mind, you need to make sure you're using high-quality arts and crafts hardware for your cabinets. This hardware is designed to withstand the rigors of day-to-day use, and it will also add a touch of style to your cabinetry.
You can choose from a wide variety of arts and crafts hardware, including pulls, knobs, and hinges. Each piece of hardware is available in a variety of finishes, so you can find the perfect match for your cabinetry. With arts and crafts hardware, you can rest assured that your cabinets will look great and function perfectly for years to come.
Style And Finishes
When it comes to hardware, the most crucial consideration is style. You'll want to go with a design that complements the rest of your home's decor. The following are the most prevalent types:
Ornate and classic are the hallmarks of traditional hardware. Cabinet hardware can be anything from farmhouse to vintage to rustic in appearance.
Simple and subtle are the hallmarks of contemporary (also known as modern) cabinet hardware. Stainless steel is the most typical material to use for a stylish appearance.
You can combine traditional and contemporary cabinet hardware in a transitional style to create a unique look.
Once you've settled on a design style and shape, you can select a finish. As you choose a finish, think about how it will look with the rest of your decor, such as appliances and furniture. typical finishes include
Gold, silver, bronze, copper, or brass
Stainless steel 
Distressed, Chrome, Black
Colors such as brown, white, blue, etc.
The style of your property should guide you when selecting a hardware finish. Choose a brush or glossy brass, nickel, or silver finishes for a more traditional look. For contemporary decor, use a high-gloss metal or enameled finish. You can add additional flair by selecting from a variety of hardware options manufactured from materials like acrylic, glass, ceramic, wood, and so on.
Catches and latches for cabinet doors
For doors lacking self-closing hinges, cabinet door catches are used to retain the cabinet doors in place against the frame, typically with a roller or magnet. Cabinet door latches keep a cabinet and door closed till the latch is removed, making them an excellent choice for families with pets or small children. There are two kinds:
The most common catch is a magnetic one, which utilizes a metal plate attached to the cabinet door and a magnet attached to the frame.
Spring roller catches (shown) typically have one-two roller fixed close together on the cabinet structure and a catch positioned on the door, which closes whenever the rollers hook on the striking plate of the door latch.
Slides for Drawers
Depending on the size and weight of your drawer, you can choose from light, medium, or heavy-duty drawer slides. Compared to a railroad or center-bottom-mount slide, the hardware used for side-mounting is sturdier. With full-extension slides, you can access each inch of the drawer. The bearing and roller make the movement smoother. Before purchasing drawer slides, it is essential to determine the slide and drawer lengths required.
There are a variety of drawer slides to choose from:
Fitting these drawer slides may necessitate a 14-inch mortise on the drawer side.
Side-mounted, European-style,self-closing drawer slides with a stop to keep the drawers from totally sliding out of the cabinet.
Self-closing with Full extension drawer slides that take full advantage of the space in your drawer.
Drawer slides for face frames cabinets that are mounted on the surface using a standard side-mount design.
What to look for when Buying Arts Crafts Hardware
While looking for door and interior passage hardware, you'll find a wide variety of options that are appropriate for both recently built homes and those with an old-house aesthetic. Multiple restoration hardware stores may supply a single door set because many generate new inventory based on ancient designs. How do you make that evaluation when deciding which company's products and services are best for you?
How is it produced?
Check whether it is carved with lighter metal or not, but rather machine compressed from a thick rod of solid brass, even if it is a low-cost copy. «Due to the apparent weight of the product, you can practically notice the change,
From which country does it come?
Although if you purchase from a local hardware store, you ought to know whether the entry set was hand-forged in rural Pennsylvania or machine-stamped in China by the manufacturer.
How many choices?
Neither a single reproduction manufacturer nor the entire industry offers even a small selection of the styles produced between 1870 to 1920. Although even low-cost vendors will provide you with the opportunity to match a rosette or backplate of your choosing with a knob or lever of your choosing, this is not always possible.
What does it appear to be?
Do not even choose an entry set based on a photograph on a website; you need to see it and handle it in your hand to make an informed decision.
Frequently asked Questions
Arts and crafts hardware is a popular style for cabinets, furniture, and other DIY projects. But sometimes it can be confusing to know which pieces you need and how to use them. In this post, we'll answer some of the most common questions about arts and crafts hardware. We'll help you figure out what you need, how to use it, and where to find it. So, let's get started!
What is the thing called that holds a door closed?
The latch is a device that slips into the edge of the door and pulls back in response to the doorknob's turn. Whenever the knob is twisted, the latch holds the door closed whenever the latch is pulled again, the door opens.
What is the most popular finish for door hardware?
When it comes to door hardware, what is the most common finish? Each of Schlage's various finishes is aesthetically pleasing when used in the appropriate setting. Those that go well with the most recent home decorating trends, on the other hand, are one of the most preferred right now. It comprises satin brass, matte black, and polished nickel, among different finishes.
What is gold hardware, and how does it differ from other metals?
Gold hardware adds some color and interest to monochromatic spaces by adding color and appeal to the area. One can choose from several varied style handles, doorknobs, and a large selection of cabinet handles. Various lengths, overall finishes, and designs are available, so there will be something to suit every taste and interior circumstance.
Why we love arts and crafts?
Why we love arts and crafts? We love arts and crafts beacause they are enjoyed by people of all ages. For kids, crafts can be a fun and creative way to spend an afternoon. For adults crafting can be a relaxing hobby or a chance to express their creativity. Arts and crafts can also be used to DIY projects around the house or to create decor for your home.
Arts can be as simple as painting a picture or as complicated as building a piece of furniture. No matter what your skill level, there is an arts and craft project that is perfect for you. So why not try your hand at arts and crafts today? You might just find that you have a hidden talent for artful creation!
Check Out this Articles on Home Decor Below!
Arts and Crafts Hardware Conclusion
This Arts and Crafts Hardware Guide includes traditional, modern styles, arts and crafts collection for those who are own conventional houses. You can now install the best pack of arts crafts for kitchen cabinets and doors from a local hardware store, such as pulls, handles, knobs, lighting, and other items. After reading this post, they can better choose their houses to interact with people.