53 Paper Bag Puppet Crafts Ideas: Fun and Easy Projects Kids Will Love
Step into the whimsical world of Paper Bag Puppet Crafts Ideas!
This delightful blend of imagination and hands-on paper bag activity has been a cherished pastime for generations.
Whether you're a seasoned crafter or a curious newbie, these crafts offer a unique blend of creativity and fun.
Dive deeper to uncover the magic behind these playful creations and discover why Paper Craft Bag Puppets captured the hearts of both kids and adults.
Keep reading to uncover 56 imaginative paper bag puppet crafts that promise creativity and endless entertainment!
You might also like:
What is a Paper Bag Puppet?
A paper bag puppet craft is a delightful transformation of an everyday brown paper bag into a vibrant character or creature.
By utilizing the bag's flap as a mouth, these puppets come alive, allowing kids to make them talk, sing, or even roar!
It's a craft that's as dynamic as a child's imagination, and the possibilities are endless.
From fierce dragons to gentle butterflies, the world of paper bag puppets is vast and varied
What Is a Paper Bag Puppet Crafts Idea?
A Paper Bag Puppet Crafts Idea refers to creative projects where paper bags are transformed into hand puppets using various craft materials.
These crafts allow children and adults alike to design characters and creatures, offering a hands-on activity that fosters imagination and play.
53 Paper Bag Puppet Craft Ideas
Spark your creativity with our unique Paper Bag Puppet Craft Ideas.
Dive into a world of whimsical designs and imaginative play.
Start Paper Bag Puppet Crafting!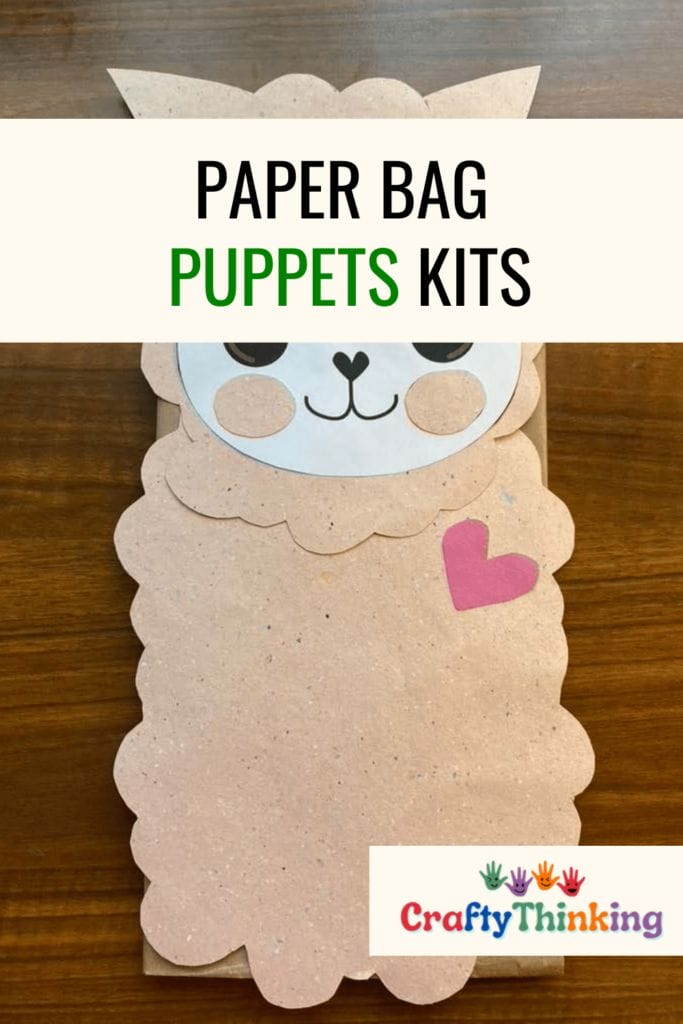 Paper Bag Puppets Kits
Discover the magic of puppetry with our comprehensive Paper Bag Puppets Kits.
Perfect for all ages, these kits ensure endless creative fun.
Explore Paper Bag Puppets Kits Now!
Bestseller No. 1
WATINC 9Pack Hand Puppet Art Craft Paper Sock Puppets DIY Making Your…
GREAT FANTASY PUPPETS: WATINC hand puppets are great for kids to pretend play, role play their favorite characters, and start…
MEET YOUR EXPECTATIONS – Helps to promote kids' brain development and creativity, enhance imagination, concentration and…
MULTIPLE USAGE – Widely Usage for costume pretend play, evening storytelling, hand artwork project, a creative puppets for…
APPLICABLE OCCASION – Birthday party, themed party, kid costume party, baby shower, outdoor game party, summer vacation…
Sale
Bestseller No. 2
ALEX Toys Paper Bag Puppets Kids Art and Craft Activity Multicolor,…
Get creative and make paper bag puppets
Each puppet is bagged separately so you can save them for another rainy day, or have several kids participate at once
Parents' Magazine Best Toys of the Year and Parents' Choice Approved Award Winner
Includes 5 colored bags, 270 stickers and paper shapes, glue stick and easy picture instructions
Bestseller No. 3
READY 2 LEARN Paper Bag Puppet Pets – 238 Pieces – 6 Animals – Puppet…
CREATE 6 PUPPETS — This 238-piece craft kit includes everything to make 6 different puppet animals: hedgehog, rabbit, dog,…
KID-FRIENDLY CRAFTS — Simply glue the pet features on the bag, decorate with stickers and bring your puppet to life. Give…
SAFE & NON-TOXIC — All materials are tested to comply with CPSIA and ASTM standards and conform to ASTM D4236. This craft…
ENCOURAGE STORYTELLING — Children love to create animal puppets and act out stories! Use this craft kit to inspire role…
Sale
Bestseller No. 4
WATINC 9Pack Monster Hand Puppets Art Craft Paper Sock Puppet Toys DIY…
[Full Of Creation] This lovely DIY monsters hand puppets gives kids the motivation to create. With your imagination, the…
[Marvelous Early Learning Tool] Helps to promote kid's brain development and creativity, enhance imagination, concentration…
[Activity supplies] It is suitable for preschool learning class, evening storytelling, costume pretend play, baby shower, art…
[Apply to] It is not only a great educational tool, but also a great gift. At the same time, you can take it as photo booth…
Sale
Bestseller No. 5
Creative Kids Make Your Own Hand Puppets for Kids with Animal Sounds -…
Puppet Arts & Craft To Encourage Imagination The Creative Kids Musical Puppet Theater kit provides a perfect group or…
Support Your Kid's Fine Motor Skills Our puppet making kit for kids stimulates your child's development. By making animal…
Music To Your Ears Our kit includes everything you need to complete 7 puppets, including 2 music cards! Your kids will love…
'Hand' Them A Unique Craft This set of paper bag crafts for kids makes a fantastic birthday or Christmas gift for kids…
Bestseller No. 6
Rite Lite Passover 10 Plagues Puppet Kit – Endless Fun For Kids and…
Learn about The 10 Plagues while having fun! Great for interactive play and to improve communication skills.
Learn about The 10 Plagues while having fun! Great for interactive play and to improve communication skills.
CARE & CONTENTS: 10 4.5 in. x 8.5 in. paper bags in assorted colors. 10 Individual Sets of Foam Decorations. Easy Assembly…
DIMENSIONS & DETAILS: Item Weight:0.10 lb. Item Dimensions:4.75″ l x 0.10″ w x 8.50″ h. CHOKING HAZARD – Small parts. Not for…
Bestseller No. 7
WATINC 18Pcs Hand Puppets Making Kit for Kids Art Craft Felt Sock…
SUPER KIT – Package comes with 18 pcs colorful hand puppets, 1 bundle pipe cleaners, 1 bundle pompoms, 1 bundle googly eyes,…
DEVELOP INNOVATIVE ABILITY – It helps to promote children's brain development and creativity; Enhance imagination,…
BEST INDOOR ACTIVITY- These projects is easy, but safe and fun! Surely will bring your kids a happy childhood at home and…
GREAT GIFT IDEA – Great gift and decoration for puppets party, Christmas, Birthday Party, Halloween party, Christmas etc….
Bestseller No. 8
Bestseller No. 9
READY 2 LEARN Big Craft Combo Box – 800+ Pieces – 16 Projects for Kids…
16 PROJECTS FOR HOURS OF CREATIVITY — This 847-piece craft kit includes supplies for 4 paper bag puppets, 4 collage animals,…
INCLUDES EVERYTHING YOU NEED — An ideal rainy-day activity, this giant craft box includes everything you need to craft,…
UNLEASH IMAGINATIONS — Use the illustrated instructions to make adorable animals, mythical creatures and so much more. Or…
SAFE & NON-TOXIC — All materials are tested to comply with CPSIA and ASTM standards and conform to ASTM D4236. This craft…
Sale
Bestseller No. 10
Bluey Cloud Bag , Doctor Check Up Set, Toy Playset with 7 Play Pieces
Bring the fun and imaginative play home Bluey's Cloud Bag Doctor's Set!
Plenty of fun accessories including a toy Stethoscope, toy "Press & Play" Syringe, toy Bandage, Stickers, a Doctor's Badge…
They all Pack into a cute Cloud Bag inspired by the TV show.
Recreate some of the most memorable moments from the Bluey TV show and create new fun stories with this adorable toy!
Why Paper Bag Puppets are Perfect for Kids?
Paper bag puppets offer a hands-on, creative activity that fosters imagination and storytelling in children.
They're simple to make, allowing kids to customize their designs, and provide hours of interactive play.
Beyond the sheer fun of it, paper bag puppets offer a plethora of benefits for children's development and creativity.
Paper Bag Crafts are Engaging Kids Activities
Puppet crafts are immersive experiences. They're not just about crafting; they're about storytelling, role-playing, and imaginative exploration.
Kids can spend hours crafting their perfect puppet, and even more time bringing them into their playtime stories.
Stimulates Creativity and Imagination
Paper bag crafts offer a blank canvas for children, allowing them to unleash their creativity.
Whether they're designing a colorful bird or a spooky ghost, kids can let their imaginations run wild.
Every craft session can result in a unique creation, reflecting the child's personal touch and vision.
Enhances Fine Motor Skills
Crafting with paper bags often involves intricate tasks like cutting, folding, gluing, and coloring.
These activities help children develop their fine motor skills, improving hand-eye coordination and dexterity.
Over time, these skills can aid in tasks like writing and tying shoelaces.
Encourages Storytelling and Role Play
Once the paper bag puppet or craft is complete, it becomes a character in a child's playtime.
Kids can use their crafted puppets to enact stories, fostering narrative skills and understanding of story structures.
Role-playing with their creations also helps in building empathy and understanding different perspectives.
Promotes Group Interaction and Teamwork
When done in groups, paper bag crafting becomes a collaborative effort.
Kids learn to share supplies, discuss ideas, and even work on joint projects.
This not only enhances their social skills but also teaches them the value of teamwork and cooperation.
Provides a Sense of Accomplishment
Completing a paper bag craft gives children a tangible result of their effort.
This sense of accomplishment boosts their self-esteem and confidence.
It teaches them that with patience and persistence, they can achieve beautiful results.
Eco-friendly and Cost-effective
Using paper bags for crafting promotes recycling and sustainability.
It teaches kids the value of repurposing materials and being environmentally conscious.
Moreover, paper bags are readily available and affordable, making it a cost-effective activity for parents and educators.
Boosting Creativity in Preschoolers
Crafting puppets allows preschoolers to express themselves, enhancing their imaginative play.
It's a craft that grows with them, adapting to their ever-evolving creativity.
As they craft, they're also refining their fine motor skills, color recognition, and spatial understanding.
Essential Supplies Needed for Paper Bag Puppet Crafts
Before embarking on your puppet crafting adventure, it's essential to gather some foundational supplies.
Choosing the Right Paper Bag
The foundation of your puppet is, of course, the paper bag.
Opt for medium-sized brown paper bags, which are readily available and affordable.
They're the perfect canvas for a child's creativity, offering ample space for decorations and designs.
Gathering Craft Supplies
Beyond the paper bag, you'll need a few more essentials.
Colored construction paper, vibrant markers, non-toxic glue, and safety scissors are a must.
For added flair, consider embellishments like googly eyes, yarn for hair, felt pieces, and even glitter for that extra sparkle.
Step-by-Step Tutorial: How to Make Paper Bag Puppets
Embarking on your first puppet-making journey? Start with a basic character, perhaps a friendly monster or a chirpy bird.
Sketch out your design, gather your materials, and let your imagination take the lead.
Remember, the beauty of this craft lies in its flexibility – there's no right or wrong, just pure creative fun!
Diverse Hand Puppet Themes to Explore
The world of paper bag puppets is as vast as the animal kingdom and as varied as the characters in a fairy tale book.
Animal Kingdom Adventures
Hand puppets shaped like animals, from the majestic lion to the tiny mouse, can introduce kids to the wonders of the animal kingdom.
Children can learn about different species, their habitats, and their behaviors, all while having fun enacting animal tales.
Fairy Tale Fantasies
Recreate classic fairy tales with hand puppets representing characters like princesses, dragons, witches, and knights.
These puppets can transport kids to magical lands, allowing them to reimagine their favorite stories or even craft their own.
Superhero Sagas
For those who dream of saving the day, superhero-themed hand puppets are perfect.
Kids can design their own heroes with unique powers, or emulate popular ones, fostering imaginative play and discussions about values like bravery and kindness.
Under-the-Sea Expeditions
From colorful fish to mysterious mermaids, the ocean offers a plethora of puppet possibilities.
Exploring this theme can also be educational, teaching kids about marine life and the importance of ocean conservation.
Spooky Spectacles
Ghosts, witches, zombies, and more can come to life with hand puppets, especially around Halloween.
This theme allows kids to confront and play with their fears, making the spooky fun and entertaining.
Galactic Space Missions
Aliens, astronauts, and distant planets can be the stars of a space-themed puppet show.
This theme can spark discussions about the universe, space exploration, and the wonders of science.
Jungle Journeys
With puppets representing creatures like tigers, monkeys, and parrots, kids can embark on imaginary expeditions into dense jungles.
This theme can also introduce them to topics like biodiversity and ecosystems.
Historical and Cultural Tales
Puppets representing figures from history or various cultures can be both fun and educational.
Kids can learn about different eras, civilizations, and traditions, promoting understanding and appreciation of global diversity.
Animal Paper Bag Puppets Crafts for Kids
From the jungles to the oceans, animals are a favorite theme in the puppet world.
Craft a roaring lion with a flowing yarn mane, a hopping bunny with floppy ears, or even a slithering snake using green construction paper.
Roaring Lions and Graceful Tigers
Unleash the wild side by crafting paper bag puppets of the jungle's most majestic cats.
With some colored paper, kids can create manes for lions or stripes for tigers.
These crafts are not only fun but also introduce children to these magnificent creatures and their habitats.
Friendly Farm Animals
From clucking chickens to mooing cows, farm animals are always a hit with kids.
Using basic craft supplies, children can design their own barnyard buddies.
This theme can also be a gateway to teach kids about farm life, animal sounds, and the importance of agriculture.
Mystical Unicorns and Majestic Horses
With some glitter, yarn for the mane, and a bit of imagination, kids can transform paper bags into magical unicorns or galloping horses.
These crafts can inspire tales of fantasy, adventure, and wonder.
Fluttering Butterflies and Buzzing Bees
Crafting insects like butterflies and bees can be both fun and educational.
With vibrant colored papers and some googly eyes, kids can learn about these insects' vital roles in pollination and the ecosystem.
Deep Sea Dwellers
From colorful fish to tentacled octopuses, the ocean offers a plethora of crafting possibilities.
These crafts can introduce children to marine life, fostering curiosity about the mysteries of the deep blue.
Forest Friends: Owls, Foxes, and More
The woods are full of fascinating creatures.
With some creativity, kids can craft paper bag puppets of wise owls, cunning foxes, or playful squirrels.
This theme can also lead to discussions about forest ecosystems and the animals that inhabit them.
Soaring Birds of the Sky
Whether it's the majestic eagle or the humble sparrow, bird-themed paper bag puppets can be a hit.
Crafting these can be a great way to introduce kids to different bird species, their songs, and their roles in nature.
Slithering Snakes and Jumping Frogs
For those who are fascinated by reptiles and amphibians, crafting snakes or frogs can be a delightful activity.
This can also be an opportunity to teach kids about these creatures' unique life cycles and habitats.
Christmas Crafts: Festive Puppets for the Holiday Season
The festive season is a perfect time to craft thematic puppets.
Imagine a jolly snowman with a carrot nose, a red-nosed reindeer, or even Santa Claus with his iconic beard, all crafted from paper bags!
Jolly Santa Claus Puppet
Bring the magic of Christmas to life with a Santa Claus puppet.
Using red and white colored paper, cotton balls for the beard, and a pom-pom for the hat's tip, kids can create their own jolly Santa.
This craft is perfect for storytelling about Santa's journey from the North Pole.
Rudolph the Red-Nosed Reindeer
With some brown paper, a bright red nose, and pipe cleaner antlers, children can craft their very own Rudolph puppet.
This activity can be paired with the classic song, making it a sing-along favorite.
Snowy Snowman Puppet
Using white paper, buttons, and a little scarf, kids can design a chilly friend without getting cold hands.
This snowman puppet is a delightful way to celebrate winter and can be customized with hats, scarves, and even a carrot nose.
Angelic Christmas Angel
With golden halos made from pipe cleaners and wings crafted from doilies or white paper, kids can create heavenly angel puppets.
This craft can be a gentle introduction to the story of the Nativity and the angels' role in it.
Playful Christmas Elf
Using green and red colored paper and some pointy ears, children can craft Santa's little helpers.
These elf puppets can inspire stories about the North Pole's workshop and the elves' role in making toys.
Twinkling Christmas Star
With some golden paper and a sprinkle of glitter, kids can craft the guiding star of Bethlehem.
This puppet can be a centerpiece for storytelling about the three wise men's journey.
Festive Christmas Tree
Green paper, sequins, or small buttons as ornaments, and a shiny star on top can transform a paper bag into a festive Christmas tree puppet.
This craft can be a fun way for kids to design their dream Christmas tree.
Caroling Christmas Bells
Crafting bell puppets using golden or silver paper can be a melodious affair.
These can be paired with popular Christmas carols, making them a hit during family sing-alongs.
Wrapped-Up Christmas Gift Puppet
Using colorful wrapping paper designs on the paper bag, kids can craft their own Christmas gift puppets.
This can be a fun way to talk about the joy of giving during the holiday season.
Gingerbread Man on the Run
Brown paper, white marker lines for icing, and colorful buttons can bring the gingerbread man to life.
This puppet pairs perfectly with the classic tale of the gingerbread man's adventurous run.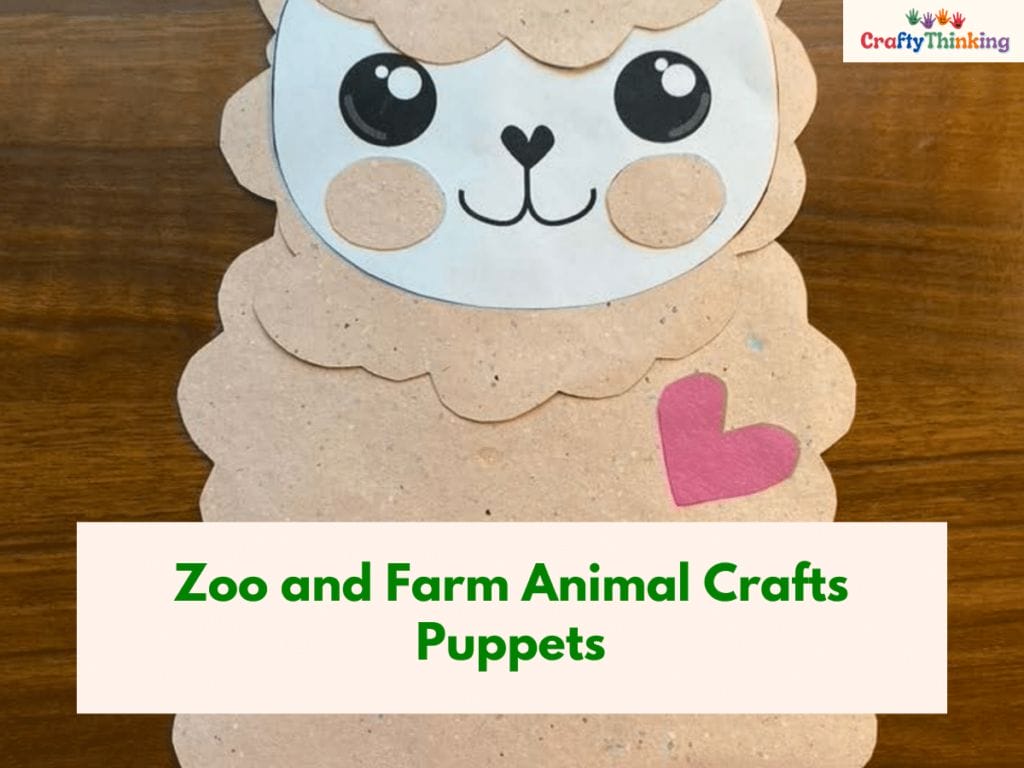 Zoo and Farm Animal Crafts Puppets
Bring the wonders of the zoo and farm right into your living room.
From towering giraffes with long necks to clucking chickens, these puppets are a hit with kids who love animals.
Zoo Animal Puppets: A Walk on the Wild Side
Dive into the world of exotic animals with zoo-themed puppets.
From the majestic lion to the playful monkey, kids can recreate their favorite zoo memories.
Using a combination of colored paper, markers, and googly eyes, children can craft animals like giraffes with long necks, zebras with striped patterns, or even the tall and elegant flamingo standing on one leg.
Farm Animal Puppets: Down on the Puppet Farm
Bring the rustic charm of the farm to your home with these delightful farm animal puppets.
Children can craft a clucking chicken using yellow paper and real feathers, a woolly sheep with cotton balls, or a mooing cow with black and white patches.
Don't forget the playful pig, crafted with pink paper and a curly pipe cleaner tail.
These puppets are perfect for singing along to classic nursery rhymes like "Old MacDonald Had a Farm."
Reptile House Crafts: Slithering and Crawling Puppets
The reptile house is always a fascinating part of the zoo. Kids can craft slithering snakes using green paper and wiggly eyes or a slow-moving turtle with a patterned shell.
These crafts can be a great way to teach kids about the unique characteristics of reptiles.
Bird Aviary Crafts: Feathered Friends in Flight
The bird aviary is a colorful and chirpy part of the zoo.
With blue paper, kids can craft a parrot with a beak made from a folded piece of paper.
Or using red, orange, and yellow paper, they can design a phoenix ready to rise from the ashes.
These puppets can be paired with bird songs and stories, making them a hit among young ornithologists.
Barnyard Pals: Crafting the Farm's Finest
The barnyard is bustling with activity, and kids can bring that to life with their puppets.
From a neighing horse crafted with brown paper and yarn for its mane to a quacking duck with orange paper for its beak and feet, the barnyard has never been this lively.
These crafts can be a fun way to introduce kids to the sounds and roles of different farm animals.
Aquatic Adventures: Crafting Sea Creatures
While not typically part of a traditional zoo or farm, many zoos have aquatic sections.
Dive deep into the ocean with sea creature puppets.
From a gliding stingray to a colorful clownfish, kids can explore the wonders of the ocean.
Using blue and green paper, they can craft a seahorse or even a jellyfish with ribbon tentacles.
Printable Templates: Making Puppet Crafting Easier
For those who prefer a guiding hand, printable templates are invaluable.
They offer a blueprint, ensuring the crafting process is smooth and the end result is nothing short of fantastic.
Many online resources provide these templates, catering to various themes and difficulty levels.
Benefits of Using Printable Templates
Printable templates are a game-changer in the world of crafting.
They provide a clear guide, ensuring that every cut and fold aligns perfectly.
Especially for parents or teachers who might be introducing puppet crafting to kids for the first time, these templates can be a lifesaver.
They ensure consistency, reduce the margin for error, and most importantly, save time.
No more guessing measurements or free-handing designs!
Customization and Creativity with Templates
While templates provide a structure, they don't limit creativity. Kids can still customize their puppets by choosing different colors, adding extra embellishments, or even combining elements from multiple templates.
Want your lion to have polka-dotted fur? Or your bird to have extra-long tail feathers?
With templates, kids can let their imaginations run wild while still having a solid base to start from.
Diverse Range of Puppet Designs
The beauty of printable templates is the vast array of designs available.
From animals and mythical creatures to community helpers and storybook characters, there's a template for every theme.
Whether you're planning a puppet show based on a children's book or exploring different habitats, there's likely a printable template to match your needs.
Eco-Friendly Crafting with Templates
One of the advantages of using printable templates is the reduction of waste.
By having a clear guide to follow, there's less trial and error, which means fewer materials end up in the trash.
Plus, many templates are designed to fit standard paper sizes, ensuring efficient use of each sheet.
Where to Find the Best Printable Templates
There are numerous online resources where parents and educators can find high-quality printable templates for puppet crafting.
Websites dedicated to crafts, educational platforms, and even Pinterest offer a plethora of designs.
Some are free, while others might come at a small cost.
But the investment is often worth it for the ease and professionalism they bring to the crafting table.
Incorporating printable templates into puppet crafting sessions can elevate the experience, making it more enjoyable and less stressful for both kids and adults.
They're the perfect tool for those who might be hesitant about their artistic abilities but still want to partake in the fun of creating.
Organizing a Puppet Show for Preschoolers
Once you've amassed a collection of puppets, it's showtime!
Set up a makeshift stage using a table and a curtain, draft a simple storyline, and let the kids take center stage.
It's a fantastic way to enhance their storytelling skills and boost their confidence.
The Magic of Puppetry for Young Minds
Puppet shows have been a beloved form of entertainment for centuries, captivating audiences with their unique blend of storytelling and visual artistry.
For preschoolers, puppet shows are more than just entertainment; they're a gateway to a world of imagination, creativity, and learning.
Watching characters come to life and engage in adventures can spark a child's curiosity and encourage them to explore their own storytelling abilities.
Choosing the Right Theme for Your Puppet Show
When organizing a puppet show for preschoolers, it's essential to select a theme that resonates with them.
Themes based on familiar stories, fairy tales, or everyday adventures can be particularly engaging.
Whether it's a tale about animals in the jungle, a day in the life of community helpers, or a magical journey through a fantasy land, the key is to choose a theme that's both relatable and exciting for young audiences.
Setting the Stage: Creating the Perfect Environment
The environment plays a crucial role in setting the mood for the puppet show.
Consider using colorful backdrops, props, and lighting to create a captivating stage.
Even simple elements like a cardboard box stage or a curtain made from a bedsheet can add a touch of magic.
Remember, it's all about sparking the imagination!
Interactive Elements: Engaging the Audience
One of the best ways to keep preschoolers engaged during a puppet show is to include interactive elements.
This could be in the form of sing-along songs, call-and-response segments, or even inviting a few kids to come up and be part of the show.
When children feel involved, they're more likely to stay attentive and enjoy the experience.
Incorporating Educational Aspects
While puppet shows are primarily for entertainment, they can also be educational.
Consider weaving in lessons about friendship, sharing, kindness, or even basic concepts like numbers and colors.
Puppet shows can be a fun way to reinforce what kids are learning in preschool, making the experience both enjoyable and informative.
Post-Show Activities: Extending the Fun
After the puppet show, consider organizing related activities to keep the fun going.
This could be a craft session where kids make their own paper bag puppets, a discussion about the story's moral, or even a mini dance party to songs from the show.
Post-show activities can help reinforce the themes and lessons from the puppet show, ensuring that the experience is both memorable and impactful.
Organizing a puppet show for preschoolers can be a rewarding experience, offering a unique blend of entertainment, education, and creativity.
With a bit of planning and imagination, you can create a magical experience that young children will cherish for years to come.
How can paper bag puppet crafts benefit a child's cognitive development?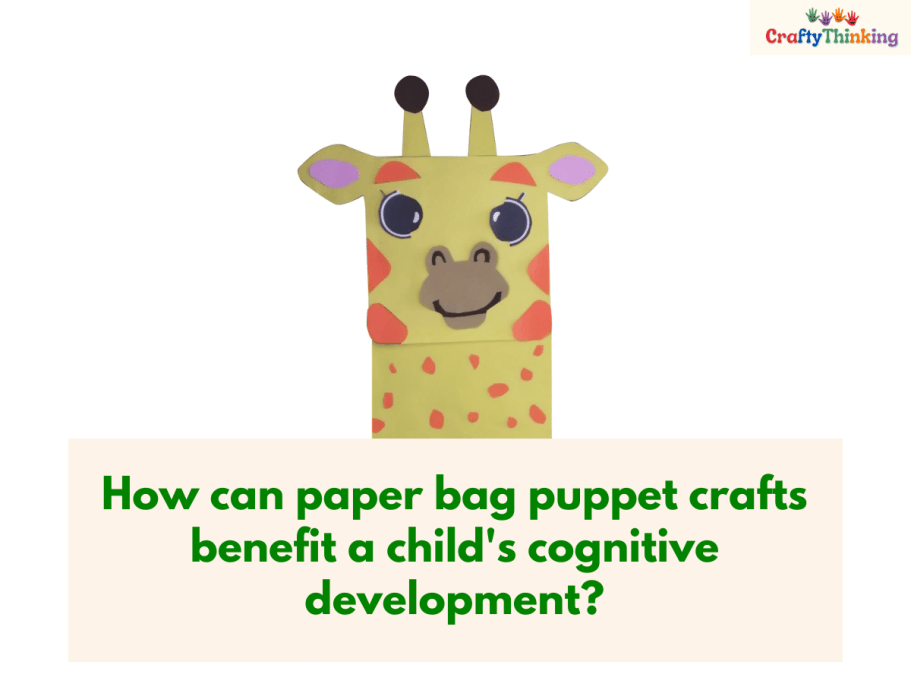 Crafting paper bag puppets, like a cute pig or a spooky ghost, is not just a fun craft activity; it also stimulates a child's cognitive development.
As kids craft, they engage in hands-on learning, enhancing their problem-solving skills, boosting creativity, and understanding the combination of materials to bring their imaginative characters to life.
What are the top materials recommended for long-lasting paper bag puppets?
For a durable and fun paper bag puppet, it's essential to use sturdy brown paper bags, quality colored paper, and strong glue.
Adding details like a fur texture for an arctic animal or a beak for bird-themed puppets can be achieved using simple materials found around the house.
Don't forget to use a good pair of scissors for precise cuts!
How can parents integrate educational lessons into paper bag puppet crafting sessions?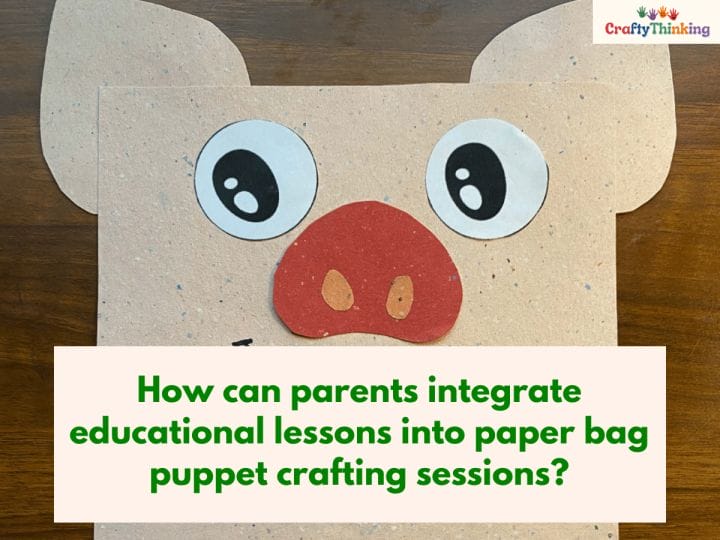 Puppet crafting is a great way to celebrate learning! Parents can integrate lessons by crafting community helpers like firefighters or doctors.
For preschoolers, crafting animals like a mouse or a goat can be a fun way to introduce them to the animal kingdom.
By the end of this post, you'll find more ideas to make and play while educating.
Are paper bag puppet crafts suitable for group activities or classroom settings?
Absolutely! Paper bag puppet crafts are perfect for kids of all ages, from toddlers to grade 1 students and beyond.
In a classroom setting, kids can make community helper puppets or dive into the arctic world with killer whale crafts.
It's a fun activity that promotes teamwork, creativity, and hands-on learning.
Plus, it's much fun to see the cutest puppet creations by the end of the session!
What are some creative twists to add to traditional paper bag puppet designs?
The sky's the limit when it comes to creativity! You can customize your puppet by adding fun details.
For instance, turn a simple paper bag into a groundhog for Groundhog Day or add a spooky twist with a vampire design for Halloween.
Incorporate fun craft supplies like glitter for a magical touch or yarn for hair.
And if you're feeling adventurous, why not try a killer whale with a movable tail or a goat with a textured fur coat?
Remember, the goal is to make it easy and fun, ensuring kids love making their unique puppet designs.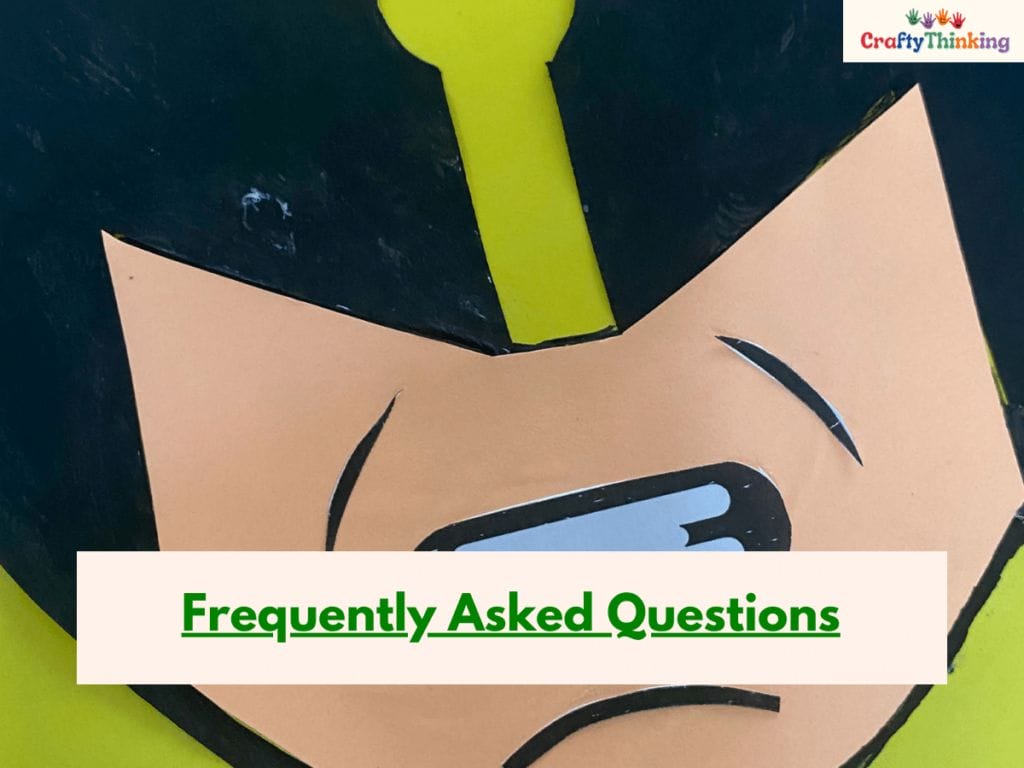 Frequently Asked Questions
Here are some frequently asked questions about Paper Bag Puppet Crafts. Get some quick answers to everything you need to know.
What are the best paper bags to use for puppet crafts?

Medium-sized brown paper lunch bags are ideal. They're sturdy, affordable, and provide a great canvas for creativity.

How can I make my paper bag puppet more durable for kids to play with?

Reinforce the puppet with clear tape, especially at the joints. Using double layers of paper bags can also enhance durability.

Are there any printable templates available for specific puppet designs?

Yes, the internet is brimming with printable templates for various puppet designs, from simple animals to intricate characters.

How can I incorporate educational themes into puppet crafting for preschoolers?

Choose themes that align with what they're learning. For instance, if they're exploring the ocean, craft marine life puppets like fish, octopus, and sharks.
Wrapping Up Paper Bag Puppet Crafts
Paper bag puppet crafting is more than just an activity; it's an experience. It's about creativity, storytelling, and most importantly, fun.
Whether you're crafting alone or with your little ones, the joy of bringing a character to life from a simple paper bag is unparalleled.
So, gather your supplies, roll up your sleeves, and dive into this enchanting world. Happy crafting!
If you enjoyed this article about Paper Bag Puppet Crafts and would like to learn more, please leave a comment below.